Nollywood needs trained artistes to survive –Prof Dapo Adelugba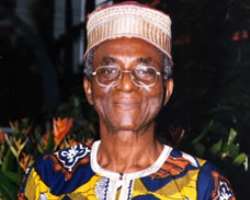 Widely respected in the Nigerian theatre circle, Prof Dapo Adelugba, popularly called Uncle D has a reputation for devoting his entire life to theatre practice. Among others, Unle D has been a Theatre historian, director, actor, critic, writer and lecturer from 1967 to 2004 at the University of Ibadan.
As Director of Langbodo, Nigeria's drama entry to the second World Festival of Arts and Culture (FESTAC '77), the success of the play resulted in a major tour around the country.
Other positions he has also held include Chairman, Oyo State Council of Arts and Culture, Arts Director, University of Ibadan, Theatre Arts and Secretary-General of Nigeria chapter of the International Theatre Institute (ITI). He is currently visiting Professor at Ahmadu Bello University, Zaria since 2005.
Born March 29, 1939, he bagged Honours' degree in English from the University of London (Ibadan) in 1962 and proceeded to the University of California, Los Angeles (UCLA) for his post graduate work in Theatre Arts. He returned to Nigeria to begin a teaching career at Ibadan Grammar School before joining the faculty of the University of Ibadan in September 1967 where he remained until his retirement in 2004.
He has worked with scholars like Professors Wole Soyinka, J P Clark-Bekederemo, Abiola Irele, Martin Banham, Ola Rotimi and Zulu Sofola. He also worked extensively with the late Wale Ogunyemi and Tunji Oyelana. Among the numerous students who trained under him are Professors Femi Osofisan, Niyi Osundare, Duro Oni, Ziky Kofoworola, Saint Gbilekaa, Oga Steve Abah, Patrick Ebewo, Charity Angya and Osita Okagbue among others.
He spoke with us on a number of issues during the week- long celebration organized by friends, protégés and well-wishers to mark his 70th birthday.
Fulfilment
I must say that I feel a sense of fulfilment at occasions such as this and the fact that I have not totally wasted one's time going by the strength of comments by various commentators. It's very exciting to know that I have made an impact, perhaps. I believe that with the present situation in Nigeria and the opening up of Government to the possibilities in the arts, all we require now is enterprising and planning on the part of the leaders and practitioners to move forward to a greater and brighter future.
Surviving two fire incidents
It is difficult to say where I got the fortitude. Two separate fire incidents ravaged my library and office. I suppose I held a sense of realism that life has to go on. Yes they were difficulties and near tragic events but then, as long as one lives, one continues to hope to do one's best. Really there are people who have not suffered such kind of accidents but have other areas of frustration, one has to rise whenever one falls. This has been the case with me. We must continue to be grateful to him that there is more to life than just accumulating wealth but there is also the business in one's generation. Impacts that will hopefully outlast one and inspire the coming generation.
Life in retirement
I retired from the University of Ibadan in 2004. For now, I am a contractual professor at Ahmadu Bello University, Zaria. What I am doing now is different from what I did at Ibadan. At Ibadan, I was intimately involved with administration. Right now, I am just taking a back seat and chipping a word here and there. Seeing whether one could give some assistance to those on the scene. I will be doing that for as long as necessary until the next challenge comes up.
How I relax
Let's say my figure comes from self discipline by only taking what is good for one's body. I tend not to eat and drink more than I need to do. And this same principle guards every other aspects of my life.
My views on Nollywood
I have been watching some of the Nigerian movies and I would like to see two things done. First, the upgrading of the quality of Nollywood films and environment. Secondly, more opportunities should be given to theatre arts specialists who have bothered to specialise either professionally or academically. They should be given chances to make their inputs. If this means to persuade Nollywood capitalists, this is necessary to bring good actors and actresses into limelight. I think it will be a good step forward.
I will add this fact, I recall in 1976/77 the late Prof Irein Wangboje organized a few days of workshop for journalists to improve their critical writings in literature and theatre.
Perhaps, the time has come to have similar workshops such as this and this time, the number of qualified persons who can organize something of such nature have got broadened. You don't have only to rely on the Universities, there are now other associations who can do these such as Association of Nigerian Authors (ANA), National Association of Nigerian Theatre Practitioners (NANTAP) or Society of Nigerian Theatre Artistes SONTA. There is a range of associations who can do these or there can be joint efforts by the various associations on these. Beneficiaries of Wangboje's workshop who are still in practice can be of service by coming in as instructors.
Non-continuity of FESTAC
FESTAC was a very bold step and I want to pay tribute to Dr Garba Asiwaju. Both Asiwaju and the Minister Enahoro were committed and had a vision which made them willing to make money available for the splendid productions covering the artistic styles and traditions of the entire country.
FESTAC did something perhaps which many of us didn't realize at the time. We were sitting at the National Arts Theatre, due to the beautiful work of BON, what was being transmitted was being seen all over the world through satellite. Those of us who witnessed the event live were privileged to see artistic productions from different perspectives of black world. We saw productions from Jamaica, Trinidad and Tobago as well virtually all the African nations. It gave us a new sense of confidence. We discovered that what we were doing was not extraordinary, not something which other countries were not interested in. We saw a community of arts practioners – music, dance, costume, paintings, structures etc The lessons should be carried forward, let us not be shy and say it's too late and admit where we have been wrong. The tapes and materials are still available at CBAAC for studies and I understand they are being digitalized. Let us insist on more support. The musicians are getting a lot of support, why are theatre artistes not getting similar support?
On Abuja Carnival and culture sector
There could be all kinds of dimensions of theatre practise including the Abuja Carnival. When we have enough funds we can do rich productions and there is also room for the poor theatre. This does not mean running the theatre in a poor manner but with the scarce available resources. For instance, when I was chairman of the old Oyo State Council of Arts and Culture, we used to have integral festivals which integrated with communities. And so we choose for the governmental festivals the dates for the local community festivals, and on one occasion when the practitioners and Oyo State Cultural Centre went for an integration exercise in Ila-Orangun, the local actors from the state theatres and the local actors became one blend of art creation. Therefore, I am looking for many more opportunities of that kind of synergy whereby the art establishments integrate themselves with what is happening in the wider community.
My regrets
I must admit that perhaps I paid too much attention to the pedagogical side of the theatre and therefore sacrificed the time I could have spent polishing my scripts (and there are quite a large number of them) rather on activities such as teaching, directing, critiquing and minding other people's works. But one can't score high marks in everything and one must accept that there are areas where one's mark will be quite low. Maybe as time went on, I felt there were more people writing plays and I thought of going on with the directorial aspect of theatre and after training work which is difficult to quantify but which is no less exciting to write about and I do not think that there is any answer to why I haven't done more publications.
Between Ola Rotimi and I
In 1969 or thereabout, there was the Ife Festival of Theatres and I was among the people invited to see Ola Rotimi's play, The Gods Are Not To Blame when it was a new work. There were other critics who were invited. But my criticism of the play was that of course, there were very big aspirations in the play but I pointed out also that there was some flaws. I don't quite know how the problems were resolved in Rotimi's mind but I know that when it was eventually published some of the points I raised in the now infamous critique had been attended to by Ola Rotimi. In the end, the critic has succeeded in his job. I think the play was a magnificently creative effort and it stands as a nonpareil and am sure Rotimi today will be happy as he turns in his grave. I recall when he sent Kurunmi to Spectrum Publishers, he did admit in a public interview that the manuscript was returned to him for about 15 times before it was eventually published.
The way forward
I think it's very important to let the needs of the performing arts known to the government, Non-Governmental Organisations and the wider community of would-be patrons. I don't think we have been active enough in this regard. I dare say that some of the present crop of graduates have been finding themselves in a position whereby they can support the arts not only of idealism but of practical position of money. I also want to state that the only way to battle the hypocrisy of those who want to keep the arts down is to produce good works. Do not be in any hurry to put productions on the stage. Every production put on the stage should be research based, carefully cast and coordinated at the production and managerial levels.
Story by http://nollywoodgists.com