The Stars Shone Brightly at Lagos Premiere of 'Guilty Pleasures' & 'Nollywood Hustlers'.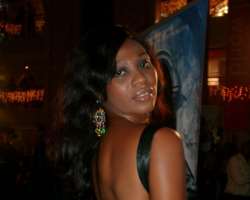 It was an evening of glamour, glitz and magic when there stars came out to grace the occasion of the double premiere of two movies, 'Guilty Pleasures' and 'Nollywood Hustlers'. SilverBird Galleria which was already busy due to the Sallah Holidays, experienced even more of a deluge of people as stars, starlets, musicians and those from the business community came to enjoy an evening of fun, laughter and great movie viewing.
The organizers/producers of the films Emem Isong,Uche Jombo and Desmond Elliot could not contain their delight at the turn out. Speaking to Emem, she said, 'Im so delighted! We couldnt have asked for anything more'. The attendance read like a roll call in the entertainment industry; Stephanie Okereke, Ini Edo, Mona Lisa Chinda, Desmond Elliot, Lilian Bach, Nse Ikpe Etim, Majid Michel, Omoni Oboli, Charles Novia, Zik Zulu Okafor, Fred Amata, Empress Njamah, Sasha, Yaw of Wazobia FM, Emem Ema formerly of Kush to mention just a few.
The event started with a parade on the red carpet by the stars, interviews with various media including DSTV's Africa Magic, gisting over cocktails and small chops then at 7pm, guests were ushered upstairs to Cinema 4 for the screening of the movies. In a few minutes the place became jam-packed as guests filled there room.
There was no sitting space and many had to resort to standing. All discomfort if any, was soon forgotten as the movies started. The audience laughed and held their sides as the actors did their thing in the hilarious comedy, 'Nollywood Hustlers'. Then it was time for 'Guilty Pleasures' and a hush fell over the audience. It started simply and slowly enough but began to build up, as the audience went on a rollercoaster of emotions, ending in shouts as the actors took them through emotions that were as extreme as they were intense.
The show ended to thunderous applause, with many wiping their eyes and shaking their heads at the emotional ending. Several congratulated the producers, directors, actors and actresses especially Nse Ikpe-Etim (who by the way, was looking divine) and bearded Majid Michel (who came all the way from Ghana) for the premiere. Overall it was a good show! Big ups to the organizers
By Bola Aduwo for nollywoodgists.com
Story by http://nollywoodgists.com