ISLAMIST GROUP BOKO HARAM STRUCK AGAIN :28 DEAD IN CHRISTMAS DAY BOMB BLAST IN SULEJA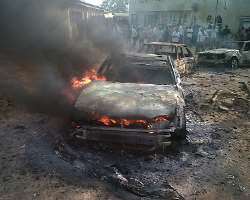 According to reports reaching us, Islamic fundamentalist group, Boko Haram - whose name means "Western education is forbidden" has struck again.
A total of 28 people were reported to have lost their lives this morning as two bombs exploded during Christmas church service at St Theresa Catholic Church located on the outskirts of Abuja, the Federal Capital Territory of Nigeria.
10 vehicles were destroyed in the attacks, one of the vehicles was carrying a family leaving the church after church service, the entire family died in the car.
Sources revealed that a massive bomb was driven by a suicide bomber in a BMW car and a second car rigged with explosives was parked at the premises of the church. Both exploded minutes apart.
A second explosion shortly afterwards hit a church in the central city of Jos, killing at least one person.
According to Officials at the local hospital where the victims were rushed to;the condition of many of the injured was serious, and they were seeking help from bigger medical facilities.
It would be recalled that a special task force set up by the Nigeria Military killed 59 Boko Haram members in the city of Damaturu some days back..