The Tenant: Almost a flawless movie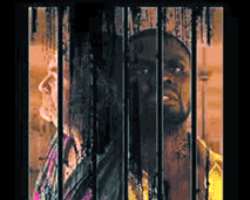 It is not uncommon for a daughter to fall in love with her daddy especially at the age of puberty, but it is absurd and an abomination , if that passing emotional attachment develops into sexual intercourse between the two or pregnancy and the end result - a baby.
The Tenant is a movie about hate, betrayal, forgiveness and perseverance that seeks to explore the fall-out of such abominable act and how a non- immigrant Nigerian young man, Obinna (Lucy Ejim) who is caught in the middle had his life transformed. for good or for bad? You need to get the movie.
Obinna is a troubled non -immigrant who had been told to leave Canada in 30 days or face deportation, but the situation in Nigeria, his father's land could not let him damn the consequence and leave. His ex-rail worker father and groundnut selling mother and four siblings depend on his survival to survive. His father who 'invested' his gratuity on him expects returns not deportation.
To compound his woes, his minister's daughter girlfriend (who thought Obinna is an international student) is having a 'go' with another man. Obinna caught them in the act and decided to commit suicide with drug overdose. It was at that life presented him an awkward opportunity of another choice. He is to convince Nichole, the estranged daughter of his landlord who had cancer to love him . This relationship it was hoped would get him the reward of staying in Canada.
That would have been a piece of cake for a man desperate to have the immigration officers off his back but Nichole proved an almost impossible nut to crack. Obinna took the opportunity as a once-in-a-live-time opportunity but the revelation he stumbled on changed the course of everything.
His moral standard wouldn't allow him to go ahead with the mission but the reality of what awaits him in Nigeria was too much for him to bear. He is caught between the devil and deep blue sea. For 30 days he strove and the more he strived, the more difficult his path became. Did he succeed? The answer is in the 90 minutes movie to be premiered in Nigerian by year end.
It would be an understatement to say The Tenant is a good movie. It is a movie that is ahead of its time in terms of delivery and purpose.
Its themes; hate, forgiveness, deception, betrayal, and perseverance are what we are used to but here in Nigeria how do we respond to abominable acts such as incest? That is the angle of the movie which would interest viewers here at home.
Lucky who plays the role of Obinna makes acting look so easy while the white man who plays the role of Timothy the retired immigration officer- landlord delivers his role so well, one would almost be forgiven to imagine he is a cancer patient.
With two international awards in the kitty for the movie, many are already tipping it for something as big as the Oscar. If Toschi, the South African film could win an Oscar, who says a Nigerian movie can't?
With everything almost perfect, the movie still has some grey areas. For instance, the younger Obinna in Nigeria does not look so much like him. Obinna did not for once speak his local language to his parents. The outbursts of Obinna where he had to beat the landlord is almost unnecessary. There are so many other ways to show his anger and a man on the verge of death could have passed on in real life. The soundtrack could be better and the fact that the opening scene is 'very' sexual is a no-no for family viewing.
Aside these, the movie is almost as flawless as good movies come. On the scale of 10, it would conveniently score 9. It's a must watch for movie lovers.
Story by http://nollywoodgists.com