Reel Women, Stand to be Counted!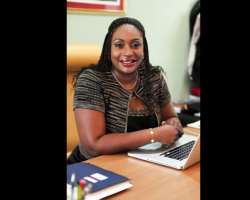 Filmmakers must be very intelligent and broad-minded, with strong skills. Liberal arts study is so important. It makes you a fairly well rounded person. It exposes you to the languages, ethics, philosophy, history, and social sciences. Films are all about research and continual learning. Temple Productions unveiled plans for a workshop for women in film and those who are trying to break into the world of film tagged Reel Women: a workshop for female film makers.
The one day workshop which will take place on December 3, 2009 was conceived as a way of creatively educating women on the practicalities of life in film production; looking at the challenges women face in the industry and finding ways to surmount them.
Managing Director of Temple Productions, Ego Boyo, described the workshop as "a passionate idea conceived to manage the challenges faced by female film makers."
"Women have always been involved in various aspects of film making and are becoming more and more involved in production, and now more than ever opportunities exist because of the pioneering efforts of a few. There is a need to maximize these opportunities by creating a forum to enlighten and empower women interested in a career in film and for those already in the Industry," she said.
As woman with plan to pursue filmmaking as a career, we will use this opportunity to meet and work with other filmmakers to make film that will screen at the largest film festival, Mrs. Boyo said.
However, filmmaking funding increasingly scarce and competition grows equally fierce, Reel Women stands out in the crowd, as real stories are more important. In the past, stories were forcibly silenced, but today, unheard stories spin to make a different on notions like "traditional values", gender equality, abortion, issues like same-sex marriage and immigration, these stories are also a source of healing the larger community, she said.
According to Mrs. Boyo, "Reel Women Film Workshop is fast-paced and packed with instruction. "Every hour, there is something different. It is very hands-on. There is an assignment every day."
The workshop will provide an invaluable opportunity for networking and possible mentorship by renowned directors, producers, financiers, scriptwriters, legal luminaries, and actresses in the industry at no cost. Throughout the day there will be discussions, break out and mentoring sessions and speeches that will range in topic from how to break into the industry to comportment, style, and everything in between.
Speakers at the workshop include Renowned Film Director and writer, Amaka Igwe, Joke Silva, the popular actress whose acting school Lufodo Academy recently held its formal launch, Ifeoma Williams, an image consultant, multi-talented Kate Henshaw-Nuttal, Sandra Oyewole, Partner, Oyewole & Co among others.
Temple productions partners with a South African based production company, now working with international film consultants in its bid to reinvigorate the Nigerian film industry. With new equipment and value added services, Temple productions believe it can play a very pivotal role in producing internationally acceptable films in Nigeria
Story by http://nollywoodgists.com