EXCLUSIVE : BREAKING NEWS :FEMI ADEBAYO'S MARRIAGE HAS CRASHED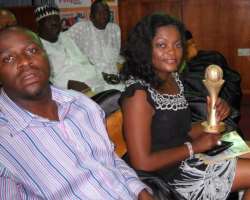 Femi Adebayo and Funke Akindele
TOP ACTOR FEMI ADEBAYO'S MARRIAGE TO WIFE KHADIJAT CRASHESAS WIFE MOVES OUT OF MATRIMONIAL HOME HOW FEMI ABANDONED HER WITH 3 KIDS FOR FUNKEAKINDELE
The marriage of top actor, Femi Adebayo to his wife Khadijat Bukola has crashed. The blissful marriage of the couple began to experience trouble a few months ago after it was established that the actor has been involved in a secret affair with top actress of Jenifa I&II fame, Funke Akindele.
Sequel to this, there have been several stories about how Femi sent Khadijat packing with the 3 kids( a girls and a set of twins) after several efforts by his wife and concerned friends and relatives to reconcile the embattled couple. As you read this Khadijat now lives in her parents house located at Epe Road, GRA Area, Offa, Kwara State.
The University of Ilorin graduate of Computer Science who nollywoodgists.com gathered authoritatively has been abandoned and left to caterfor the 3 kids. The embattled woman also has to face the reality of getting aj ob for the upkeep of the children unlike while she lived happily in with her husband as a house wife to take proper care of the kids.
nollywoodgists.com source hinted further that several efforts madeby Khadijat to be reconciled with her husband has yielded no result. There were situations she sent text messages to Femi about the crisis in their marriage and the need to make up as a couple. Such text messages our source hinted are forwarded by Femi to his father, veteran movie actor, Chief Adebayo Salami popularly called Oga Bello's mobile phone which one way or the other gets to other members of the Adebayo family.
Khadijat's family we gathered has not been happy with Femi's father and mother over how they are handling the crisis. They believe Oga Bello as an authority in the Yoruba movie industry should have called his son and Funke to order rather than watching them which has adversely affected the marriage to crash.
On his part, Oga Bello has denied having knowledge of the relationship between Femi and Funke. He said is not aware his son, Femi is having an affair with Funke.Speaking on the issue recently, Oga Bello pointed that only Femi and Funke can clear the air on their alleged relationship. His words: "Everybody is entitled to his own opinion. Only Femi and Funke can talk better on that. I am their father in the industry.
" Another reliable source who is a practitioner in the Yoruba movie revealed that these days Funke has become the apple of the eyes of the Adebayos. His words: Funke has played her self to be very important to all members of Femi Adebayo's family. They are involved in the production of her movies. Apart from that she visits them at their Ikorodu, Lagos home regularly.
When Mrs. Khadijat Adebayo was contacted through the mobile phone to confirm the story on the crashed marriage, the female voice who answered the called denied she is not Mrs. Adebayo. She requested that the reporter should call back after an hour to speak with Mrs. Adebayo. Exactly after an hour the reporter repeated the call to her and she said. I don't want to talk about the issue.
A few minutes after this the same lady called the reporter back saying, Please I beg you do me a favour don't you ever call this number again. Before the reporter could ask further question she had hung up.All further efforts to reach her proved abortive as she could no longer be reached on her mobile phone.
It would be recalled that it was reported a couple of weeks back that Khadijat took dangerous substance suspected to be poison for reasons a reliable source gave as frustration over her troubled marriage. She was rushed to an undisclosed hospital in her Offa home town. She has since recovered and has continued to live with the challenge of taking care of the 3 kids.
While they lived as a couple with the little girl and the set of twins who are boys, Khadijat had received several beatings from Femi because she questioned him on issues that had to do with infidelity.
The crack in the relationship became more obvious when Femi will be lodged at a popular top hotel in Ibadan while reports got to his wife that her husband was sighted at some spots with Funke. Femi and khadijat started dating when they were students at University of Ilorin. Then Femi was studying Law while the soft spoken devoted Muslim studied Computer Science. Our source further hinted tha tthe fact that Femi is Khadijat's first love has made it a difficult task to live without him.
When the going was good, Femi apart from being an actor and a caring father also had a thriving Law office where he handled a few legal matters on properties and importation. While Khadijat stayed at home to take care of the kids and keep the home. Meanwhile the relationship between Femi and Funke has continued to raise a lot of reactions amongst several actors and actresses who are privy to how the two love birds relate on movie locations and there have also been several situations when Funke had challenged some actresses she suspects are having affairs with Femi and has even threatened to deal with them.
Khadijat, our source revealed has continued to live with the trauma of not having Femi near her.
Taiwo Obatusin EXCLUSIVE for nollywoodgists.com
Story by http://nollywoodgists.com