Lekki Toll Protest Goes Bad, Tinubu's Thugs, Police Clash With Protesters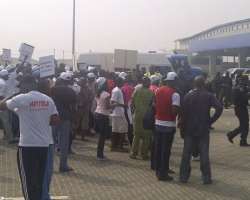 SAN FRANCISCO, December 17, (THEWILL) – Thugs suspected to be loyal to leader of the Action Congress of Nigeria (ACN), Asiwaju Bola Tinubu in collaboration with policemen Saturday disrupted a peaceful protest organized by angry residents of the Lekki area marching against the planned collection of toll on the Lekki-Epe road.
The residents and the Lagos State Government controlled by the ACN have been engaged in a lengthy battle following Governor Babatunde Fashola's insistence on making motorists pay toll on the road.
Bola Tinubu is reportedly heavily invested in the road project which was constructed under a public/private partnership arrangement.
Police shot and tear gassed protesters leaving many wounded and one person unconscious while party thugs assaulted protesters.
The protesters were made up of both the young and old working professionals resident in the area.
There were also confirmed reports that the police and thugs seized photo and video cameras belonging to journalists who were also assaulted by both the police and thugs.
The Associated Press reports that one person was seriously injured by gunfire, while its photographer covering the event was assaulted by policemen with baton, who also seized his camera before throwing him into the back of a police van locally referred to as Black Maria.
An eye witness also told THEWILL that local TV and radio journalists were also assaulted.
Many protesters were arrested according to the Lagos State Police Spokesman, Mr. Samuel Jinadu, who said the protest was peaceful at the beginning but went bad forcing the police to make arrests.