MY MARRIAGE IS INTACT,SAYS CHIOMA TOPLIS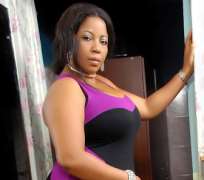 Beautiful but controversial actress ,Chioma Toplis has come out for the umpteenth time to debunk the rumors that her marriage has hit the rocks.
The highly talented actress made this statement in a recent interview saying;the story being bandied about is about a friend on Facebook,who was seeking her advice on a marital issue.
A lady had complained about being maltreated by her husband.She also said that her marriage of less than two years has been one kind of hell on earth with her man abusing her to no end.She then asked the public to advice her on what next to do.
And as soon as the controversial actress tagged the message to her Facebook friends,not a few said she was telling her story.That her marriage has finally crashed.
But in a swift reaction,Mrs. Toplis said they are mixing up issues,since she doesn't fit into the victim's picture in any way.
In a recent chat with a Nigerian soft-sell magazine,Mrs. Toplis was quoted: " In the first place,I have been married for more than 16 years.Infact,my son is 17.And I am not pregnant.It is not also possible for me to lack what to wear at any point in my life.
Besides,I have the best husband on earth.As I talk with you now,he is taking me home with my children,having arrived the UK this evening(Sunday,December 11,2011)"
Chioma Toplis marriage to UK born Engineer,Andrew Toplis has been a big subject in the local media.With allegations of a troubled home constantly flying left,right and centre,the mother of three children(two girls and a boy) is never tired of defending her home as peaceful and the best any woman could dream of.