War Between Rita Dominic And Ini Edo Continues: Rita Dominic Is Only Jealous Of Ini Edo------Insider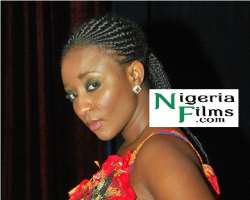 The ongoing war between two Nollywood's actresses, Rita Dominic and Ini Edo Ehigwene might not come to an end soon if what we are getting from camps of both sides is anything to go by.
The storm in the tea cup started when Rita took to a social networking site, twitter to show her displeasure at what she indirectly referred to as a sham in the number of votes Ini got overnight while AFRIFF was one.
Both thespians had canvassed for votes to win in the Best Actress of the year category at the just concluded Africa International Film Festival (AFRIFF) in Lagos. The category had Patience Ozorkwo, Funke Akindele, Joke Silva, Rita Dominic, Ini Edo and others.
According to reports, winners of the awards would get return tickets to Tribeca Film Festival in New York next year courtesy of Arik Air, which is one of the sponsors of AFRIFF.
Winning the award was initially by public voting system on AFRIFF's website. This made nominees canvass for votes from fans by every means available at their disposals. The organizers later settled for a lucky dip system, which produced Ini Edo as the winner, after the initial voting system generated lots of controversies.
We gathered that Ini's votes rose from 2586 to 6693 votes between the night of Wednesday to Thursday morning. This made Rita tweet, Ok, I have to announce this o! INI EDO who had 200 votes last night has eclipsed the first place actress by 200 votes. JEZUXXXX.
According to the information gathered by NigeriaFilms.Com from an insider, we were told that Rita is just jealous of Ini Edo. According to the insider, "Rita is just jealous of Ini Edo. It is very clear that the people love Ini more than her, she should just wake up to that reality."
When NigeriaFilms.Com asked why the assertion of jealousy by Rita, the insider said further, "If she weren't jealous, why would she go on twitter to tweet what she did. The exclamation mark (….this o!) and the use JEZUXXXX explain everything. She has always never liked Ini, she sees her as a competitor and never like a colleague. This is just too bad of her. Let her go to h**l for all I care." I hope she can now see that Ini Edo is better than her in all ramifications, Ini won what she was dying to get with ease. Rita is just a busy body. That is all.
Going to a source close to Rita, we were informed that there is no reason to be jealous of Ini Edo by Rita. "they are colleagues, there is no point being jealous of Ini. Though you guys [press] have always made the people believe Rita is at war with Ini but Rita does not have the time to do that." The source said.
Speaking further, Rita never accused Ini of cheating but only came on twitter just to inform the people of the latest results of the votes cast. That was just it and nothing more."