NAETO C, KEVIN PAM, NAMED ANTI RAPE AMBASSADORS BY YOUTH MINISTER.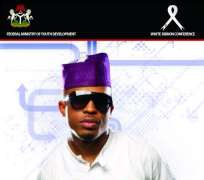 Nigerian Rapper Naeto C and Kevin Pam (BBAwinner) have been appointed by the Hon. Minister of Youth , Mallam Bolaji Abdulahi as the spokespersons and the Ambassadors for the Nigerian Youth & the Rape Challenge. The duo was unveiled December 5th 2011 at the Ladi Kwali Hall, Sheraton, Abuja.
The Honorable Minister also unveiled plans to ensure that cases of Sexual abuse and other violences against young Nigerian women are tackled to ensure human dignity. As a strategic bait of hooking the youths to the moral thrust of the campaign, Scintilatting slogans have also been introduced.