Computer Village Big Boys Quit Business, Go Into Kidney Sales In Malaysia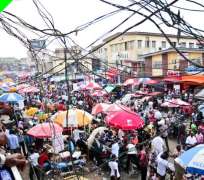 It is a known fact that the demand for kidney in most Western and advanced countries can hardly meet the supply, as most people on the sick bed even die before they find a donor.
Prior to that, young Yahoo boys are now being encouraged to fly to Malaysia to sell their kidney and make quick, clean and quiet money.
After their return from Malaysian trip, we learnt they simply embark on crazy fun, clubbing, every day partying, buying cars and living reckless lifestyles.
And with the way things are going inside Computer Village Market in Lagos now, it is more than obvious that, virtually all big boys inside the market are quitting business after facing series of intimidation from friends who have succeeded in selling their kidneys in Malaysia anytime they arrived in the country.
According to information made available to this magazine, some of the big boys inside computer village that run two or more shops full of laptop and computer accessories now find solace in a new act engaged in by Yahoo boys in town.
Aside the fact that, they are very desperate to travel to Malaysia, we learnt they also dupe some of their colleagues in the market to get money for their traveling runs.
Information at our disposal has it that, getting Malaysia visa is now the most difficult thing for them as they now find another means by getting South Africa Visa, and after they make small money from their usual cyber crime, they embark on their Malaysia trip.
We also scooped that, some Nigerian traveling agency officers have turned the market to their new office as they register more than 10 applicants on a daily basis.
Though, some of the boys have been victims of fake passports and all that, they still insist on doing everything possible to travel out of the country.
Since they hardly sell one laptop per day, we gathered these boys decided to invest in a more lucrative and profitable business of selling one of their kidneys in Malaysia.
Meanwhile, we don't need to bore you with stories but we can tell you authoritatively that, before you make two to three steps in the market, the only thing you see them discussing is about one of their friends who is living large in Malaysia and they want to join him by all means.
Still, some people blamed the act on the poverty in the country while some condemned those involved in the dastardly act, all in the name of money.