Reps Re-Run Polls: Tinubu's In-Law Wins Again In Ekiti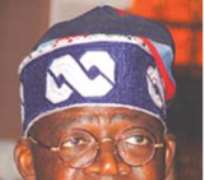 An in-law to former governor of Lagos State, Asiwaju Ahmed Bola Tinubu, and candidate of the Action Congress of Nigeria (CAN), Mr. Oyetunde Ojo, has been declared winner in the House of Representatives re-run election conducted in Ekiti
 Central Federal Constituency II on Saturday,huhuonline.com has learnt.
The Returning Officer to the Independent National Electoral Commission (INEC), Dr Akintunde Aremu, announced that Ojo scored the highest votes cast of 26,338 to defeat the candidate of the Peoples Democratic Party (PDP), Kehinde Odebunmi with 17,344 votes.
The re-run election, which held in three local governments of the state, namely, Ijero, Efon and Ekiti West, was ordered by the Court, following a petition by the NTP candidate, Mr. Peters Adekola Bamigbade, who had dragged INEC to the tribunal seeking the nullification of the ACN candidate's election over non-inclusion of his name and party logo in the April polls.
The election was contested by candidates from seven political parties which include the Action Congress of Nigeria (ACN), Peoples Democratic Party (PDP), All Progressive Grand alliance (APGA), All Nigeria Peoples Party (ANPP), Alliance for Democracy (AD), National Transformation Party (NTP).
A breakdown of the results, disclosed that the ACN candidate, Ojo polled 26,338 votes, Kehinde Odebunmi of the PDP scored 17,344 votes, AD candidate, Olaolu Fasakin  got 445 votes,  APGA, Sayo Fatayo  scored 445,  LP candidate,  Israel Ogunleye polled 69, ANPP got 106 votes while the NTP candidate secured 153 votes respectively.
Meanwhile, out of the 120,980 registered voters, only 46,540 voters participated in the election, while 2059 votes were rejected or voided.
The INEC National Commissioner in charge of Ekiti, Oyo and Ogun states, Prof. Lai Olorode and the state Resident Electoral Commissioner, Alhaji, Halilu Pai said the re-run election was free and fair.
But the Peoples Democratic Party (PDP) in the state, through its Director of Communications and Strategy, Mr. Jackson Adebayo, said the results were manipulated and rigged in favour of the ACN in some wards across the three local governments areas. 'This is another stolen mandate from the people of the state by the ACN led government in Ekiti state', he claimed.