I HAVE NO PROBLEM WITH PRESIDENT JONATHAN - GOV WAMAKKO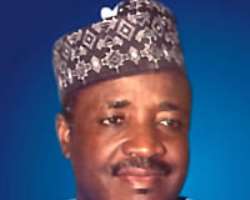 Gov. Wamakko
Sokoto State Governor, Aliyu Magatakarda Wamakko has dismissed  media reports  of  frosty relationship  with  President Goodluck Jonathan.
Speaking  with newsmen at Wadata Plaza, the PDP national secretariat when he came to  submit his nomination form, ahead of the party governorship  primary, the governor  submitted that his relationship with President  Jonathan remains cordial, just as he denied allegation of anti-party activities leveled against him by some chieftains of the party in  his state.
Excerpts:
There has been speculation of cold relationship with Mr.  President. Can you shed light on this ?
The President is my very good friend.  My  President and I  were together for six years before he became governor of Bayelsa State. And when he became Vice- President, I also became Governor. Even last week,[ penultimate week]  the President called me, saying 'governor, all what you have been hearing is rubbish. I'm not with anybody in Sokoto to come and fight you'.
Senator Gada said you are intimidated by his ambition. He said that he would defeat you in free and fair primaries. How do you react to this?
I'm not going to speak about Gada because he does not worth being spoken about.
There are allegations that your administration hasn't met the expectations of the electorate and the party faithful. How true is it that you don't deserve second term?
I think this is normal simple approach of a failed politician to condemn in total or not to appreciate the achievements and shortcomings  since we are human beings. I'm so optimistic that if you are to be in Sokoto, what was achieved is unprecedented and unparalleled. It's only a failed politician that will believe in cheap blackmail and they are the set of people that can have the gut to say such.  Simple. Anybody can just set out and be condemning a person if he so wishes, it is normal.
But the truth is only people living around Sokoto or Kebbi should be approached to tell you how much we are able to achieve in Sokoto in terms of youth empowerment, educational development, agricultural empowerment, commerce and health and all other sectors of human endeavors that are supposed to be touched by our administration. I'm so happy to let you know that in Sokoto, what we achieved in the past four years was far ahead of what others were able to achieve in eight years in other states. You can verify this as I invite you. Observers see the entrance of Suleiman as a threat to your ambition.
We are in a democracy. Even you (journalists) can pick forms. It doesn't have to be a Minister. Anybody can pick forms if he so wishes. It's a normal process.
You are accused of anti-party activities by some members as you were alleged to have supported ANPP in Zamfara. How do you react to this?
I hope you will look at the record and judge by yourself. We are the only State in Nigeria that is 100 per cent for PDP. In Sokoto, no single court case after the elections because we believe in peace, transparency and good governance. I told you earlier, we have weak politicians who believe in getting power through blackmail, intimidation and name dropping….But in Nigeria, people go into politics without preparedness to abide by the rules of politics.  If you want to serve your people, you don't need to blackmail. It is basically supposed to be politicking.