Why I am yet to return to school - chidinma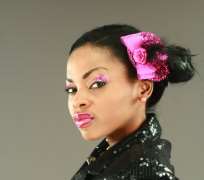 She needs no introduction in the Nigerian entertainment industry. Chidinma Ekile is the first female winner of MTN Project Fame 3.
The Imo State-born artiste spoke with SEYI SOKOYA on what she has achieved with the honorarium a year after and her take on reality shows. Excerpts:
LAST year you won the sum of N2.5m, a RAV4 Jeep and a year contract as the winner of the MTN Project Fame 3. Can you state in brief how these have changed your life?
It has really affected my life positively; I cannot quantify how it has turned my life around. The reality show has opened doors for me and has also given me the opportunity to have an impact in the Nigerian entertainment industry. More so, it has made my talent known to the world that I have got a gift to affect life positively.
What was the first purchase made from the N2.5m?
My laptop and iPod were my first purchases
Would you say it is something you had always wanted but never believed you could get?
No.
So, what was that tangible thing you will always remember you got with the money?
It was my iPod.
Why did you have a faulty start and what led to that during the reality show?
Stage fright led to my faulty start; this I would regard as my worst experience during the show. It was a great challenge because I found it difficult to face the crowd. But with time I got over it through constant rehearsals, and I had to readjust quickly because I realised everybody around me had one form of musical experience or the other.
What was the biggest challenge you could remember during the reality show?
It was the morning work-out; it took me so much time to get accustomed to it.
Does that mean you engaged in a lot of exercise apart from the reality show proper?
Yes, we exercised virtually every morning before we engaged in any other thing; one way or the other we gained a lot from it because it made us more agile.
Despite your faulty start you still emerged the winner, would you say fate made you the first female winner?
It was God. I would say it was a divine favour coupled with fate and luck, because it was beyond my imagination, I never expected it at all; I was shocked when I was declared the winner.
What really gave you the conviction that you had the chance of winning the competition?
Nothing. I never thought I would win the competition because I was not expecting it. I didn't see it coming; my aim was to put in my best, which I did, and at the end I was crowned the winner.
How has the experience been as the first female winner of MTN Project Fame?
It has been great; I would say it is a very rare opportunity in the history of MTN Project Fame West Africa, no doubt about it.
What is your take on the competition?
I think it is a great idea to empower youths. The brains behind this project meant well for the younger generation to discover their talents and make use of them. The goal of the competition is to make one know the nitty-gritty of music and learn the process to become a complete and a professional singer.
Did PF3 make you a professional singer?
Yes, the competition gave me the opportunity to develop my talent, though, I thought singing would be a hobby; I never thought of it as a career, here I am today excelling in music.
How real is the reality show?
It is very real, we got all what we were promised, none of the participants was denied anything; in fact, it was not a child's play at all, we underwent a thorough training and there was no shade of bias. More so, everyone was rewarded accordingly.
Is it true that winners are pre-determined?
No, it is not. In my own case I never knew I would emerge the winner. I think my enthusiasm towards the competition and divine favour made the competent judges to crown my effort. I just thank God for everything. Whenever I look at myself, I wonder if it's me. It happened just like that and I thank MTN and Ultima studios for their profound initiative.
How did you realise you could sing?
Initially, I did it for fun since I knew I have passion for music. I was doing well in church and most times I ministered in other churches, at birthday parties and weddings. But my mum said she discovered it when I was just six years old.
So, how far have you gone with your new album?
I am done with it, but still waiting for my bosses to do some finishing touches before it's finally out, and I have also shot the video of my first single Jankoliko.
You abandoned school for a talent hunt that you weren't sure of your chances, why did you take such a risk?
My intention was just to give it a try; I never knew I would go so far. I thought I should just get the experience and move on with my life and no doubt about it the academy was fun; I met people from different backgrounds. I learnt a lot from the teachers; even with the tough times Mummy J, Uncle Ben, Kaffy and Miss Ige who actually taught me a lot. They taught me how to control my voice because I have this very loud voice and I tried so much to tune it down.
You dropped Mass Communication for Project Fame, have you gone back to school now?
Yes, I got an admission into the University of Lagos but chose project fame; I am not back in school yet, but I am working on that at the moment.
What's your assessment of the Nigerian entertainment industry?
I think we have done so well over the years and we can always do better to give the industry a face-lift.
What's your relationship with eLDee like?
What kind of relationship are you talking about? We are colleagues.
How has Cobhams helped you to promote your music?
He is a great producer and I respect him a lot. I have never regretted working with him, in fact, so many people have been looking for a way to associate themselves with his work.
How do you handle your male admirers who still want to have a piece of you?
I have always made sure I keep them as friends and also try to have a defined relationship with everyone of them.
Now that you are famous, are you now in a relationship?
It has not been easy to be famous because I am still a young girl, but with the help of God. It has been smooth. No, I am not in a relationship yet.
What is your idea of what a relationship should look like?
I am not in any relationship, so I really don't have an idea of how a relationship should look like.
Does being the first female winner of Pf3 make you feel different?
I could remember when the last six of us had a media tour before the finals, I was asked if I believed a girl could win the contexts and I was so positive. I didn't want any of the guys to win. I always told the guys, 'a girl is taking over this time' either me or Yetunde. I was really expecting a girl to win and that makes me feel wonderful. Ever since, it makes me feel different. I always feel like an all time winner, it has also given me the conviction that I would emerge a winner in any challenge I found myself.
Tell me a little about your growing up
Growing up wasn't much fun. I grew up in Ketu, Lagos. I have six siblings and I am the last. We all sing. I didn't have everything I wanted as a child, but it was comfortable enough. Both parents are from Imo state. I don't really have much time to hang around because I have a strict father, but they were both supportive of my dream and I really appreciate them for that.
Your educational background
I had both primary and secondary education in Ketu, I attended Caleb International School and Science Foundation school respectively. I got admission into UNILAG and was almost writing my post UME when I went for Project Fame. My intention was to continue my education when I came back from Project Fame, which I am working on now.