MUSICIAN 9ICE DUMPS BABYMAMA,VIKKI GODDIS + SET TO RECONCILE WITH ESTRANGED WIFE TONIE PAYNE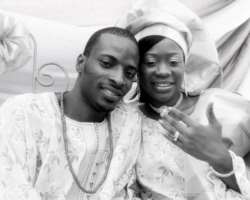 Musician 9ice's babymama, Victoria Olubukola Goddis is in the eye of the storm.
Friends are accusing her of boy friend snatching.
The Landlord of her Wuse Zone 5 residence has asked her to leave.
And the father of her twin babies, 9ice has also abandoned her!
Informants attribute it to Victoria's attitude- she is tagged 'a material girl with bias for the opposite sex'.
Her problems with her landlord and friends are said to stem from overt attraction to the other gender.
Her Sokode crescent neighbours' complains and pressure over undue closeness to their husbands- along with other inherent vices- reportedly resulted in the eviction notice currently staring her in the face.
A large chunk of her friends are said to have bonded together against her over issues with the same root cause- indecent closeness to their boyfriends.
Sources alleged that allegations over boyfriends and husbands against her are so strong that 'stories of different colouration are being spread to keep others on guard!'
And to compound the situation it is alleged that this is part reason 9ice abandoned her.
The bulk of the reasons are said to be having links in allegation of 'material love'
More popularly known as Vikki, the Baby Mama is said to have severally obtained money from the musician under this and that guise to the point of 'obscene'
This was after 9ice reportedly 'bought her a new car, secured the apartment for her and the services of two house helps to help with twins, and placed her on a lavish allowance along with babies'
Aside the numerous allegations dogging her steps- the musician was reportedly faced with realisation that, the house keeping allowance and others that came directly to her purse went in favour of an obnoxious lifestyle.
He reportedly kept his distance when he couldn't make her adopt a more responsible approach to life.
In a related development,the alleged reconciliatory move between 9ice and his estranged wife,Toni Payne could be coming to a reality if the information at our disposal is something to rely on.
Findings have revealed that the two estranged celebrated couple whose two year marriage hit a brickwall in early January,2010 still meet secretly at a three bedroom apartment located in Gateway street in Magodo,Lagos and source who always notice when they both arrive their secret location said," They come together at least three times in a week and when they come like that they spend the night,except in some few cases when they have to leave later at night"
It could not be ascertained who is paying the bill of a whopping N1 million per annum as at the time of filing this report but sources told us that it was 9ice,and reportedly did that when Toni Payne demanded for a more secured place for them to be seeing till they reach a mutual agreements on the reconciliation process.
From what we gathered,Toni Payne initiated the talk and 9ice has been cooperating.She has been making all the moves to ensure that she and 9ice come back.Those close to her said she was considering their home and the future of their relationship that has produced a child,Zion.
"Toni Payne has not been so comfortable since reports that 9ice has twins from another relationship.So,she has decided to take the move and keep it secret.
In fact,she has the support of 9ice's parents,"source affirmed.
Although,Tonie Payne is currently residing at Surulere,Lagos.However,our source revealed that the rented flat in Magodo is their hideout for the main time .
It should be noted that Toni Payne and 9ice are still married legally,they are only separated and not divorced.
We shall keep you posted as events unfold.
click the link below to go to...
Abuja Lover delivers baby girl for 9ice.
3 things broke my marriage with 9ice: His family's interferance, His Manager's interference and His affair with Vicky Godis---Toni Paynes.