EPC CELEBRATES WINNING KEYS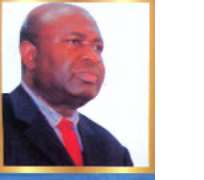 •Pastor Paul Toun
It was spiritually refreshing as Evangel Pentecostal Church (EPC), Okota, Lagos, recently rolled out the drums to celebrate Christ. The four-day event, tagged Rhema Fiesta, attracted notable men of God, faithful and guests across the nation. Guest Speakers, Pastor Gbenga Kuponiyi of Covenant Christian Centre, Lagos and Pastor Mazino Egbuwoku of Christ City Church, ministered on the theme: Winning Keys.
Aside this, the maiden edition of Rhema Diggest, was launched.
General Overseer, Pastor Paul Alaowei Toun explained that Rhema is the revealed word of God to individual or group of individuals for their benefit.
'A specific word from God can change a whole life situation of an individual or the church. Therefore, every child of God needs Rhema to stay on track to live a fulfilled life. Church leaders need Rhema to take godly decisions and make godly disciples.'
On the theme, The Winning Keys, Toun said, one must have the keys to success for unlocking the obstacles of life and it is only the word of God that can handover the right keys to any individual.
Also, the Deputy General Overseer, Pastor Dimgba Igwe, in his topic, Winning keys for Productivity, stated: 'The reason the church is poor and unproductive today is probably because the present church age is gliding in a funky world where there are too many options for losers.
We can blame the devil. We can blame the pastors. We can blame ancestral bondages and primordial witches. We can blame the government. Some pwople are just satisfied once they can explain their failures by casting blames.'
Igwe, who is the former Deputy Managing Director, The Sun Publishing Limited maintained that, 'We can try God today to see how things work out.