ALEX PROPOSES LOVE TO YVONNE OKORO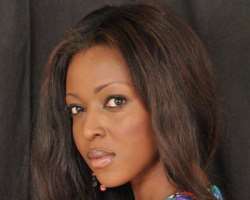 It will be recalled that Alex Biney who represented Ghana at the just gone Big Brother Amplified reality show and Kenyan housemate Millicent, Re-enacted their historic kissing affair in the house.

For many who think it was just a make believe kiss in the House. Alex was bold enough to again kiss Millicent in front of a large number of Ghanaian"s live on stage at the just ended 4Syte TV Music Video Awards held at the Accra International Conference Centre on. November 19. 2011

Alex who was the first to kiss in the big brother house revealed to the media that everybody in this world loves kissing but sometimes people behave ignorantly as if kissing is a big crime.

When NigeriaFilms.Com asked him if he is still going to continue kissing women when he gets married or gets into a serious relationship, he whispered that "Looking at the Ghanaian society and the set up of the social order, I know my wife to be will never be happy to see me kissing other girls in public so I don't think if I marry or get into a serious relationship, I will kiss another woman" he whispered.

Talking about what people should expect from him, he stated that he has already made it known to his fans that he will be coming out with his clothing line which is still in the pipe line but people should not be surprised anytime they see him in the movies because although movie has been his hobby, he is now trying his best to learn more and take it serious as one of the things he has to achieve due to his compatibility with camera.

Talking about some of the movie stars he will like to work with, he said that almost all the movie stars in the country are good.

He will categorically like to work with Nadia Buari,Lydia Forson, Yvonne Okoro,Jackie Appiah,John Dumelo, Majid etc.

When we asked him if he has any love for any of the actress mentioned, he said that he loves all the Ghanaian Actresses but when it comes to who he will love to date or propose to, he will mention Yvonne Okoro because she attracts him.
To Him with the few that he has seen after his coming into the movie industry, he will like to advice the industrial players that they should try and be themselves and forget about being in competition since Hollywood will come to them, but they shouldn't rush to go to Hollywood.