Senate Wants Ikemba Ojukwu Immortalized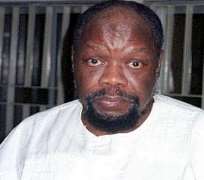 ABUJA, December 01, (THEWILL) - The Senate Thursday set aside other legislative business to pour torrents of encomium on the departed Dim Chukwuemeka Odimegwu Ojukwu, who died in a London nursing home at the weekend.
Speaker after speaker cutting across ethnic lines eulogized the former Biafran leader, describing him variously as a true nationalist, visionary leader, apostle of human rights and a consummate patriot, who stood firmly in whatever he believed in.
Consequently, senators in a unanimous resolution asked the federal government to immortalize the late Biafran warlord. They also urged the government of the states of the old Eastern region to ensure a befitting burial for the Ikemba Nnewi, though this was after the senators mildly rejected the prayer for a federal state burial.
The resolution was sequel to a motion sponsored by Senator Andy Uba and 51 others.
Senate President David Mark described late Ojukwu as a man of radical ideology, who lived ahead of his time, adding that; "he was creative; you cannot discuss Ojukwu without discussing Gen. Gowon, Hassan Katsina; he was focused, he was brave, he lived for his people and was able to carry his people along; the history of Nigeria cannot be written without bringing Ojukwu's name in."
The Senate President who disclosed that he considered a rare privilege to get his military pension and gratuity the same day with Ojukwu in 2009, said for joining the Nigerian Army at the time he did made Ojukwu a great Nigerian, a nationalist, and a patriot."
Senator Mark also recalled the 3-year Biafra war which late Ojukwu led against Nigeria noting that although his secessionist ambition did not succeed, he recorded major achievements such as building refineries, armaments and others.
He however, regretted that the FG could not leverage on these achievements after the war, to further the development of the country, stressing that the Ojukwu's example shows that only men with focus can record landmark achievements.
Contributing, Senator Uche Chukwumerije, said; "because of the stature of the person of Ojukwu, that stature is diminished by taken the motion at the wee hours of the Senate Week, it would have been taken at the prime time of Wednesday. He lived in Nigeria in an era when Nigeria was peopled by Nigeria. But with time in the mid sixties, traumatic events took place in Nigeria: coups and counter coups, waves of genocidal massacres and ethnic cleansing."
Senator Ganiyu Solomon said, "Ojukwu took up the responsibility as a leader of his region at the time he did, when it was necessary to do so, it was the only option at the time he could have taken, not many would agree, but we have different opinions. He was a great man".
Senator Eyinnaya Abaribe declared that Ojukwu decided to commit class suicide to achieve great feat. He was humble and personified fighting against injustice. "Ojukwu was one that led us where we are today by creating more states. His death is telling each one in leadership position to discharge their responsibilities to the best of their abilities."
Senator Chris Ngige said, "The Ikemba is a great man, he had a vision espoused, suggesting that he came before his time. He should be given a GCFR honour, should be given before his burial so that it is meaningful."
Senator Smart Adeyemi said, "He was destined to play the role in our history, he played that role to keep the nation together. Over the years, we have experienced even far worse situations than those that created the civil war. We have remained together because of the memories of the bitter experiences of the civil war. All great nations passed through a civil war."
Senator Pius Ewherido; "Ojukwu had a rich background, but he was humble to the extent that he became a recruit in the army. He was romantic, if you read his book; you will see that Ojukwu was a romantic man."
Senator Abdul Ningi- said, "He was brought up with silver spoon but decided on his own to associate himself with less privileged people. He died as authentic leader, he was a nationalist, he has given all to build this nation."
Moving the motion earlier, Uba noted that "the Ikemba was a source of pride for those who had the opportunity to experience him, stood tall against elements of injustice, segregation and oppression.
"After Biafra, his efforts helped to lay the foundation for national integration, equality and equity; championing Nigeria as one indivisible unit, true to the words in our first National Anthem 'Though Tribe and Tongue May Differ, In Brotherhood We Stand'."
Majority of the senators however regretted that the injustice, lawlessness and corruption which caused the civil are still ravaging the country today.