Jide Kosoko wants to install a stooge----Yemi Soluade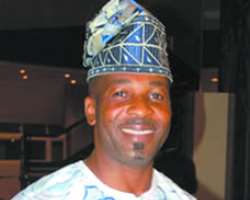 All is definitely not well in the leadership of Association of Theatre Arts Practitioners (ANTP), as one of the contenders for the presidency of the association, Yemi Soluade has accused the outgoing president, Jide Kosoko of partiality, and favoritism .
ANTP, the body responsible for running the affairs of the Yoruba genre of the movie industry will be holding its election in January by which time the tenure of Jide Kosoko would have ended.
Yemi Soluade, one of the foremost aspirants and the most educated has been going about telling those who have ears to listen that he is ready to take over from Jide Kosoko come 2010. But Jide Kosoko and a host of others within the association are said to be against his ambition for many reasons.
Soluade has been accused of being too loud and unguarded, and some of the things he planned to do are said to be outside of the jurisdiction of the association.
Soluade had said severally that he wants to disassociate the association from NURTW and alleged promiscuity among the actresses.
Jide is said to be against Soluade because "he is a neophyte" to the politics of the association. "How can he start with the presidency of the association when there are other posts" an actor in Jide's camp said.
But Yemi Soluade is describing the talk as nonsense. "If Obama can become the president of America who says I can't lead ANTP" he queried.
Speaking further, he said: "He is telling me that this is my first time in ANTP politics. He is telling me that I am inexperienced. He says I should be in the national executive and not the presidency. I told him that it's bullshit. If Obama can be the president of the US and he is the strongest man in the world, why can't I head ANTP . ANTP is just a regional body. I am just trying to salvage the situation from the hands of these "locals" and the Fuji thing. You know what ANTP has almost turned into.'
On the talk that he is being persuaded to step down for incumbent vice president, Dele Odule, Yemi said Dele has not been able to prove his mettle. "Dele was vice president under Jimoh Aliu and he is under Jide Kosoko, what has he done? ANTP is not hereditary, he should go. Let's go to the people and roll out our programmes. Some have been appealing to me that Dele Odule should be president. I don't know why it has to be Dele Odule when I have three masters' degrees. I have been acting all my life with them. I don't know why it has to be Dele, he said".
Speaking on his chance, he said many people are afraid of his presidency because some certain things would be impossible. "The fear of Yemi Soluade is the beginning of wisdom for Dele. He has been going around trying to persuade people to appeal to me. He has been spending money . I think Jide Kosoko is the man who has been playing God. The problem is Jide Kosoko wants to install a stooge he can control. He knows that is impossible with me. He is scared of me. You know I can't keep my mouth shut. I am the Gani Fawehinmi amongst them. He wants a stooge, someone he can control. For me nobody controls me not even my friends. I have a mind of my own and you know Nigerians don't like people like me".
Other aspirants in the race are Ashaolu and Dele Odule. Yinka Quadry was said to have stepped down because of limited education. When we called Jide Kosoko, a man picked the call saying he is on set.
Story by http://nollywoodgists.com