PASTOR ADEBOYE'S SON WEDS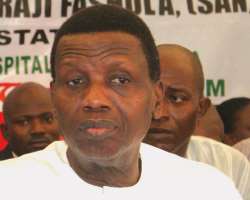 The household of Pastor Enoch Adejare Adeboye is at the moment engulfed in ecstasy and the reason is very much obvious.
The last child of the family,Leke Adeboye is about to quit bachelorhood.The woman who stole the heart of the bulky individual,who doubles as the G.O's personal assistant and a Redeemed pastor,is Miss Titilope Odesola,daughter of a prominent Redeemed pastor.
The date for this high profile wedding ceremony is Wednesday,December 28,2011,inside the Redemption Camp,Lagos/Ibadan Expressway,Ogun State.
Congratulations to the family in advance !