UMEH: OJUKWU REMAINS APGA LEADER EVEN IN DEATH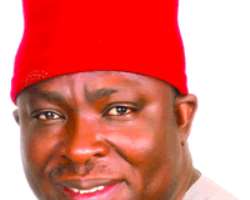 • Umeh
The All Progressives Grand Alliance (APGA) has officially announced the demise of its leader Dim Chukwuemeka Odumegwu Ojukwu. Announcing the death yesterday, the Chairman, Chief Victor Umeh, described Ojukwu's demise as a devastating blow not only to the party but to Ndigbo as a people, 'the vacuum created by his exit will be very difficult to fill.
'Since early this morning when the widow called me from London to break the news to me at about 5: am, I have never recovered from it; 'so also anybody who received the message through us have been dumbfounded.'
'It's a very huge loss and nobody can describe the impact of the death, people will only feel it over time. But our consolation is that Ojukwu lived a great and noble life. At 78 years, we cannot say that he died very young, but nobody from this part of the world wishes to hear that Ojukwu is dead, but because we are all human, he had to answer this inevitable call.'
'For those of us he left behind, I won't say he left us desolate because God who decided to call him at this time called him at a time He felt he has accomplished his task on earth.'For the Igbo people that he championed their course I would say that our situation will be like that of the Israelites; because when God called Moses he gave them Joshua to lead them to promise land. God at this time will not leave Igbo people desolate; I am sure He would provide for our needs.
'Remember that Ojukwu lived not just for Igbo people, he lived for the oppressed all over the world. The news of his death will shake the newsrooms all over the world. He was somebody who stood for the oppressed, people whose personal liberties were taken away; so anybody who looked up to him for inspiration will feel some void today.
To the members of the political party that he led very actively, APGA was his last public service and we were very privileged to have him as our leader.
'We lack words to describe our grief at this moment but we give thanks to God for this rare gift of a human being who lived life of selfless service to humanity.'Our deep condolences go to his wife, children and other members of the Great Sir Odumegwu Ojukwu family of Umudim Nnewi, Ndigbo and all Nigerians.' 'His life of bravery and rare accomplishments should be enough consolation to all of us. No doubt, Ojukwu will be greater in death as he will remain a reference point for generations yet unborn.
Also reacting, the President, Igbo Youth Movement (IYM), Evangelist Elliot Uko, the Igbo group that held a special ceremony to honour Dim Ojukwu on August 24 this year where hundreds of MASSOB members including their leader Ralph Uwazuruike were arrested and detained said it's a great loss to Igboland. Said he; 'the shepherd left the flock early this morning after eleven month of ill health but the flock is not confused.
We celebrate his life, and we celebrate his journey on planet earth; we celebrate his goodness and we celebrate all that the Almighty God used him to achieve. 'We are grateful for such a wonderful, meritorious and glorious life; a life he sacrificed for others; a life dedicated to protection and preservation of Ndi-Igbo since 1966. We are pained that he has left us but we celebrate his life and we are grateful to God for the gift of Ojukwu to Ndi-Igbo to Nigeria and Africa.
'I guess now that the professional obituary announcers will now have a field day; they have been announcing his passing on for sometime now, I guess they will have a field day now.'