NOLLYWOOD: JENNIFER ELIOGU'S HEART SHARTTERED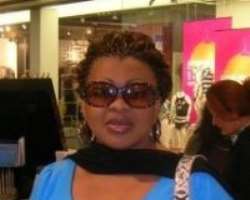 Plump but very beautiful Nigeria's screen diva, Jennifer Eliogu might not have envisaged what she's really going through at the moment with her marriage as the husband whom she's married to for close to five years has left her heart shattered and broken irreconcilably.
The marriage that produced two beautiful children, we learnt, has hit the rocks and the international bizman, we were told, has moved to Switzerland finally where he is alleged to be married to another woman, a Swiss lady.
The Nollywood actress, Jennifer, as we gathered, has been a shadow of her old self as the crack in her marriage has left her heartbroken and homeless. Some of her friends informed us that she has even packed out of her matrimonial home in VGC to a friend's house in Ikeja metropolis where she's presently staying with her two children.
Recently, Jenny as she's fondly called was sighted at a Christian gathering wearing a sorrowful and very remorseful look to the extent that people started shaking their heads for the new face of life that has just opened in her life. What most of her friends are afraid of is Jennifer's ill-health; "She's asthmatic in nature and if she starts to put this on her mind now, it may generate to something else. We really feel for her o, where is she going to start from with two kids." A source said rhetorically.
All effort to reach Jennifer was abortive as her number rang endlessly without any response from her. The question that is yet to be given an answer to is why our so called celebrity marriages are collapsing like a poorly arranged pack of cards. We hope those who are still married both old and new would cull a point from all this and hold their marriage tightly.
We shall soon give you a full list of Celebrities in the Entertainment industry in Nigeria with Broken Marriages and of course the ones that are just managing to stay in their marriages
Story by Micho Hay