DIM CHUKWUEMEKA ODUMEGWU-OJUKWU (1933-2011)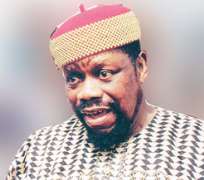 • Ojukwu
YESTERDAY, November 26, 2011, Dim Chukwuemeka Odumegwu-Ojukwu, the number one Igbo citizen and a Nigerian patriot said goodbye to this world after a protracted illness. I was privileged to accompany Gov. Obi (his 9th visit) to see him in London on the 25th of November, on our way to Nigeria from France, where he accompanied the president to the meeting of Honorary Investors Council of Nigeria's meeting. Our plane hardly touched ground at 5:30 am when the Governor received a text message from Ojukwu's son that the father had passed on.
He was momentarily lost as he kept shouting Oh noo ad infinitum. He immediately made some calls, including to Ojukwu's wife, Bianca who is in London. He called his wife, Margaret who was in France with us, but had to stop in London to immediately go and stay with Bianca and make sure everything was in order. Mrs Margaret Peter-Obi had tried in vain to persuade her husband to spend the night in London, but the Governor said that he had so many things to do in Anambra that he could not afford one minute of rest.
Turning to me, he told me to call his travel agent for the next available flight to London for himself, myself and Emeka, Ojukwu's son. The agent got back with the news that British Airways was fully booked. Thereafter, we went to fetch the son in town and raced back to the airport for the next flight to Lagos to catch the Virgin flight to London. Since only two economy class were available, I could not make it; Gov. Obi and Emeka did.
While we were in London, Gov. Obi had audience with the President. After the meeting, he told me how nice our president is, his concern for the good of the country and how he showed deep-rooted concern for Ojukwu. The issue arose because Obi discussed with him the possibility of naming the dual carriage road from Head bridge after Dim Odumegwu-Ojukwu.
He had written to him on that but Mr. President was of the opinion, and rightly too, that it would be after the rehabilitation of the road, which is on-going now. Even while the President spoke to our people in France, he said that his SSA in Diaspora (Bianca) would have been in the meeting but for special permission granted her to appropriately look after her husband. As all this took place, nobody knew that death was hovering over him.
But why this unusual reactions to Ojukwu's death? The reason is simple, he was a great man. Shall we sample him?
By the standard of today, his father, Sir Louis Odumegwu was a Billionaire. With his wealth, he reared the little but charming Emeka with all the affection that parents lavish upon their children in ever y age. He was determined to give him the best education. Consistent with Sir Louis' vow, the child, Emeka, was almost crushed with education. The first school he attended was St. Patrick's Primary School, Idumagbo, Lagos.
There, during break hours, he relished sham battles in which, time and again, he and his friends were nearly killed. Because of this, only few pupils could dare play with him. Later, he attended Church Missionary Grammar School (CMS) and King's College, both in Lagos.
While in King's College, his father had already discovered that his child, Emeka, was intellectually precocious and keen, well endowed with good judgment and restless with ambition. How best could a man develop his potentialities? In those days, as it is today, it helped to attend good schools. King's College was in fact, one of the best secondary schools in Nigeria. Since education was still developing in the country, Sir Odumegwu wanted for his son a country where education has reached advanced stages, for effective intellectual insemination. It is a fact of history that when one grows among advanced people, he is more likely to imbibe their civilization with great ease. After discussing the idea of a British education with some of his enlightened Nigerian friends, they settled for Epsom on the understanding that at thirteen he would transfer to Eton, Britain's most exclusive public school.
As planned, Emeka, 12, was admitted into Epsom College, in the county of Surrey.
His English education began in earnest. Epsom thenceforth became a formative ordeal for him in a strange environment. The college inspired the talented Emeka with a great love for history. He came to know and admire English civilization. Like any child with his disposition, he equally learnt a great deal of the virtues and vices that go with growing up..
Emeka later gained admission to Lincoln College, University of Oxford in 1952. Oxford, as expected, was full of the frolic of students, the odour of learning and the excitement of independent thought. There, his father was anxious that Emeka should study Law saying, 'I think there is the material of a good lawyer and legal director of my business in him.'11 This was in line with the prevalent disposition among Nigerians, where, till today, fond parents always want their children to read Law which they regard as an open sesame to wealth and high social status.
The insistence of the father that Emeka studied Law was the first serious conflict between father and son. In filial compromise Emeka took up the studying of Law; but as a student of Law, the prospect of studying modern History and observing the lives of heroes held a secret fascination for him. At a stage, having studied Law for a year, he burnt his law books, forgot Jurisprudence and followed History as if under a spell.
In 1955 he obtained his Bachelor of Arts degree. Back to Nigeria, he soon returned to Oxford to receive his Master of Arts degree. With all these, and while in the flower of his maturity, he inwardly felt satisfied that he was now well armed with the weapon of education. His desire to contribute to the development of his country could now begin. Silently, he resolved to begin in earnest.
On his return and excited and happy with his son, Sir Odumegwu took Emeka to a lavishly furnished office complex, and handed him the keys. On getting home that day, Emeka had a vision or something close to that; he was offered a choice of life of ease, pleasure, plenty and vice, or one of hardship, danger, glory and virtue. He followed wise counsel and chose the more difficult but virtuous life. Thereafter, he rejected the cosy path cut for him by his father, gave him back the keys and decided to cut his own path.
This crave for individualism made him join the Eastern Nigerian Public Service as an Administrative Officer. Sir Louis was not pleased at all that his son took what he considered the ridiculous job of an administrator. Exhausting all persuasion, the father upbraided the son for trying to make his family a public jest. Rather than budge, the son showed ever less interest in the father's business, ever more in administration.
The dust generated by Emeka's administrative work had hardly settled down when, in search of an organization that would escape his father's influence, he generated another controversy that threatened to separate him from his father for good. He joined the Army! This was in 1957, when the Nigerian Army was merely a part of an all-embracing British West African army called the Royal West African Frontier Forces (RWAFF). These forces included the armies of Nigeria, Gold Coast (now Ghana), Sierra-Leone and Gambia.
Thinking the task of bringing his son to his 'senses' had gone beyond him, Sir Odumegwu enlisted the help of his friends; Zik and others were contacted. Zik called Emeka and advised that if he were Emeka, he would accept his father's offer and avoid the hazard of joining a brutal force. Emeka remarked that he would do so if he were Zik. Being Emeka, he maintained that his father's offer would make him perpetually delineated as Ojukwu.
After the drama of being forced to enter the force as a recruit, the new Cadet went to Teshie in Ghana, thenceforth to Officer Cadet School at Eaton Hall in England,. He later attended Infantry School at Warminster and Small Arms School at Hythe and Joint Services Staff College (JSSC) at Latimer.
In Nigeria, Ojukwu served with the First Battalion, Kano, before his appointment as an instructor, Royal West African Frontier Forces Training School, Teshie, Ghana, 1958-60. Ojukwu returned to fatherland in 1961 and served as staff officer in the 'A' Branch of the new Nigerian Army Headquarters in the Defence Ministry building in Lagos. He had no problems carrying out his assigned duties. Six months as a Captain, Ojukwu was promoted to a Major. Because of the respect Emeka's father had for the rank of a Major, he broke the silence with his son and celebrated his promotion with him. Father and son drank a bottle of champagne between them as a gesture of re-union. Very soon he was transferred to Kaduna as a Staff Officer with the First Brigade. While there, like his contemporaries, he served with the United Nations Peace Keeping Forces in Congo in 1962. Between 1964 - 66, Ojukwu was the commander of Fifth Battalion, Kano. The period of his command can be described without tongue-in-cheek, as the most gruesome time in the history of Nigeria. While he was in the Fifth Battalion, the first attempted coup took place. He did not, like most commanders, abdicate his command. He opposed the coup and was later appointed the governor of the Eastern Region.
His tenure as governor portrayed him as a master in the art of governance, and an eloquent public speaker. None who heard him speak could forget the cadence of his speeches, his mellifluous tones, the eloquence of his words, the geniality of his spirit, the charm of his courtesy, the vivacity of his wit, the poetic sensitivity of his mind. Both in his prepared and impromptu speeches, he made use of all the faculties he had, natural or acquired, such that he far surpassed in force and strength all the orations of his contemporaries. He has the rare capacity for dramatic poses. Clenched fist, jutting jaw and theatrical action, were part of his fiery speeches.
The regime of General Ironsi, which Ojukwu was part of, tried to save Nigeria within the limits of their vision and creed. With the death of Ironsi, an organized pogrom was carried out. An eyewitness told how orders were given to some Northern soldiers to kill all Easterners. The terrified soldiers at first refused to obey the command. They were however induced to kill a few. The heat of the murder inflamed them and it passed into massacre. This spread to the barracks and Igbo quarters with fluid readiness. Ojukwu and other concerned Igbos raised horrified protests, even as soldiers of Northern region congratulated one another.
Igbos then came to the belief that the security of the Easterners was in their own hands. The courage of their leader, Ojukwu, gave dignity and splendour to their survival cause. Thousands of onlookers must have been disturbed as millions of Igbos left the North in a prolonged and melancholy exodus.
This was the genesis of the civil war crisis. As the crisis deepened, Ojukwu's resistance grew, but Lt. Colonel Yakubu Gowon wanted to retain him in the army. In an attempt to placate him, the prospect of being the Chief of Staff Supreme Headquarters was dangled before him with enticing conditions. However, Ojukwu, who would not support indiscipline, spurned the dangled carrot. Were he different, he says: 'I would not have chosen to resist Gowon instead of the easy way of acquiescence chosen by my colleagues.'
As one of the means of seeking peace, the actors in that conflict needed a meeting.
Ojukwu knew that his security and that of the Easterners was not guaranteed. Likewise neither Gowon nor Lt. Colonel Hassan Katsina was prepared to go to the East. A compromise would have been Benin City, the capital of the Mid-Western region, but for the presence of Northern soldiers, it was unacceptable to Ojukwu. In sum then, a meeting could only be held in a neutral territory that would be willing to host such. Finally, the meeting was held at Aburi, Ghana, under the auspices of General Ankrah. The two warriors and their lieutenants, as expected, flew off to Ghana well armed with the problems of the country as if to a decisive battle.
The Aburi meeting was held on the 4th and 5th of January 1967, at Peduase Lodge, a luxurious hilltop retreat built by late President Kwameh Nkrumah. The serenity of the place could bring wandering souls back to their senses. It was an ideal place for sober reflection.
At Aburi, for the first time in Nigerian history the problems of the country were faced honestly and honest solutions sought. From that bitter moment, Ojukwu the Administrator receded into history, and Ojukwu the General, aged 33, turned his soul to war. He went to war not because he liked war, but because he had no option. The problems he faced seemed to have defied a peaceful solution. After the war, he went to exile where he stayed for 12 years.
With the end of the war, Ojukwu was granted political asylum by the Late President of Ivory Coast, Houphuet Boigny. Thus, from 11 January, 1970, Ojukwu's exile started. He needed a secluded place that would be conducive to sober reflections and contemplation. He needed to be away from the prying and prancing eyes of many that sought to see that powerful man of Biafra. He needed a place that would be inaccessible to assassins. The search for a good place finally ended at Yamoussoukoro, which also houses the Ivorian Summer Palace. Its imposing Catholic basilica now enhances the pride of the city. Later, when tension reduced, he moved to the capital, Abidjan.
After his pardon by the then President, Alhaji Shehu Shagari, Ojukwu came home on board a chartered Boeing 727 Nigeria Airways Flight WT 700. Soon after the plane touched down on Nigerian soil, the welcome song rent the air. Work at the airport was almost paralysed, as all airport officials who got wind of his arrival abandoned their posts for hours to catch a glimpse of Ojukwu, the returning hero. There was hardly anybody in the country that had not the curiosity to come and see the formidable and indefatigable freedom fighter. There was what seemed like mass movement of Easterners, Westerners and Northerners to the airport. The airport was partly destroyed.