It Is Only In Nigeria People Sell 50 Movies On A DVD For N150 On The Street Without Arrest ….. Teco Benson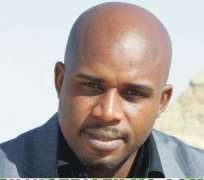 There is no doubt that the play-acting sector of Nigeria has contributed meaningfully to the economy of the country. The film industry, which is mostly called Nollywood, as a sub-sector of the entertainment industry in Nigeria has taken a lot of people from the streets and made them celebs and stars.
Many believe that it is one sector that the Nigerian government has not spent a dime on but has grown to be a huge turn over to the economy, and also contributing greatly to the nation's Gross Domestic Product (GDP).
One virus that has eating deep into the sector has been piracy. Though lots of effort has been geared towards fighting the menace, but it has not yielded any meaningful result to this extent.
According to a foremost director in the make-believe world in Nigeria, Teco Benson, while speaking with Osaremen Ehi James of
NigeriaFilms.Com, "I have never seen any country in the world where intellectual properties are toiled with like Nigeria. It is not done anywhere, even in Ghana, it is taken seriously."
Just some years back, some players in the industry took up the challenge to fight the menace once and for all by going on hunger strike. This strategy, did not work out.
There have reports that some bigwigs at the headquarters of piracy in Nigeria, Alaba International Market, Ojo, have confidently said that the government cannot do anything to them.
Venting his anger further, this respected heavyweight in Nollywood said, "In Nigeria, people do it [piracy] with impunity. You see people bundle about 50 recent films into a single DVD and sell for N150, and walk freely on the streets with no arrest. With this, what do you expect? They feel they are doing the right thing."
This statement by Teco Benson is one problem stakeholders in the industry are still fighting hard to curtail. They have come up with arrest of both the buyers and the sellers of such packaged films on DVD; this as well didn't change anything.
Many have faulted filmmakers at the massive rate they churn out films weekly into the market.
This they believe, with the poor economic situation of the country, the buying power of an average Nigerian would not permit them buy most movies released weekly. As an alternative, they go for the 50-in-1 movies on DVDs, which goes for half a price of an original market price a
movie on VCDs.
The question now is for how long this trend would continue? Will piracy ever stop in Nigeria with the way the Nigerian government is handling the matter? Only time will tell.