SENATOR MUSILIU OBANIKORO ROMANCES UNILAG UNDERGRADUATE,RAHAMAN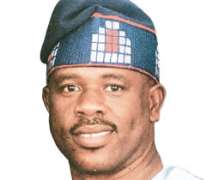 Senator Musiliu Obanikoro is said to be embroiled in a hush hush romance with one Rahaman 'Lara Animashaun , a University of Lagos Undergraduate.
Musiliu Obanikoro is said to be very discreet about the development- same for the lady, for now.
According to sources ,Obanikoro, the nation's High Commissioner to Ghana is just having casual fun, though the girl prefers something more serious.
Informants are of the opinion that the chances of 'something serious' coming to play in the shrouded romance is almost absolutely nil, except of course the irregular phenomenon of 'unexpected' factor in such affairs come into play and change the shape of things.
Lara is a noted controversial Unilag undergraduate- she was one of those at the centre of an 'obscene s*x war' on social connect medium, Twitter recently.
Insiders claimed the romance that has been on for some time has earned the beautiful undergraduate a Honda Accord Car. Prior to this acquisition, she was using a Toyota Camry 2008.
The colour of the Honda Accord is identified as Red.
This is said to be outside of other shrouded cash and material benefits.
The lovebirds were reportedly spotted together in Abuja recently.
click the link below to go to...
UNILAG GIRLS FIGHTS ON TWITTER,REVEALING THEIR DIRTY SECRETS.