RE- ICPC TO INVESTIGATE SHEKARAU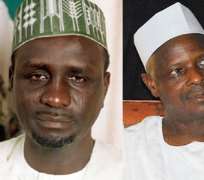 Politics, they say, is a dirty game and according to the present governor of Kano State, Engr. Rabiu Musa Kwankwaso in the Daily trust of May 27, 2011, "people who play it dirty will get it dirty." Indeed, the governor might be aptly referring to his predecessor, the former governor of the state, Malam (Dr) Ibrahim Shekarau who investigated him in 2003 for the diversion of the state ecological and scholarship funds, in which the governor was grossly found guilty and consequently earned him a government white paper of corruption and embezzlement. But the Independent Corrupt Practices Commission, which was conspicuously in existence never, raised an eyebrow for investigation at least, to know what happened. Rather, the governor was rewarded with ministerial position, believing that whatever happens, it is always a PDP family affair since the party that brought about the ICPC in 2000 also brought Engr. Rabiu Musa Kwankwaso as governor.
Since Engr. Rabiu Musa Kwankwaso assumed office some six months ago as the governor of Kano State for the second time, he has been playing it dirty with his predecessor, Malam (Dr) Ibrahim Shekarau and nothing he has not done to tarnish his hard earned image with impunity. Realizing that there was nowhere he could rope Shekarau into his dirty politics, the activities of the so called NGO in Kano became an alternative to save face. It then raised false alarm in its petition to ICPC and if for nothing, at least, to embarrass Malam (Dr) Ibrahim Shekarau since in the belief of some people in this country, Nigeria, it has become a taboo for any one to be adjudged clean and so, Shekarau should not be an exception. Having perfected his wuju-wuju politics, governor Kwankwaso pretentiously went ahead to publicly declare that he has left Shekarau with God and so he would not probe him. This is to avoid being tagged vindictive and revengeful, which his character trait portrays.
It is therefore not a surprise to any one to read the story that the Independent Corrupt Practices Corruption (ICPC) will, after several insinuations and ill talks, investigate Shekarau, which was published in the Daily trust and some other media in their editions of November 18, 2011. In fact, it was certain that since dirty water had passed under the bridge, perhaps with the influence of the same man who thinks he could play God by publicly proclaiming that he would not probe Shekarau as he had handed him over to God for judgment, when the fact remains that it is not in his character to easily forgive and forget.
Incidentally, the former governor Shekarau had made it clear that he was not in any way afraid of any probe by either the government of Kwankwaso or any of her syndicates, believing that only a guilty conscience fears accusation. All this not withstanding, the allegations by the NGO in Kano against Shekarau might be mere figments of her imaginations and it is also clear that ICPC, as usual, might also be unknowingly being used to do the bidding of smear campaigns of calumny against the humble Shekarau. This can be attested against the background of the fact that, ICPC which directed that "the ex-governor Shekarau be invited to answer questions raised in the petition" against him seems to have equally adjudged him 'guilty' by claiming that "its team of investigators visited the state where it uncovered a lot of financial malpractices in the award of contracts as claimed by the petitioner." If ICPC had already found Shekarau guilty by mere visiting the state, why must it again "invite Shekarau to answer questions raised in the petition?" How can we pass judgment before investigation, knowing full well that honest judgment could only be attained after listening to both the petitioner and the defendant really beats our imagination? Perhaps, this double stands of ICPC also require investigation by another independent third party to ascertain if the ICPC and the NGO in Kano are not birds of a feather. Again, the credibility of the ICPC team that visited the state before pronouncing judgment after hearing one side of the story should equally be tested because the fact is that as at the time the ICPC team came to Kano for its kind of investigation, the defendant of the petition, Shekarau was away in Saudi Arabia. It is therefore awkward for ICPC team of investigators to have only listened to the politically infested NGO in Kano without waiting to hear from the defendant before making judgment.
Conversely, the claim and allegation by the ICPC investigators in their report that "the immediate past governor awarded the construction of an 11-bedroom apartment to himself to the tune of N286,434,168.51 while in office" sounds more of a fallacy, biased, prejudiced than real and does not in any way hold water. The fact before the public, which one believes ICPC investigators have at their finger tips, is that the law that enabled the ex-governor to owe a house built for him by the government started long time ago even from the Federal Government when Obasanjo was in power. According to the law, the presidents, vice-presidents, governors, deputy governors, etc are entitled to some remuneration including a six bedroom house to be built for them at a location of their choice after their first term in office. They are also entitled to office, medical check-ups, two cars and pension. All these are to be provided by the succeeding government.
It should be remembered that the former governor Shekarau is the first governor in Kano State to have succeeded himself, having won two consecutive terms in office. In view of this remarkable feat, the government of Shekarau was in position to provide the benefits in fulfillment of the remuneration law for governor Kwankwaso, his deputy (Abdullahi Ganduje), former governor Shekarau and his deputy (Magaji Abdullahi) who had already completed their first terms in office.
Governor Kwankwaso's deputy, Dr. Abdullahi Ganduje allegedly applied for his benefits under the law and suggested a house of 10-bedroom apartments to be purchased for him, in which at the end of the day, Shekarau government allegedly paid him the sum of N233,919,556.00. In the case of Shekarau's former Deputy Governor, Engr.Magaji Abdullahi, he also allegedly applied for the monetization of his own entitlement including office. He too was said to have been allegedly paid the sum of about N155,575,518.00 in addition to other benefits amounting to the sum of about N78,459,585.00. Governor Kwankwaso himself was said to have also applied for his own entitlements in line with the law. He also gave a house situated at the state road, Kano of about 20-bedrooms apartment and demanded for about N1.3billion. See Daily trust of July 14, 2011 under the caption, "Kwankwaso demanded N1.3B." This amount was considered too much by Shekarau government. At the end of the day, the government approved the sum of N900M in which a part payment of N500M voucher was raised for payment to him. The payment was ready for collection when Shekarau's term ended and left office in May 29, 2011.
However, it is alleged that Governor Kwankwaso received two Geep cars and pension entitlements in line with the law. Shekarau's former Deputy, Alhaji Abdullahi Tijjani Gwarzo has not enjoyed his own house benefit because he had just completed his first term in the second term of Shekarau administration. It is however expected that the present governor Kwankwaso would also arrange that of Gwarzo for him. In his own case, the ex-governor Shekarau did not demand for monetization of his own house. It is true that he was entitled to a six bedroom apartment but as a devoted Muslim with four wives, the six bed-room apartment would certainly not have been enough for him. The cost of his pension was then added to top the total cost of the six bedroom apartment he is entitled to, to get the present eleven bedrooms apartment, which the ICPC investigators and the so called NGO are now making hue and cry about.

Indeed, if really there was a proper and unbiased investigation by the ICPC investigators, this simple truth, which had earlier been made public when governor Kwankwaso government was in a hurry to blackmail Shekarau immediately the former assumed office, would have been reflected in their report and formally made known to the public by ICPC spokesman, Resident Consultant Folu Olamiti in his press statement issued in Abuja on November 17, 2011. But where interest might be involved, all these facts could easily be swept under the carpet and this type of politics has been grossly responsible why genuine war against corruption is hard to win in Nigeria, especially after eleven years in existence.
On the issue of 50 percent mobilization fee paid for a contract as against the 15 percent allowed by the law, the public would also like to know if the said contract was executed or abandoned. If the contract was executed, the issue of percentage to be paid as mobilization fee talked about by ICPC investigators becomes apolitical and if it was abandoned, it is then, the government of Shekarau has case to answer. Any thing short of this will only amount to beating about the bush.
It is now clear that the former governor Shekarau is being witch hunted by those who want to have their on pound of flesh and as we await to hear from the ex-governor his own side of the allegations leveled against him by the NGO in Kano Government House in complacency with the power that be, it is instructive to remind ourselves that the same ICPC involving itself in the alleged corrupt practices of Shekarau government had also given a clean slate to ex-governor Shekarau government where its former Boss, retired Justice Emmanuel Ayoola had advised other state governments to emulate Shekarau by setting up anti-corruption agencies such as the then Kano State Public Complaints and Anti-corruption Directorate (PCACD).
This rejoinder is not meant to exonerate and incriminate any one but an attempt to put the record straight so that the public which is entitled to know the truth, and nothing but the truth is allowed to enjoy this inalienable right, without the coercion of any vested interest under the façade of NGO and ICPC. Thus, looking at the foregoing, one can now understand the kind of NGO and ICPC we have in this country. With the type of Shekarau we know and his lofty achievements while in office, it is certain that he will come out unscathed after honouring the invitation of the ICPC to clear his side of the issue, noting that invitation is not synonymous to being adjudged guilty. Even if the blackmailers and those dubiously pressing the button behind the door succeed in their mischief against the man of God, such success is temporary and will never stand the test of time.
Finally, let Shekarau face the ICPC, state what he did or did not do and simply leave the rest for posterity and God to judge not minding whatever wrongful persecutions he might face in the hands of oppositions.
*Aliu Ibrahim Aliu, Kano City, Kano. Email: [email protected]
Disclaimer:

"The views/contents expressed in this article are the sole responsibility of

thewillnigeria.com

and do not necessarily reflect those of The Nigerian Voice. The Nigerian Voice will not be responsible or liable for any inaccurate or incorrect statements contained in this article."
Articles by thewillnigeria.com