House Probe: Vaswani Brothers Deny N50B Import Waiver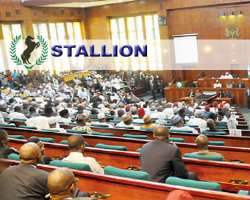 SAN FRANCISCO, November 21, (THEWILL) – The owners of Stallion Group, the company being investigated by the House of Representatives over an alleged N50 billion tax waiver on Rice importation have said they did not get any tax waiver from the federal government, adding that the charge is "The latest onslaught against the Stallion Group/Vaswani Brothers is only a continuation of the dirty tactics aimed at tarnishing the image of the brothers and their company."
The controversial brothers in statement on Sunday expressed shock at the charge but said they were okay with the probe.
Recall the brothers were deported twice, once each by the Olusegun Obasanjo and Late Umaru Musa Yar'Adua administrations following alleged charges of economic sabotage but were later granted pardon by government after a court ruled their deportation and seizure of some of their businesses illegal.
The Vaswani brothers' statement via their lawyer Kanu Agabi SAN reads, "The Vaswani Brothers have expressed shock at the purported granting of a phantom N50billion waiver to them through their company, the Stallion Group, on rice imported into the country.
"They, however, welcome the probe by the House of Representatives into the allegations of import waiver granted to the Stallion Group/Vaswani Brothers.
"We write on behalf of our clients (Stallion Group/Vaswani Brothers) to inform the appropriate authorities and the public that our clients (Stallion Group/Vaswani Brothers) did not apply for any rice import waivers and no import waivers were granted to them by the Federal Government or any other authority.
"The latest onslaught against the Stallion Group/Vaswani Brothers is only a continuation of the dirty tactics aimed at tarnishing the image of the brothers and their company.
"Following the wrongful deportation of our clients from the country – an action which was quickly set aside by the Federal High Court on the grounds that it was illegal and unlawful – our clients have been the victims of all sorts of lies and rumours aimed at scandalising them and tarnishing their image and reputation.
"Fortunately, on every such occasion, the truth has prevailed and our clients have been vindicated as investigations conducted by the Federal Government have confirmed the innocence of our clients."
"The Stallion Group/Vaswani Brothers support wholeheartedly the decision of the House of Representatives to investigate these allegations.
"In the past, falsehoods of the type, which the House is set to investigate, provided the platform for actions as extreme as the illegal deportation of our clients. The action of the House is worthy of commendation in that opportunity is now afforded for the accusers to come forward and justify, if possible, their false accusations, while our clients will be equally opportune to know and to confront these false allegations with indisputable facts."