I GOT INTO COMEDY BY MISTAKE-BUNMI DAVIES, AFROTAINMENT BOSS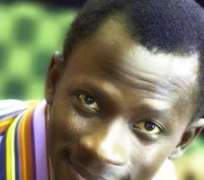 Bunmi Davies is a full-blooded Lagosian born in Ologbo area of Lagos Island and brought up in the Islamic faith by a strict naval officer father. His childhood was filled with fun, and he never lacked the basic necessities of life. Today, the Banking and Finance graduate directs Afrotainment Productions, which he confesses he started as a joke but has grown into one of the biggest names in the Nigerian entertainment industry.
Despite the fact that personalities acknowledge that you helped them become successful, you have remained, as it were, faceless. How did you achieve this?
First, I think it is in line with our vision in Afrotainment Productions to be the brand that supports the realization of dreams, the brand that wants to be available and relevant not for today but tomorrow as well.
In order to do so, we must help people who are nobody so that when they become somebody you call on, a lot of things work in your favour. Personally, I also think it is just me, and as my mum says I live like tomorrow doesn't exist. I don't have a good saving habit because if we don't have, somebody out there will support us because we have been supportive. As for being faceless, I think it is the best way to work.
Why is being 'faceless' the best way to work?
Till today, when I sit in the middle of the audience during our shows, a lot of people don't know me. That way I get to have a lot of firsthand experience of what people want and this helps a lot. Sometime ago, our presenter walked up to me for an interview during an event. I needed to do the interview but remain faceless and when it was aired, I was at a place where people wanted to know who I was but when they couldn't get any word from me, someone made a comment that by the time they finished dissecting me, I denied myself. Fortunately, and because they didn't know who I was, the concept wasn't a good idea but when Denrele created attention with his greetings, their psyche changed immediately. The truth is that if they had known me, they would have fooled me and told me what I wanted to hear.
So who is Bunmi Davies?
He is an entertainment producer, deliberately focused on comedy because it started by accident. I really don't have the strength when it comes to music and you can't give what you don't have - except when it comes to comedy. I am a father and have a lovely daughter. And for the records too, I a good husband as well. I am the third in a family of five and a full-blooded Lagosian. I think that summarizes me except there are specifics you want to know.
You said you stumbled into comedy. How did that happen?
I would say that it didn't happen by design because when the company, Afrotainment Productions started in 2000, I set out doing plays; we were more or less a theatre company but no matter how serious the issue we were dealing with was, we always injected some form of humour into it - whether the issue was about women, child abuse, HIV, armed robbery or unemployment.
People who watched our production would always laugh. So I felt we were making sense and communicating with people even though we were not serious about it, and because of the nature of the work, we were attracting comedians of some sort to feature our programmes. For instance, we started working with Koffi, Teju who were still in school and some others, and we were building strong relationships with them and didn't want to deviate from this. So it made perfect sense every way you chose to look at it – business sense, relationship management, everything just fitted properly and here we are now doing comedy and more comedy, which essentially was built on what previously existed.
Why do people think that you are female - when your name is mentioned, and how do you handle female advances?
I think it is the name; Bunmi is like Funmi, Bola, and a few other names that are peculiar with ladies, and I didn't help matters by hiding my face. It is so bad when I am chatting on Facebook and a guy starts 'toasting' me. Then I say, hey I am a guy like you', but for some the 'chase' actually ends there but some still go further and say, 'I know but we can still be…'
So you see it is a borderline thing because for some people you don't know if the person genuinely mistook me to be a female or the person was actually gay and trying to play smart. As in other professions, handling female advances is not peculiar to people in the entertainment industry. So I try as much as possible to correct the impression but I handle it by being focused. But honestly speaking, if you see my wife, you will know I have no reason to look outside; her name is Turayo.
You read banking and finance, why did you choose to branch off into what you are doing now?
That is because I enjoy what I do; for me it is about passion. If you don't enjoy what you are doing, it is going to be a temporal thing and you will find yourself moving from one place to another; you will never be stable. Banking and finance is just a course and I ended up like the educational system in Nigeria, to prove that you are intelligent. Going back to pre-university days, I need to clearly state that I could have fitted into almost everything.
While growing up, I wanted to join the navy because my dad was in the navy, and all the attraction it had for me. In secondary school I was actually a science student with a combination that could get me into any science-based course. I kept changing my ambition until eventually I settled for banking and finance and here am I now. But I am still using what I have to achieve other things. By that I mean that I have a wide knowledge of things and there is hardly anything that I won't contribute to; the producer's work is to bring everything together to make sure it balances, especially financially.
Why is it that people study one thing in school and end up practicing another field altogether?
It is because of the educational system; that's why only a few people actually do what they want to do; if they are not knocked out by quota system, they are knocked out by one thing or the other; I know somebody who left engineering to study theatre arts - ordinarily that sounds crazy - only people like her could have done that - again probably because it was the reverse. Otherwise, it would have been more difficult - I mean leaving theatre arts to study engineering would have been more difficult. Again people have the wrong impression that theatre arts is not a competitive course and difficult course like engineering or medicine - this is very wrong misconception and it is unfortunate.
Most people studying theatre arts today, if you ask them you will find that they didn't fill it in their JAMB form but they ended up becoming theatre arts graduates. Like me if we had a full internationally recognized school for theatre arts probably that is something I would have done, but we don't have it. Back then, if you told your parents that you wanted to study theatre arts, the way they would look at you would make you drop the idea immediately. Probably things are changing now because of Nollywood. I think it is just a reflection of the educational system and the by extension the society. We believe so much in paper qualification; if you don't have a Ph.D your opinion is not as heavy. The irony is that people are buying this degree right, left and centre.
What's the concept behind Standup Nigeria?
To truly appreciate Standup Nigeria one needs to go back to how it started. We were doing plays but over time we started shows for comedians. For every show, publicity was key but we didn't have any platform to push comedy 100 percent, so we always had to attach to other platforms like music, dance and even soap operas. Personally, it was annoying because we were seen as second fiddle or extras, rather than comedy blazing the trail with music or other platforms as attachments to it. So I wanted something that was 100 percent comedy, which was an extension of a personal desire.
Another reason was that it was in line with our vision to be the brand that supports the realization of people's dreams; so we wanted to create an avenue where somebody who wasn't a nobody would within two years have a platform to prove himself just like accountants have ICAN and lawyers NBA. For instance, if an unknown comedian tells people he has performed at Standup Nigeria, I am sure he will be looked at a second time. Standup Nigeria is some form of qualification because it is not every person that gets on its stage; we make sure that they are able to deliver and that is why we don't promo names because we have made it an everybody's thing in comedy and not a 'Bunmi Davies' property nor an Afrotainment property but we are all building it together.
What else would you be caught doing if you weren't doing what you are doing now and why didn't you go for paid employment?
I have never thought of it, probably I would be in a company handling events or doing something around that. I would probably be working in the corporate affairs department of a big company or I'd still be doing it by extension somehow; but getting into full time regular structure is another thing entirely. If they don't sack me, I will sack myself. I didn't go for paid employment because its essence is to earn a living and to be happy; I am happy doing what I am doing.
So what is your relationship with these comedians and what is your impression of the industry?
One word for my relationship with the comedians is fantastic and for my impression of these comedians, I need to separate because there are some probably because of orientation, who don't see the big picture.
What is the big picture you want them to see?
The big picture really is going international because the entire world is shrinking everyday and we can't remain local champions. If as a comedian controlling Lagos nobody knows you in Ibadan, then you are really not in control but just a mere local champion. But in a scenario you call a Nigerian comedian and people in Canada are screaming, that is what am talking about and that is where we want to be. We are already bringing international acts to perform in Nigeria and Nigerian comedians are go abroad to perform but several years ago, the thought of having a Nigerian perform on an international stage was a mirage.
That means we are getting there but unfortunately not everybody sees that picture because of orientation. A few see the picture of being satisfied where they are and so there is no need to work harder. If we have the potential of making 100 but we are making 10 that means we are losing 90. So we shouldn't stop because we are wasting talents as a matter of fact. But a lot more see the bigger picture that is why the industry is growing fast – mainly the comedy sector of the industry.
My view of the entertainment industry is that it is taking over because it is helping a lot of things. Imagine what it would be like if the industry wasn't thriving? The ripple effect is enormous. If the industry wasn't there and where would all the beneficiaries go? They will be scouting for non-existent jobs that will require 10 years experience, with M.Sc and Ph.D giving you added advantage and above all you must not be more than 24 years. How? But the entertainment industry is taking care of a lot of such people. Comedy is growing in geometric proportion everyday. And it will continue; that's why we have a lot of comedians.
What has marriage taught you?
Ahh! It has taught me to learn to share more and be patient, which I think are the primary things amongst others. Before marriage, I could go out and come back by 11p.m even though I'm not a night crawler, now if I'm not busy doing anything outside, I don't go out. The company I need is at home and that's my style anyway. People come to the house and sleep over because my wife understands; sometimes her friends and mine, and even staff come over to sleep at our place. If I come again, I'd go and look for her to marry again.
So how did you meet your wife and what convinced you she was the one for you?
I met her one night while going for production rehearsals when I saw her with a friend who had invited her over. I remember wearing dark navy jeans, a round neck T-shirt and my jalamial because of the cold. In the middle of the rehearsals it became very cold, so was Turayo because I noticed it. Foolish me doing lover boy, I offered her my jalamial which gave her relief and in return I started shivering but then I had gotten her attention because I had my own agenda – it wasn't for nothing.
That was Plan 'A' and that was the first move to start the discussion; so we started discussing from one thing to another and here we are – it was worth the cold. My conviction is that I am always happy around her; when you are in the company of somebody and you are at ease and your mind at rest, you can't quantify that or when you are upset and you call up somebody after that discussion even if you are not happy, you are not as bad as you felt before the call, it is a sign. When you need to do things and you think of a couple of people and she is always among the people you think of, then I think the question is answered.
How long have you been married?
We got married on November 26, 2006. I think we are going to have a double anniversary because it will be our five years marriage anniversary with a lovely daughter while Standup Nigeria will be three.
How many kids and how many more?
I have one lovely daughter. How many more? That means I will be playing God if you ask me how many more. If I were to have more, one is enough if God answers our prayers, which I know He will and it will be a boy.
Seems you don't believe in having many children?
It is only in politics that we do a game of numbers but for me, it is a game of quality. Life is quality; what is the point in having 20 children and none is there. Two beautiful children, even if they are two girls, two boys, one boy, one girl, child na child but give them quality of everything.
How was it like growing up in the naval barracks?
No, I never lived and didn't grow up in the barracks because we were staying outside the barracks. My father for a long time didn't want to stay in the official quarters because of the nature of the job, postings here and there, so he left us in Lagos with mum while he was the one doing the posting. He did so because it would have affected our education although we went to visit him.
What turns you off?
That's pregnant in meaning. What attracts me is that I like simple lifestyle; I love real people, the way you are is the way I want you to be and don't give me that talk that there are two sides of you.
And what is your hobby?
Hobby? Is sleeping a hobby? Because really, like I said I enjoy what I am doing as I don't see what I am doing as work; it's like making money from your hobby. If I am not out and doing something, I am at home with my family watching television; a few times we go out, other times I am just tired and I sleep. Also I enjoy having guests around because I was brought up that way - communal way of life; during holidays we were either in one cousin's, aunt's or grandma's place, always having people around. Before I got married, my house was like a boarding house with guests and friends coming in and going out and sometimes when you want to lock the door at night you can't find the key because the friend you left at home went with the key. With that way, life is relaxed already, what more do you want. See my office, it is not locked, my door is always open, in fact the keys to the office if at all they need to lock the office, it is not with me, it is with the Admin guy who hardly locks it anyway. So, life is easy so let's make it easier.
What challenges have you faced since you started this business?
In running the business, it is the challenge of everyday Nigeria - water, light, transportation, security and so on. Industry wise, there are not enough halls to do shows of international standard. A lot of times, our relationship manager gets requests for having the show on the mainland like Festac, Ikeja but we always take our time to explain to them. MUSON (Musical Society of Nigeria) was built for sound, which is key but Standup Nigeria is recorded and shown all over the country on television and radio; if the audio is not good you wouldn't enjoy it on television much more watching it live.
How many of such halls can attend to that? What you have available in Lagos and the entire country are venues for wedding and other social events with more windows than walls and for sound you can't afford to have too many windows. And if you take the show outside such venue, the quality drops technically for sound, so it is difficult. There are a few other venues that would work but the cost implication is ridiculous. Also because we do play heavily, there is need for venue to do a proper dress and technical rehearsal and ridiculous demands that places on us affects the quality of the production. When we see these things abroad, we are amazed but they didn't happen less than 24 hours.
Experience, as a benchmark is a very big event in Nigeria, the setup is not one or two days; now imagine the cost of that and how many people can actually afford it? Those are the kind of issues we are facing in the industry. Can we have a place that we you don't need to know what is going on there? We don't need to know what production we are going to see there but one thing is sure that any production we are going to have is a fantastic production; can we have such a venue?
Yes we can. So these are the kind of things that we should look at that will help the industry. If you have a place that is 100 percent for shows, it will drive down publicity cost and when publicity cost is not heavy then you can in turn transfer that benefit to the consumers, they pay less for ticket but we don't have such facilities available now. The external issue is security; you want to do a show that starts at 10 pm and ends 2 am; what happens after then and where will the people go?
What part of your childhood prepared you for what you are doing right now?
During holidays, we went round each family and extended family member's house. I have a cousin by name Funmi Kafaru, who does children entertainment now. Then, Funmi and I would gather all our cousins during the holidays to rehearse song production and towards the end of the holiday we would stage a concert. Before then, we would gather money here and there from all people and we would put up a concert. I would say that my cousins were my first set of guinea pigs and back then in school, Federal Government College, Ijanikin during house week, I coordinated a few house-week events for my house then. So, I have been doing it gradually and it wasn't big deal when I entered full time and some of my friends back then are impressed. So, it is not that I have been doing it from my mother's womb.
What is your strategy for balancing family and work life?
Let your partner understand the business, which is the easiest strategy to employ so that you don't have to be explaining everything. If I say I'm going out to shoot, she will ask me what time is the shoot. I say 11 and she will say Bunmi and you are still here at 8 o'clock, please go because she knows the requirement; let your partner understand whatever industry that you are in. And when I am gone for several days, she understands and when I am at home with them, she is also aware because of the nature of the industry.
What does your wife do and how does she handle what you do?
She is a businesswoman and runs her own company. She trades in clothing and she is actually following in her mum's footstep. There is no big deal to what I do - she handles it very well. Once you understand the requirements and workings, I am not saying there wouldn't be issues but the friction will be a lot less because really how do you explain phone calls at night from other female that is not to say that something is going on. But if you have a woman who is always wondering what you guys are talking about by 10 p.m, that's trouble. My wife understands that so we don't have issues.
What do you think can be done to raise the heights of the entertainment industry?
We need to set up lasting structures to tackle piracy, build bigger venues. We also need to have some regulatory bodies that will monitor things so that if you go out and say I am a comedian there will be some standards to measure. But without proper structures, you can't control those things we need to do to get international because the Nigerian market is not enough, we have to go out because we have a lot more to offer.
Are there high moments in your career?
I don't think I have started my career so I can't recall. Honestly, I think I am always happy when I see people that have achieved what they set out to do. Someone walks into the office and says, I have a show and the budget is N1 million though we don't have N1 million to give but by the time the person leaves what he needs that money for, will probably have done half of it in terms of networking for him; that is fulfillment and those are key moments for me. It might not be the highest moments of my life but they are high points for me. We have had somebody who comes to show a brand new car as a result of networking. I couldn't have given the guy money to buy a car; those are key moments for me.
How can you describe your years in the industry and what is your unique selling point?
God has been extra good to me. I didn't suffer, I am an exceptional case. I have had fantastic times; fair share of bumpy rides but they are not bumpy rides that made me sit to say 'I think I am in the wrong industry, never' I have not had those kinds of extremely tough times. My unique selling point - I have said it: be simple, be yourself, no 'forming' because it is an expensive way to live, be open to people. So I don't have issues.
How lucrative is what you are doing?
Lucrative for us means to keep doing it; for us not to say let's do something else; lets leave this entertainment thing and go into engineering or to start selling food. Lucrative for us means to bring in more people, to think of 20 years from now, we will still be in business - that is how lucrative it is.
What are the major constraints upcoming comedians would experience?
The constraints they will experience is that they are only limited by their thoughts; if you think I have a problem then they have a problem and otherwise so be it, those are the only constraints. It is the approach to life. Because that thing you see as a problem, you are not the only one facing it so why is it a problem to you? Why should it hold you? At worst it will only slow you down but shouldn't stop you. You are limited only by how far you think.
Who had influence in your life and career?
People had different sorts of influence; my family; professionally, I was one of the pioneer set at FATE Foundation and was asked who I would like to understudy but it took them a long time to get me one because I was particular about who I wanted. Amaka Igwe was that person because somehow she just fitted into the picture of what I wanted and I had been dreaming to own a post production studio and the first time I saw Aunty A, she was just staring at me for 30 seconds, she didn't say anything and I was like afraid. When we got talking, she asked me what I wanted to do and I told her and the discussion we had that day changed my line of thought.
She said the resources at my disposal are too enormous for my dream; I have so much to my advantage why do I want to do something so small. And that affected my style of thinking. Yeah, think big but you still start small and from there, I always did. I try as much as possible to start in a way that I can self-finance. We hardly look for sponsors. Standup Nigeria is not sponsored and yet it is three years as the longest running monthly comedy show in Nigeria and we don't have sponsors because the strategy from Day One was never to target sponsors and is growing bigger every time.
Did you ever think of withdrawing?
From Afrotainment? God has been nice to me, let's summarize it like that. When you hear people's story, you will wonder if it is the same one you know of but I don't think all these things happened by accident but by design if you do the basic things.
So how do you make your money?
The program runs on television and radio - that is money; we are not greedy. We do other things aside Standup Nigeria, we are also into even filming; if you have an event depending on how much your budget is, we will come with cameras and film it professionally – that won't come for free. We do documentaries – those are things we do.
What is the best advice you ever got?
I think that Aunty A's advice is good, it is still working for me then the advice I picked up at FATE Foundation. I remember Fola Adeola saying 'do as much as possible with your brain'. An instance is that what he summarized it with is that 'the less manual the job, the more money you can make. I try as much as possible to build the business by convincing clients and letting them see that what they are really paying for is the skill because our argument is this even if you check our website, there is a part that says anyone that has money can buy the equipment but if you give that same set of equipment to us the result will be different.
Another thing I picked from the late Tayo Aderinokun when he taught us negotiation was 'don't bother to go for the kill (jugular), make a reasonable margin and move on but most of us the job is 10, 000 but we are billing the client 80,000, why? If you make enough to cover your cost and there is still something left, do the job and move on. Those things are key to us here too amongst other things.
So why do you like Fela?
His songs/message make sense, don't you think so? So why shouldn't I like Fela? He represents a number of things that I like - Africa, justice, fairness, fun, you can find all those things in Fela.
Was your Dad a strict person?
I wouldn't say strict but my dad was firm. He wasn't the kind of dad that you all run away from when you hear 'daddy is coming'.