AGN Calls For Support For Actor, Enebeli Elebuwa, Says He Is Responding To Treatment.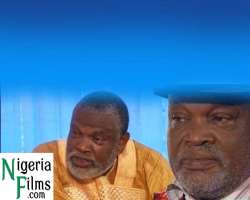 The news of the health of veteran actor, Enebeli Elebuwa, got to the public knowledge some days ago, with the reports that he was hit by a strange stroke, a paralysis to a part of his body, for a month now.
It was also reported that the veteran actor, who was once rumoured to be the father of Mohits Records boss, Michael Enebeli, who is popularly referred to as Don Jazzy, was in need of financial assistance from the government and other well meaning Nigerians to help with his treatment at the hospital.
In a phone chat with www.nollywoodgists.com, Abubakar Yakubu, the National Public Relations Officer of Actors' Guild of Nigeria (AGN), a guild which the actor belongs to, the PRO said, "we are giving him the support we can give, but when one is down with sickness, no amount of money given can be enough until you are ok.
"At the Guild level, we are trying our best, giving him our prayers and other thing we can do. I really do not want to comment on the financial assistance given, but we are praying for him, and anybody that can render help to him can also do so."
On of the Guild has opened a dedicated account for donations for his treatment, he said, "no, we have not opened any special account for that."
When asked if there was any plan in the pipeline to open an account for donations to be made by those interested in doing so to help the actor, he simply said, "let us see how it goes first."
According to him, he said the actor is responding to treatment, but he was still in the hospital.
Enebeli Elebuwa is a Nollywood veteran actor that has acted in many films since debuting in the play-acting world many years ago. He is currently being admitted at the St Lukes Hospital, Sabo, Yaba, where he is receiving treatment. .