I shed tears the day fans embarrassed me – Ireti (Fuji House of Commotion)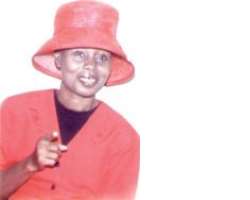 Shola Onayiga's name may not easily ring a bell but Ireti Catering Practical, a character she played in the now rested soap opera, Checkmate in... the early nineties and later on, Fuji House of Commotion has certainly brought her fame and endeared her to a legion of fans. She is easily spotted in a crowd thanks to her gapped tooth . The amiable lady has a lot going for her. In this interview with BUKOLA BAKARE, the graduate of Theatre Arts from Obafemi Awolowo University and versatile actress goes down memory lane about how she joined the cast of Fuji House Of Commotion, her numerous challenges, pains and gains of being an artiste and the journey so far into make-believe world. Excerpts.
Ireti Catering Practical was probably the name that brought you to limelight in Fuji House of Commotion. How did you join the cast of Fuji House of Commotion?
I was already acting as a youth and that was around 1982/1984. When Checkmate started in 199I, I was part of the cast; Fuji House of Commotion was extracted from there. According to the producer, some people just liked it and didn't want that area to just go like that because of its comical side and there were sponsors for it. So, that was how I got involved in the production.
Can you give us an insight into your background?
For my background, I'm Oluwasholamipe Oyebowale Onayiga (nee Awojobi). I grew up like every other person and went to Primary and Secondary schools. Thereafter, I went to the Nigerian Institute of Internal Auditors as that was my first port of call. That was around 1979 or so. Although I was in a youth organisation called Organisation for Young Artistes, we had people like Yinka Ogundaisi, Shola Adeyemo and Ronald Henshaw in that group. Those were my contemporaries.
What has the experience been like amidst your numerous challenges?
One thing that I thank God for is that the achievement is there. Today, because I can remember all those years when we were starting this thing, it wasn't easy but the interest and gift are in me. Let me use it. I just found myself in the profession and concluded that maybe this is what God wants me to do. I wasn't a believer then and I found a strong feeling for the profession then when I was at the Nigerian Institute of Internal Auditors. I had to leave when I was in part two when I got admission into the University of Ife (now Obafemi Awolowo University) to study Theatre Arts. When I came back to Lagos after my Ife experience, things were hard - no job, no nothing. Most of us had to go to one Corporate Affairs offices of some banks because there was nothing in the country. Some of us stuck to acting because of our love for it and I thank God that I can sit down and talk about it. I can be here today and somebody can call me from anywhere that they need my services. The seeds sowed then is what one is reaping now. I give Glory to God for that because then, it was tough that I don't even know how to describe it. You would do a show or a stage performance and you go back to collect your money and you hear all sorts of stories. Maybe it's your last kobo that you use d in transporting yourself there. Those were part of the challenges of the job. I was even into radio presentation and theatre at Radio Nigeria 1. We had Gando's Script where I played Madam Sikira and it ran for so many years on Radio Nigeria 2. I took part in Survival Express and later on, I presented Omaker Special at Radio Nigeria 3. When they started, I was supposed to be part of the presenters, you know we have Igbo, Hausa and Yoruba sections, so I auditioned for the Yoruba section but the day they were supposed to start was the day I travelled to Rome for a performance. By the time I came back, they had started but later on, I presented Ireti Ade, Olobe lo loko at Radio Nigeria 3 and Gani Adebanjo was my producer then. I used to write my scripts for my radio programmes and handle the presentation as well. It was a musical programme.
Let's take you back memory lane. What do you recall from your childhood?
I could remember when I was younger, you know there was this kind of television that you had to slap before you could watch (chuckles). I was fascinated by the newscasters who were always dressed gorgeously. I would carry my Daily Times and be reading. My father was a well read man and he was always buying newspapers. He even had a vendor that will come and supply him every morning, so I had the opportunity of picking one of the newspapers anytime and I'll just be reading and say ''The News is read by so and so - already visualising being a newscaster and people were always laughing at me. I'd try as much as possible to speak phonetics like they did. All these was when I was in Secondary School. Look at me today, I didn't know that I'd go into broadcasting through Radio Nigeria.
You said earlier that you also write scripts for your presentation on Radio. What makes a good script?
First and foremost, it must be educative and you must research on the kind of programme you are presenting. You don't just jive because to present through Radio to that audience at home. I'm part of the British Broadcasting Corporation's Story Story voices where I play the role Madam Philo; the chairperson of the local government area. I went to see somebody in one of the banks recently and as I mentioned my name, the person was so fast to pick it which means he must be a regular listener of the programme. Why? because it has a substance. You don't direct and present a programme without one. Even when they are listening alone, they should be able to get what you are trying to talk about.
Similarly, when you act, do you look out for the above in your scripts?
As a trained actress, it was part of the training I had when I was in Ife. Trust Professor Wole Soyinka, it was 40% theoretical, 60% practical. So, what can you write for an average of that percentage, rather, it is what you can do. My lecturer then, Chuck Mike, will pick characters on Campus for you and ask you to go and under study them and come back and re-enact the characters and put it to life on stage. So, it has been part of me. Like what happened with the character of Ireti in Fuji House of Commotion, I asked my director what he wanted and what he had in mind for that particular character. You must study. You don't just go and say because you are an actress, you must cram the script; you should read and understand and communicate with your director. ''Which role is this and how old do you want the person to be?''. That is the mistake most artistes make; there is no connection between them and the director and at the end of the day, you get substandard production. Amaka Igwe told me the character is an Isale Eko girl, the mother sells cloth at Oke- Arin. She was opportuned to have been sponsored to the Polytechnic to go and study Textile Design and Catering and the mother is a friend to Mama Moji at the market and now, Chief subtly woos her. I went everywhere to study people, I grew up in Lafiaji, Lagos Island; Okesuna to be precise. So, I saw some of these traits in the lives of women in Oke Arin. They didn't go to school but they are wealthy through selling clothes and they use their money to send their children to school and give them the best of education that they didn't have. I saw all that while I was growing up and when I was told to play the character, that vision came back to my memory. Most of the slangs that I use I picked them up from the market and the public like the statement; ishira laga, ishira bogo. It was when I was buying pepper at the market that two traders were fighting and they said that and it stuck like that. I go all out like that to pick my words. Similarly, with the character of Madam Philo on Radio and Omaker Special. I was going by Mile II to pick things from people and throw it back at them. So, if you give me any role, I'll go all out to give it my best. You must make your listeners believe what they are listening to. I could remember when I was at Radio Nigeria, there was a certain Mrs. Clark who was the head of presentation. She saw me and told me to come to her office. Meanwhile, some people were panicking that maybe she'll say that I'm not good and send me away. When I got to her office, she asked me to sit down that she just wanted to look at me for the next ten minutes so that when she hears the voice again, she will be able to connect it with the face. I told my colleagues what had happened and they were amazed. That is the power of make believe.
Can you mention some of the stage plays you have done because it seems like you are more of a stage person?
Maybe because I trained on stage, I used to think that television was not for somebody like me because I'm not beautiful (chuckles). I had that in mind and said let me stick to the stage before Bolajo Dawodu saw us re-hearsing at the National Theatre and we said that we were not beautiful so they may not want to see us on television. He said there was a particular role that I can play not knowing that it was Ireti he was talking about. I've participated in quite a number of stage plays. My first major production was when I came back from Ife and that was in 1983/1984 when we had The King must dance naked. It was directed by Jide Ogunbode and he was the one who brought me up. The play was written by Fred Agbeyegbe and I'm planning to do the same production in December. I hope that I'll have the funds to do so. It's in conjunction with my husband, Pastor Tosin Onayiga. I also did Ori; Experience with the Lagos State Art Council, and the play was later staged in Carlifornia, USA. I also took part in Ben Tomoloju's Jankariwo .I've also done some plays with the National Troupe of Nigeria where I did The marriage of Anasewa which was directed by Bayo Oduneye. I acted the role of a grand mother, Story Story by the BBC which is still running now. At Radio Nigeria, there was, Gando's Script; Survival Expres; Mama Bomboy; Omaker Special; Ireti Ade Olobe lo loko; Super Story's version of Ola Rotimi's The gods are not to blame. I've done quite a handful.
What about home videos?
Not really
Why?
I've not been called. If they call me, I'll come, I don't go beyond my bounds. Perhaps, if I see the seriousness of the set of people doing it, I may participate because I watch the kind of production that I do. I don't just go in for anything just because I want to be part of it. At least, when they are mentioning people in the industry, I stand to be counted. I had a brief role in Tunde Kelani's Narrow Path and Baba Wande's Ti Oluwa nile, Part 2, where I was on the montage singing and opening the movies.
From your point of view as a veteran, what are the problems in the industry?
Well... I don't like judging anybody but I believe in one thing, if you are not a professional, you can ask people in the know how to go about it. When they see people like us on set, they respect us and want to listen to what we can say. The industry is growing; I could remember one time, it was Eddy Ugboma that was on the scene, he was the only one doing all these feature films; whether good or bad, he was just there keeping the flag flying. Nobody wanted to do anything then but he kept the spirit going. At least today, people are doing it now because if he had stopped then, maybe that would have been the end of the movie industry. People were condemning him: How would he be the producer, director, costumier, make-up artist, actor all rolled into one? But he has set the pace.
If you were not an actress, what would you have been?
Maybe I would have been an Internal Auditor in one bank.
Would you have fulfillment there?
(Cuts in) No. That was the reason why I left the Internal Auditors school and I was very happy when I gained admission to study Theatre Arts at the University of Ife.
What is your message to your fans?
I'm happy that when they see you outside, they appreciate you; even if there is no money, no nothing. You have somebody encouraging you with kind words; telling you that they like what you do. That alone gives me peace and joy.
Have you ever been embarrassed before?
A h, several times. I was at the market one day, two people were talking; maybe they were arguing between themselves and one of them exclaimed ''Eh! That's Ireti'' and she gave me a big pat at the back and the kind of blouse I was wearing that day didn't cover my neck. I asked her what was wrong and she was all the more happy to see my gapped tooth. I said ''Madam, even if you want to do something like this, you should have been more careful''. She apologised that she got carried away. We artistes also find ourselves in such situations too. There was this day that I saw Usher Raymond, the American singer on a plane. I had not seen him before and we boarded the same plane from Abuja as he had just finished a performance overnight and was coming to Lagos for another show. We had just finished a BBC recording. I looked at him and said that he looked like someone I know. When I entered the plane, he was trying to put his hand luggage in the cabinet. At first, I couldn't place the face, so I concluded that he was someone from Nigeria. It was in the middle of the flight that the thing clicked and I was able to connect that it was Usher. When we alighted, I saw him while we were waiting for our luggages and there was tight security around him. I couldn't approach him because I didn't want to embarrass myself. Another day that I got embarrassed was a certain day that I was coming from the Lagos State Arts Council at Onikan. Right from King George Street, somebody did spot me. He went inside and called people and they in turn were going from one house to the other; even children followed me and it was like seeing a masquerade. They were chanting ''Ireti, give us food o!. I got embarrassed that I began to shed tears. They followed me to P&T, Obalende. So, you can imagine the distance. I had to beg the security men around to take shelter. Thank God they didn't recognise me. When the crowd didn't see me for almost thirty minutes, they dispersed. On my way out, a bus parked beside me and another man exclaimed''! Ireti, Fuji House!" I retraced my steps and couldn't board the bus again. Those are part of the hazards of the job.
What are your likes and dislikes?
I like being just and truthful. I hate liars. I also like open minded people. There was a day I met a woman who worked with Mr. Biggs at the National Theatre. How she got to know that I was the one, I didn't know. She looked at me and said ''You are always smiling and I love you. What is the secret?''. I replied that it was the joy of the Lord. I guess she must have been watching me on television because I was just seeing her for the first time. Everybody has his or her own problem but you don't have to write it all over yourself because you will get older than you expect. Go to God in prayers and he will answer you. I told somebody recently that you are saying that we make you happy and you enjoy watching us on television, the question is who can solve our own problems that we have as artistes