BAYELSA GUBER: PDP FINALLY DUMPS SYLVA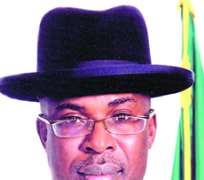 Sylva
Less than forty-eight hours after he flagged off his campaign for the Peoples' Democratic Party governorship ticket, ahead of the party governorship primary, the PDP National Working Committee has finally sealed the hope of the Bayelsa State Governor, Timpire Sylva to contest its primary.
At the state capital in Yenogoa, the embattled governor had flagged off his campaign last Friday, claiming to have been cleared for the race by the screening committee set up by the party. But in a press statement made available yesterday and signed by the PDP National Publicity Secretary,
Professor Rufai Ahmed Alkali, the party restated its position that Governor Sylva, the former managing director of the Niger Delta Development Commission, Timi Alaibe, former director general of Nigerian Television Authority (NTA) and chief executive of Silver Bird Communications, Ben Bruce and Igali Godknows would not be eligible to contest for the party ticket.
In what it called 'Final Decision on Bayelsa, the PDP NWC released names of seven aspirants as those cleared for its primary. The names were, Orufa Justine Boloubo, Dickson Seriake Henry, Enai Christopher Fullpower, Kalango Michael Youppele, Francis Amaebi, Ekiyegha Francis Korobido and Austin Febo. In a veiled reference to Governor Sylva's claim that he had been cleared, the party noted that, ''for the avoidance of doubt, and in line with the provisions of our guidelines for primary elections, no aspirant can or should use a provisional certificate as a basis for unilaterally declaring himself or herself as a candidate of Peoples' Democratic Party for the Gubernatorial elections in Bayelsa State.
'Even where he or she does so, it is of no value, effect or utility for the primary elections and is therefore redundant''. The PDP NWC warned it would not hesitate to deal with any member of the party who undermines its authority.
'' The NWC wishes to reiterate it's commitment towards enforcing discipline within the ranks of the Party at all levels. We shall therefore not hesitate to invoke disciplinary measures on any member who disregards lawful party directives or who engages in acts capable of undermining the party's cohesion or initiates and takes any step that could lead to the breaching of public peace''. But reacting to PDP national leadership position, Bayelsa State Information Commissioner, Honourable Nathaniel Egba told Daily Sun on phone that his boss was still reviewing the situation.
'' We have got the information as well; the governor is a party man, so we are watching. He is reviewing the situation. But we are still hopeful. The governor hasn't lost hope.''