HOW NOLLYWOOD ACTOR WAS ATTACKED BY THUGS - AYO BADMUS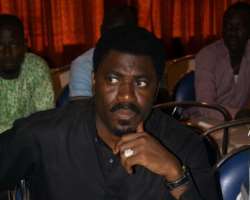 Note: This story contains a graphic photo some may consider offensive.
By OPEOLUWANI AKINTAYO
Notable Yoruba actor, Ayo Badmus will not forget in a hurry the just concluded  Salah celebration as it was the day  he was beaten black and blue by a group of hoodlums suspected to be political thugs at Oshodi area of Lagos.
The group was said to be working for the chairman of  Oshodi Local Government Area of Lagos State.
Ayo-Badmus (insert: his head after the attack)
Insiders  said  the actor accompanied by his wife and his young brother went to pay ace- cinematographer, Tunde Kelani and family a visit during the Salah holidays when the unexpected happened.
HVP's  investigation revealed that the actor arrived Kelani's house located at Feyinde Kalisto, Oshodi around 7.30 pm. He said to have been greeted with  the spirit of the celebration as their was a lavishing party already going on within the neighborhood.
Leveraging on his popularity, Ayo decided to exchange pleasantries with the residents of the area who he met at the place.  His attempt  to exchange handshake with the Chairman, Oshodi Local Government  Area whom he sighted from afar earned him the beaten of his life. A  brother to the Oshodi LGA boss was said to have taken offence when the visiting actor,  who was expected to prostrate before the LGA chairman stretched his hands to shake the former.
Unsatisfied with the cold reception accorded to him, the actor made to walk away as the said brother to  the LGA boss  continued to abuse his sensibility, referring however to Nollywood stars as being useless and stupid set of people.
As if that was not enough, Ayo  allegedly was said to have been astounded when thugs numbering about twenty approached him armed with dangerous weapons. And before he knew what was happening, they descended on him, beating him black and blue to the chagrin of his host. Worse still,  the said brother to the politician joined the thugs in the assault as he was said to have landed the actor a hot slap across  his face.
The Oshodi LGA Chairman was said to have showed indifference while the incident lasted. It was also gathered that the two armed policemen who were his guards did nothing to arrest the situation either.
Confirming the incident to HVP, during the week  when he contacted on telephone, Ayo who has featured in several Yoruba films described the attack as unfortunate.'
He said he's sustained serious injuries resulting from the dangerous weapons the hoodlums used on him. At the moment, the actor is carrying bandage rounded his head.
Hera him: It's true that I was beaten and almost killed by the thugs guarding the Chairman of Oshodi L.G.A. My wife, my brother and myself went to pay a courtesy to my boss, Tunde Kelani on the Salah day. When we got there, I went round to greet people and when I got to where the Oshodi L.G.A Chairman sat, I wanted to shake him when his brother said I ought to have prostrated.
I didn't reply him even when he started insulting me, saying actors are stupid and useless. I made to leave when suddenly, I saw a group of thugs, numbering up to  twenty  pounced on me and started beating me up. They broke bottles on my head, kicked me and almost killed me if not for my wife, brother and other people who came to my rescue.h
I've done a lot for the Lagos State Government even without being paid. Why should I then be treated in such a manner like a criminal?  What the Chairman of Oshodi Local Government and his brother did was wrong. They are public servants and should be polite. I never met them before in my life. Neither did I involve myself in any kind of politics. That day was the first time, I set my eyes on them. They probably felt intimidated by my presence and the way people around hailed me.
Meanwhile attempts to reach the Oshodi LGA boss for his reaction proved abortive as at the time of filing in this report.