How I Came About Jenifa - Funke Akindele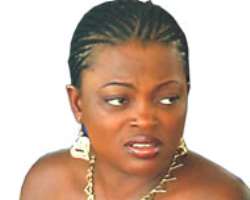 Following her lead role in the popular movie, Jenifa, star actress, Funke Akindele's life has not just got flipped on its head, her celebrity status has skyrocketed. She said about how she struggled to cope when she gets spotted by fans on the streets since she became one of the Glo Ambassadors.
What then is the making of Jenifa? "It all started when my younger sister, who is still in the University of Lagos, got home one day and said; "Sister can you imagine, some girls in my school wanted to attend a party in Abuja and while they were at the airport about to board a plane, a text message was received in one of their phones and they discovered the text was from the girl who was organising them for the party, she actually wanted to send it to the organisers in Abuja."
The message read in part, "I have sent the girls and please, make sure you send my money and keep everything coded o." After reading the text message, the girls discovered that it was mistakenly sent to their phones and they found out that they were actually 'organised' for rituals."
I asked my younger sister; "Are you sure this thing really happened?" And she said "yes;" and I tried to figure out how best I could tell this story, because the issue of "read your books, don't do 'aristos' and HIV issues," have all been overflogged in the media, seminars, churches and mosques.
So, I said "why can't I bring in comedy into it?" I concluded that the comical scenes would draw more audiences to listen and see the story and learn a few lessons from it.
It was at that point that I remembered this Igbo girl who was a wannabe while I was in school but she was so local with this strong Igbo accent. So, I gave birth to the character, Jenifa, but decided not to use the Igbo angle to it. I stayed within my Yoruba roots knowing that if they wanted to deal with me, they would not be too harsh since they will remember that I am one of their own.
That was how I married the wannabe character and the critical issue of those girls, blended it with comedy, and Jenifa was born."