NFF UNVEILS KESHI AS BOTSWANA ARRIVES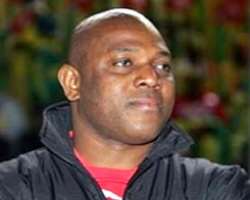 • Keshi
The Nigeria Football Federation (NFF) will today, in Abuja, formally unveil the new Head Coach of Super Eagles, Mr Stephen Okechukwu Keshi, at a colourful ceremony inside the National Stadium complex.
The event, which will take place at the Media Centre of the Stadium as from 12 noon, will last for exactly 90 minutes, the regulation time for a football match.
Keshi, the longest captain of the Nigeria's senior team in history, was on Wednesday last week, named the new Super Eagles' head coach by the Executive Committee of the NFF following a recommendation by the Technical Sub-Committee of the body.
'The Big Boss', as Keshi was fondly known in his playing days, has already named former Eagles' captains, Sylvanus Okpala and Daniel Amokachi as his assistants, with Ike Shorounmu, Nigeria's first choice goalkeeper at the 2002 FIFA World Cup finals, as goalkeepers' trainer.
A welcome address by the NFF President, Alhaji Aminu Maigari, would be followed by the signing of the contractual agreement between the NFF and Keshi, with the NFF and Nigerians expecting the new head coach to not only return the Super Eagles to the top bill of international games, but also to qualify Nigeria for the 2013 African Nations Cup and the 2014 FIFA World Cup finals.
Also today, the senior team of Botswana, otherwise known as The Zebras, will fly into the country for Saturday's international friendly match against the Super Eagles at the Samuel Ogbemudia Stadium in Benin City.
The 32-man delegation (23 players and nine officials), which will fly into Nigeria aboard a Kenyan Airways flight at 20:40 hours, will sleep over in Lagos before connecting an Arik Air flight to Benin City tomorrow's morning.
The Chipolopolo of Zambia, which will take turn against the Super Eagles at the Ahmadu Bello Stadium, Kaduna in another international friendly on Tuesday, will arrive in Nigeria on Sunday.
Customized T-shirts. Design Online. One Week Delivery. Money-back Guarantee
Earn $1,000 weekly, online workers needed worldwide. Download free e-book
Make N450,000 Online Monthly. Easy, Simple & Legitimate
Looking for a Job? Apply to current jobs in Nigeria
5-in-1 INCOME PACKAGE: Import, Export etc. Start small grow BIG!
Internet & T