Conrad Murray found guilty in Michael Jackson trial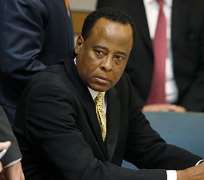 Dr. Conrad Murray was found guilty Monday of involuntary manslaughter in the death of Michael Jackson.
Murray served as Jackson's personal physician as he prepared for his comeback concerts, giving him the surgical anesthetic propofol to help him sleep nearly every night for the last two months of his life, according to testimony.
Jackson's death on June 25, 2009, was caused by "acute propofol intoxication" in combination with two sedatives, the Los Angeles County coroner ruled.
The verdict followed about nine hours of jury deliberations, which began Friday morning in the downtown Los Angeles County courthouse.
Fans gathered outside of the courthouse ahead of the verdict with signs of support for Jackson including one banner that read, "We miss Michael."
The seven men and five women on the jury heard 49 witnesses over 23 days, including Murray's girlfriends and patients, Jackson's former employees, investigators and medical experts for each side.
The prosecution, in closing arguments on Thursday, argued that Murray was responsible for Jackson's death because his reckless use of propofol to treat the pop icon's insomnia in his home was criminally negligent.
Defense lawyers contended the matter was a negligence case that should instead be heard by the state medical board.
"If it were anybody else but Michael Jackson, would this doctor be here today?" lead defense lawyer Ed Chernoff asked in his closing.
Jurors were left to decide if the propofol overdose was infused into Jackson's blood by a steady intravenous drip, as the prosecution contended, or if Jackson injected himself using a syringe left nearby by Murray, as the defense argued.
"He was just a little fish in a big, dirty pond," Chernoff said, pointing the finger at other doctors who treated Jackson, and Jackson himself.
Deputy District Attorney David Walgren attacked the defense for trying to blame "everybody but Conrad Murray, poor Conrad Murray."
"If allowed more time to argue, I am sure they would find a way to blame Michael's son, Prince," Walgren said in his closing rebuttal.
Walgren painted Murray as a selfish doctor who agreed to take $150,000 a month to give Jackson nightly infusions of propofol in his home, something an ethical doctor would never do because of the dangers.
CNN