FRANK EDOHO SPLASHES BRAND NEW CAR,RIO ON LOVER,SANDRA+ LIVE AS COUPLE INSIDE VGC HOME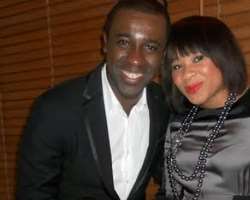 Who Wants To Be A Millionaire anchor, Frank Edoho is passionately in love- and it is obvious.
The manner the Presenter is said to be caring for his new love,Sandra is said to be a perfect definition of this trait.
According to sources,Frank just doled out a brand new car, Kia Rio to the replacement of his wife in his heart.
The automobile is identified 'the latest edition'- it is said to be a hatch-back.
Sandra is said to be cruising about town in this latest purchase at present.
Further investigations revealed that aside this, Frank has also moved Sandra into his V.G.C apartment.
He secured the place after he abandoned his wife and children at his Shell Estate matrimonial home.
Informants disclosed that ' they now live together as couple- it only remains for them to tie the wedding knot'
They are said to attend events hosted by friends together
And if expectations be met- they should be wedded any time soon.
Sandra, a mother of one is said to be pushing for a December marriage.