Fame and money are mere extras, declares Tee-Y Mix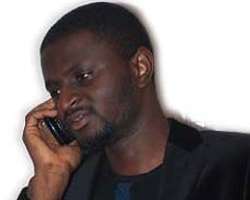 Tee-Y Mix is the favoured one from Abuja. He draws recording artistes from everywhere, especially Lagos. A song producer of repute, Tayo Ibitoye has recorded some of the best of Nigerian artistes from the likes of 2Face to Darey, Sasha, Banky W. His innate music skills is further horned with academic developments along this line.
He's undisputably one of the highly rated beat makers. He discusses with simplicity, yet passionately. Apart from working in the music studios, Tayo is currently one of the judges on the MTN Project Fame music talent hunt show. Enjoy the excerpts of this chat with him.
Tell us about yourself.
My name is Temitayo Ibitoye aka Tee-Y mix. I'm a music producer based in Abuja. I have my recording studio in Abuja. Besides music, I do business. I'm into sound installation, acoustic design, systems design and equipment sales.
I've been producing music for 10 years now. I'm first, born of a family of six. I was born in Ibadan and I've spent about 16 years in Abuja.
And your academic background…?
I studied Computer Science at the University of Abuja and did Audio Engineering at the Audio Institute of America. Presently, I'm studying for a Business Administration degree at the University of South Africa.
It sounds like you had audio production in mind from the onset…
No. Audio production started playfully shortly after secondary school. Along the line, I started enjoying it and I thought I should develop myself in this area.
I'd been playing instruments in the church, right from my growing up. I started with the drums, then I learnt to play the piano. Those are the two instruments I play now.
Is it important that a producer has instruments playing skills?
In my opinion, it is very important.
What role does this skill play in doing your job?
It helps you to interpret songs better. It's part of the general knowledge of music needed as a producer. If not, you'll find yourself doing plenty of trial and error. But for me now, once, I have an idea in my head about a song, I know exactly how to achieve it. So, it's very important that a producer knows how to play instruments, at least the piano.
Were you ever under the tutelage of anybody while starting up as a producer?
Yes, I was. I was under the tutelage of Daniel Jones. He's a music producer who was in Nigeria at that time; Now he's in the States. I was with him in Abuja in Trinity Studio for about two years. In fact, it was he who gave my the name Tee_Y Mix.
And even at that, did you see yourself becoming this big…?
In terms of music production, I didn't see it, even though I wanted to be relevant and successful in doing it. I didn't think it would come this way, and most importantly, I was and still do music not because of the extras that come with it but because I love music. The extra is the fame and money.
How did you break into the Lagos market from your Abuja base?
I don't know (laughing). Seriously, I don't. And that is because it's not like I made any serious effort to get in. I think it's just God's favour on me because I never had a strategy.
Which song brought you out?
There are so many songs I've produced but the first song that brought me out was 'Adara' by Sasha but even at that, people got to know me about a year after I'd produced it.
How many songs have you produced?
I can't remember how many songs I've produced. Let me just count them in terms of artistes. I've worked with Kel, Sasha, Darey, 2Face, Banky W, Kefee and a lot more.
Was there a time that you had to go around looking for artistes to produce their songs?
No. It's been referral. Your work will always speak for itself.
Have there been songs that you produced but you are not very proud of?
Songs like that don't eventually see the light of day (laughter). But really, I am not ashamed of any song that I have produced. The best I do is laugh when I hear them and that's because of how long ago I did them, the stage I was then, and the things I would correct if I was to produce the same song now.
How much work lies on a producer in turning out a good song?
The producer does most of the work. It's easier on the producer when the artiste knows exactly what he wants in the line of bringing a song to good reality. Because sometimes an artiste comes and shares a song idea with you but when you hear it, (the idea), you know it's not going to fly. So, you either start from scratch or improve on the idea as a producer.
But there is another set of artistes who know what they want and realistically too. But whether you have an idea or not, it's still the producer who gets the work done.
And how would you rate the producer's input?
I'll give the producer seventy per cent (70%), especially, if he's involved in co_writing. But here, I refer to detailed producers because there are some producers who don't pay attention to as much details as others would. I've seen producers who are only interested in the beats but some others are interested in the artistes themselves.
Maybe, you should tell us what exactly the job of a good producer should be.
A good song producer is someone that's in charge, from beginning till the end. He takes charge of the process between when an artiste comes to you for a job and the end product on CD; Even when it's someone else who mixes the song, the producer still needs to vet it.
He needs to feel his kick in the song and listen for other things that may have been buried in the process of mixing. When you sing a song to a producer's hearing, he has the finished product in his head already and makes sure it's actualised.