HIPHOP ACT DUNCAN MIGHTY ACQUIRES BRAND NEW ROLLS ROYCE PHANTON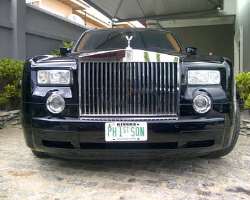 Hip-hop act, Duncan Mighty, has really hit it big this time in the entertainment industry.
He has really moved up in the music world and now rubs shoulders with the best.
Duncan has acquired a Rolls Royce Phantom, with customized plate number "PH 1st Son" meaning Port Harcourt 1st Son.
Duncan Mighty has arrived and has joined the league of the big boys.
Congrats man.