Omotola re-brands, focuses on humanitarian work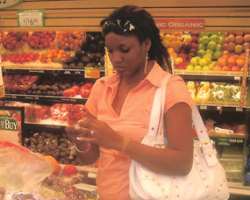 Nollywood diva and mother of four, Omotola Jalade-Ekeinde, popularly known as Omosexy, has found a new calling. Okay, maybe not entirely new, Omosexy is redirecting her energy to one of her age-long passion, Children. Don't even think she is trying to pop more babies. No, she is focusing more on her humanitarian works with children.
Omotola who was recently honoured with African Female Entrepreneur award in United States, we discovered, is already mapping out strategies to reach out to more children.
The actress, who in time past, has been involved in charity works that have to do with youths and children will be embarking on another tour soon to help save the less-catered for children of Africa.
It would be recalled that her tour of Uganda some years ago brought tears of joy to many in that part of the country. And she was recently in Ondo State, her state of origin where she delivered motivational message to excited and star-stricken secondary school students.
Speaking on the latest development, Omosexy said humanitarian work has always been part of her life. "This is not new. It is just that I giving it more time. I've always loved children and youths because they are the future we talk about. If we genuinely care about the future, we will love the children and youths. If we want better nation, we should raise better children and youths. This is my own way of contributing to the future."
On the African Female Entrepreneur Award she got recently from America, the mother of four says it only places more responsibility on her.
"I've always been an entrepreneur with my craft. Not many people consider actresses as entrepreneurs; some of us are actually different. We've added entrepreneurial drive to our talent. I sit upon a company (Redhot Concept) and have members of staff that I have to pay at the end of every month. The award is recognition of another side of me." In a way that confirms the universal appeal of the Omotola brand, two ambassadors were present at the presentation of the award to her and they later organized a dinner in her honour.
The Liberian ambassador, Dr Dawn Cooper Barnes and his wife, wife of Sierra Leonean ambassador to United States of America, Mrs. Musu Stevens who represented her husband were present at the presentation. The choice of Omotola, according to Ms Joi Onyeukwu, is determined by her inspirational appeal to other young African woman.