I've Spent Over N45m On My New Film -Kunle Afolayan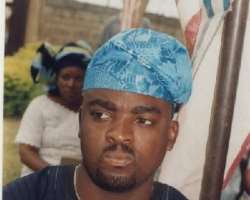 The Figurine (Araromire) by Kunle Afolayan is one the most anticipated movies in the country right now. The production, which features a galaxy of stars, has already been invited to the London Film Festival, this is adding to the high expectations of fans at home. With the success of his last production, Irapada, still very fresh in people's memory, The Figurine has been described as a must see by many.
In this chat with Adedayo Odulaja, Afolayan talks about his experiences as an actor and producer. He also opened up on the joys and agonies of a Nigerian filmmaker.
How has the production of your second film, The Figurine been, fulfilling or challenging?
It has been very tough because honestly the Nigerian system and structure are really not helping filmmakers at all. It is not helping us to develop; it is not helping us improve on our work and so anybody who decides to do the kind of film we lay our hands on must be someone who has got the passion for filmmaking. The Figurine, has drained the company; it has drained me personally. We have put everything we have got into this film. Most of the time, I have tried and retried, we get stuck because there are many things that are not there. For instance, there is no electricity in this country and as a result of that, we go about with a 50 KVA generating set. Unfortunately, when we were going on set to shoot at a location in a particular place, one island, our generator fell into the sea and that is because the only way to get to that island is by boat. If there was power in this country there would be no need to carry a generator around from one location to the other. There are so many other issues that we have had to deal with. We have been trying to raise money to finish this film but so far, it has been so difficult. The global economic meltdown and every other thing have joined in posing challenges. But so far, we have been able to pull through with the major stages and we are just trying to finish work on postproduction.
Where exactly are the places you used as locations in the film?
We shot in Osun State where we stayed at MicCom Golf Hotel & Resort. They really took a lot off our bill, they really helped a lot with accommodation because they sponsored and the kind of amount they took off our budget is quite commendable. So they have really done very well. Then we shot in the Lagos area also. The places where we shot in Osun State include Ede, we also shot in Erin Ijesha, Osogbo as well, we also shot in Ada and Iragbiji and different other locations in Osun. Then in Lagos, we shot at Ilasa Bridge and other parts of the metropolis.
Do you have more organisations showing interest apart from Lufthansa Airlines, which you talked about earlier?
Well, MicCom Golf was the first sponsor to identify with us and they are behind us right now. Lufthansa promised to be part of this but what they offered us was not what we expected and that is another reason we had to cancel the shoot in Germany. But since we could not get support from the German airline and any German company and we couldn't afford the airfare to take everybody to Germany and all the other logistics, we decided to work around the story a bit and it does not take anything away from the story so far. Apart from that, we have Unilever as sponsor, and we also have GlaxoSmithkline and Omatek, they did product placement in the film. The reason we are doing this is because we want to associate with our indigenous brands. The film is almost complete and already we have signed deals with Silverbird, Genesis, Deluxe and Ozone to release the film in box office in all these cinemas. Aside that, the film will also go round Nigeria. The proposed date for the first premiere is October 1 and this is the first time this is being revealed. It is going to be at Genesis Cinema, Silverbird Cinemas and Ozone Cinema in Yaba. The film will be on in all the cinemas on the next day; October 2 and it will run for weeks. By the following week, which is October 8, it will premiere in Abuja at the Silverbird Galleria and on the same day it will premiere in Port Harcourt also at the Silverbird and Genesis cinemas in Port Harcourt, also for weeks. The film has also been invited for the London Film Festival and so it is premiering in London in from October 14. When we come back, we will do that of Ghana. After Ghana, we will do Kenya and the film will go round other African countries and the United States of America.
Some of the things you do are quite unprecedented, like the sponsorship and endorsements which was also the case with Irapada, how do you manage it all?
I think in a country where you have all these kinds of challenges, I guess you have to keep thinking of a way out. The standard all over the world is that you have to merge creativity with the commercial aspect of the whole thing. If you have so much passion for arts and you now compromise (on) the business angle of it, then you won't stay long in the market because if you happen to do a film and your film does not sell, you won't have the money to do another film. So, for me, the business angle is as important as the content so when you now brilliantly merge the two, it goes a long way. You know all these product placements, endorsements from brands, these is the only way you can subsidise your budget. We have HiTV as one of our cable sponsors and they are going to project the film and all our events on almost all their channels so it is a truly Nigerian thing. This is the first time it will so happen that a Nigerian film would be released in all the cinemas simultaneously.
How are you able to convince the corporate bodies to partner with you?
The standard thing to do is to send a proposal and maybe if they like your work, they will call you but we want to change that because most of the time, your proposal ends up in the trashcan. We don't want to make it formal; we want to make it informal by doing a presentation for them to see where the opportunities lie and tell them in this film, we can still do this and that. In that way, they can trust you, they see and share your vision because they are relating with you directly. So that is basically what we want to do.
How would you handle the Germany part of the film now?
We have not shot the German angle and that is why we are inviting airlines as well. We are still looking at Lufthansa, KLM, Air France, Arik Air; a Nigerian brand, Virgin Atlantic, we are expecting all of them to be part of it so that together, we can make Nigeria a better place.
How far have you gone with the film and how big is your cast?
We have gone far because 95 per cent of the film has been shot. I am absolutely confident the other 5 per cent would be shot on time for the cinema premiere. For the cast we have Ramsey Nouah, Funlola Aofiyebi-Raimi, Omoni Oboli, Kunle Afolayan, Jide Kosoko, Yomi Fash Lanso, Wale Adebayo (Sango), Chief Muraino Oyelami, a chief in Osun State and an artiste; he is the Eesa of Iragbiji, who played a key role in the film - there is a professor I don't want to name and so many other up and coming actors and actresses.
What are your expectations concerning this film?
I just want Nigerians, and corporate brands to support it because for me it is beyond Nigeria, it is an African film and the film deserves to be supported because the film is a product and it will speak for itself. Right now, the trailer is already on facebook and YouTube and the comments have been very positive. But I can guarantee that even the trailer is nothing compared to the whole film itself. I just expect my returns and some profit so I can make another movie and I expect people to learn that really, there is nothing in this world that cannot be achieved. There is no magic to this whole thing, once you have a dream and you pursue it, the sky is your limit.
Is the long wait after Irapada intentional or meant to be the tradition in between your movies?
Irapada was shot three years ago and that is not really how long we want it to be before another one but I have had to handle almost everything myself.
That is not how it is done elsewhere; we are supposed to have a marketing company to handle all these premieres, we are supposed to have a distribution company but that is not the case in Nigeria. I don't know why but we don't have the structure in Nigeria and have had to do these things ourselves but Genesis and Silverbird distribution companies have agreed to help us distribute the theatrical release but the VCD thing is not on the cards for now. It is still strictly a cinema affair right now because after all these screenings, we will go round universities, the National Youth Service Corps (NYSC) orientation camps because it is NYSC-based in terms of storyline. I just expect that Nigerians will embrace and support it by going to the cinemas to pay and enjoy themselves; not try to copy it. If that happens, we can begin to raise bigger money in future to shoot bigger movies that would be able to compete internationally.
What measures have you put in place to ensure pirates do not exploit it?
The Figurine won't get out like that. I don't think we have got to that stage here where people go to the cinemas with cameras but some of those moviemakers over there in America are careless about that because before their films get to the cinemas, they are already on the streets in China but at the end of the day, they still make their money and even profits because they still have the cinema-going culture in their countries. A lot of people in America won't buy pirated films because it is not the same and can never be the same. I can't watch a pirated film; I would never because it even messes up my thinking. But they have the structure; would go to the cinemas and still buy the DVD when it is out especially when it is a good movie.
Have you got any support from government quarters considering how huge this project is and the rebranding efforts by the Ministry of Information and Culture?
There has been no support from any quarter in government in whatever form. But we are hoping that maybe during the premiere, when we send them the invite, they will come. When they discover how much impact this film can make in the country and Africa as a whole, they will support us because we still owe the banks from where we took a lot of money.
What is the cost implication so far?
Well, over N45 million so far; it is a huge project and remember we still have a few more shots to go.
What is the primary message contained in the movie and how do you plan to get it to the youths who you say the story is based on?
This film is a work of fiction and the things that happen only happen in the film but I always try as much as possible to be careful when you are talking about gods, deities and things that are so important or attached to our society.
There is nothing like Araromire in Nigeria, no place like that but there is a story behind it, which everybody needs to learn from. I am from a Christian family but I always wonder why we attach so much blame to the gods and that is the whole reason behind it. This happens, you blame the devil, Sango or another, depending on what you believe in but most of the time we are the cause of our own problems.
And because the youths have a lot to learn from the film and considering the fact that some of them might not be able to afford to go to the cinemas, that is why we are taking it to them all over the country.
Are you also trying to get people educated about the evil of piracy?
Those who buy pirated materials know it doesn't have value and about the excuse of not getting the movies to buy, this is an exception as it would be available for all those who want to buy it. We hope by the time we are ready to release, the Censors Board would have finalised its distribution framework because that is the only thing that can cause delay. If the structure that would ensure it is in Enugu, Kano, everywhere is in place, you can release but if it is not, then I don't want to risk it. For instance, the Censors Board or even a private distributor can make an arrangement with the Nigeria Postal Service, which is in all parts of the country.
The film is a cinema affair right now until Christmas and the release of the DVD/VCD won't be this year, really and I can't say for now when it is going to be.
I mean, if the framework is there and somebody comes to say I can sell one million copies of the film because musical CDs sell one million and if they do that, why can't movies also sell the same number of copies or even more?