Pete Edochie freed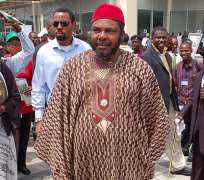 Chief Pete Edochie has been released August 18th 2009 around 4 pm after 3 days of captivity at the hands of unknown abductors.
Last Sunday, The Things Fall Apart star was on his way back to Enugu from Asaba with his brother-in-law and his personal assistant when their vehicle got ambushed around Onitsha and he was taken away by his assailants. They asked everybody else out of the car and drove on.
Nollywoodgists.com gathered from a trusted source that by Mr Edochie's own account of the events, he was treated well and respectfully. His assailants didn't belong to any particular political or cultural group, they were just out-of-jobs young people frustrated with the current state of affairs in Nigeria.
According to Mr Edochie, their grievances went from chronic unemployment to the lack of opportunities to the stagnation of the economy. It's unclear whether Mr Edochie was their primary target or if he found himself at the wrong place at the wrong time.
Linc Edochie, one of the actor's son, confirmed that his father called the family the very next morning following his disappearance to reassure them about his health and the conditions of his detention.
Despite earlier claims of casualties resulting from the spectacular abduction, Mr Edochie is adamant that no lives were claimed and no ransom was paid. The Police later recovered the actor's empty SUV along the road.
Following the safe return of the popular actor, a spontaneous gathering took place at his residence. Famous actors, his pastor, close friends and family members greeted him back to safety.
Rumours that the abduction was linked to the presently embattled AGN quagmire are unfounded and speculative.