Dalglish - Suarez Not A Diver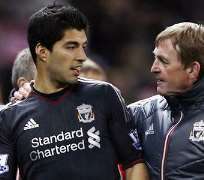 **Reds boss also full of praise for hero of win over Stoke
Liverpool manager Kenny Dalglish has again defended Luis Suarez from accusations of diving.
The Uruguayan has come under scrutiny this season after Manchester United manager Sir Alex Ferguson, amongst others, claimed the striker was guilty of playacting.
Accusations began after Everton's Jack Rodwell was sent off for a challenge on Suarez in the Merseyside derby, with the red card later rescinded by the Football Association.
But Dalglish has persistently hit back at the allegations and he used his star forward's ability to withstand a challenge from Jonathan Woodgate in Wednesday's Carling Cup win over Stoke as an example.
The Liverpool boss told his club's official website of Suarez, who was substituted before the final whistle while carrying a slight limp: "He got kicked right at the end of the first half. He turned Jonathan Woodgate.
"He made contact with him, but he tried to stay on his feet to take the chance. That's where he hurt his leg.
Fantastic
"That just emphasises what we say about the wee man. He had the opportunity to stay on his feet (and did)."
Liverpool picked up a rare win at Stoke courtesy of two goals from Suarez in a 2-1 victory at the Britannia Stadium.
The former Ajax man cancelled out Kenwyne Jones' opener with an exquisite curling effort after nut-megging Ryan Shotton and he then headed the winner in the closing minutes.
Asked to describe Suarez, Dalglish said at his post-match press conference: "Well you are the ones who are supposed to have the qualifications in English. You've got better words than me.
"I ran out of words to describe him after a week when he came to our club. His first was a fantastic goal, but I don't think you'd expect him to score with a tap-in would you?
"He could have taken one before that and maybe it would have been more comfortable for us, but it was worth waiting for."
SKY SPORTS