NO WAIVER FOR ALAIBE YET -PDP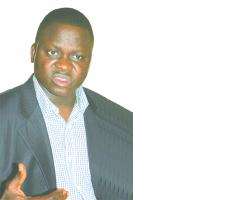 Uncertainty pervaded the national secretariat of the Peoples Democratic Party (PDP) yesterday over the expected waiver to former managing director of the Niger Delta Development Commission (NDDC), Chief Timi Alaibe who has just returned to the party.
Alaibe is an aspirant for the governorship primary slated for November 19.
Daily Sun investigation revealed that at the end of the emergency meeting of the PDP National Working Committee (NWC), it instructed it Zonal Vice-chairman, South-south, Chief Mkpubre Okon to proceed to Yenagoa and find out more information on issues surrounding waiver for Chief Alaibe.
Speaking with Daily Sun on phone, Chief Okon disclosed that the PDP NWC was yet to take a position on waiver for Alaibe.
However, a new twist has been introduced into the race for the Peoples Democratic Party (PDP) governorship ticket with a suit filed at Yenagoa High Court against Independent National Electoral Commission (INEC) and the Peoples Democratic Party (PDP) seeking to stop the conduct of a fresh governorship primary in Bayelsa State.
In the suit dated July 7 filed by Mr. Mienyobofa Stephen-Gow, he wanted the court to determine whether if INEC could lawfully direct the PDP to conduct a fresh primary election to nominate a governorship candidate of the party for the 2012 governorship election in the state.
Stephen-Gow is also praying the court to state whether the PDP could conduct another primary election having conducted a similar election for the same office on January 12.
He wanted the court to declare that INEC had no right to ask PDP to hold a fresh primary election in view of a similar election that was conducted in January.
Stephen-Gow prayed the court to declare that PDP, having conducted its primary elections for the purpose of selecting its candidate for the purpose of the election, could not be permitted to conduct another primary for the purpose of the election, which was originally scheduled to hold in April but now scheduled to take place on February 11.
Meanwhile, the posters of Mr. Ndutimi Alaibe with Labour Party (LP) logo have flooded Yenagoa, Bayelsa State capital. Alaibe's appeal for waiver is before the National Working Committee of the PDP.