'Men no longer see me as sex object' -----Ego Ogbaro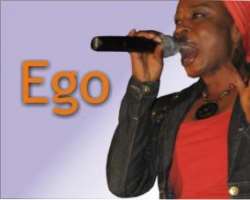 True, dynamites come in small packs. Petite Ego Ogbaro is the sonorous back-up singer who often strays into some individual lines of Lagbaja's songs... of Lagbaja, the masked musician. She is also the lead dancer in some of his videos. Now that she has her own band, Indigo, Ego says that her best is yet to come. In this interview with RONKE KEHINDE, she talks about her coming album and her relationship with the masked one, among others.
What are you working on right now?
I'm working on my album. It will soon be out by the grace of God. I am just putting finishing touches to it. Then I will be working on my video. It won't take more than few days. I have a band – Indigo. I'm working around all that.
Most people know Ego as a member of Lagbaja's band. How and when did you start playing music?
It has always been a part of me. I had friends in the music industry. I used to hang around them, I used to do backup for them, until I met Lagbaja. I joined his band and that was how I started.
Did you start from the church choir like most musicians?
I was in the church choir once, but it was not a serious thing for me. I was in Catholic church, and I didn't take it serious at all.
What's your family background and which state are you from?
I'm from Imo State, my mother is from Ogun State. I have two brothers and two sisters. One nephew, one niece. I went to Nursery and Primary school in the East, Aba. Moved to Lagos, finished my primary and secondary school. I went to Lagos State University before I paused. I don't like to say I stopped.
I read Public Administration before I paused at a level. It wasn't really what I wanted to study. What I really really wanted to study was French. I did that in Alliance Francaise for a while. But I want to go back to school fully to do French.
When is that going to be?
Hopefully not too far away at all.
Apart from music, what other things do you do?
Music is hard enough. Apart from music, I am a wife. I believe that that is enough to occupy me for now anyway.
In five years time, where do you see yourself?
I want to be the best in whatever I'm doing by that time. To still be very relevant. To still be married with children. To be hale and hearty and happy.
Would you encourage your children to go into music?
Why not? If they are talented in that field, I will support them.
What are the challenges you have had in your career?
Generally having to prove yourself in your career. For me to prove that I can do what I say I can. People put you in a particular category, so I have to prove that I am more than that. Especially if it's a negative thing, may be you saw me at a particular point not in a good mood. I have to prove that that is not me. All generally trying to be yourself.
What would you say has been your achievement in music so far?
I'm doing what I like and what I love doing and people are commending me for it. God is rewarding me for it. Just being looked up to, like people saying she is a good singer and all that. For me, it doesn't have to be all the awards and stuffs like that. For just being somebody to reckon with in that particular industry is an achievement for me.
How did you and your husband meet?
I met my husband a long time ago; before I became a musician. I met him through his brother at a party, we became friends, we dated, after a while we parted; it wasn't a serious dating. After a while, we came back together and dated for another five years before we got married. We've known each other for long.
What was the attraction?
He is everything I wanted in a man. The way he carried himself, he's a very friendly person, very hardworking and loyal person. That is why I love him.
Share with us some of the memorable days of your life?
When I had a Single out in 2007, when I heard it on the radio; that day was memorable for me. Also, when I got married was memorable for me. I had lots of memorable days but those two stand out. The bad one was when I lost my dad.
What are your hobbies?
I love music, reading and I love cooking. I love watching TV. I can watch TV for three days non stop.
I love hanging out with my friends.
How have you been able to cope, so far, with fans especially male fans considering the fact that you are married?
Earlier it was disturbing, but I've always had a way to approach it without sounding harsh. But now that I'm married, I think they respect that fact. They don't come to me that way again. I still have a lot of male fans that say – "I like what you're doing"; they don't come in a sexual way. There is this respect now which I really appreciate.
What is the relationship between you and Lagbaja now that you are not playing in his band any more?
We are here in Motherlan' now. That means we have a good relationship. I come here as often as I can.
When you left Lagbaja, what was his reaction?
It was a kind of mixed reaction. He was expecting it, but not at that time. But he was happy for me that I took that bold step. He gave me lots of advice and I'm still holding unto them.
There was this rumour that you were having an affair with him. How were you able to cope at that time?
At first, it was like 'where did they hear this from?' But honestly, after a while, I got used to it. It was not an issue for me anymore. If someone says, 'You're dating Lagbaja', I will say you are not the only one that has said it. I got used to it that I don't have any reaction to it any more, positive or negative. I just decided to move on and not to be distracted by any rumour.
Can you tell us about your kind of music?
It's mainly soul, lay back kind of music. Focusing on the lyrics, melody and the message for it to be heavy beat. Soul basically.
Can you recall one craziest thing a fan has ever done to you?
I've been lucky to have people who are cautious, although they appreciate me and they are excited to see me but they are careful to approach me because they don't know how I'll react. One thing I can say is crazy is when someone suddenly tapped me on my shoulder just to say 'I know you'.
How would you describe yourself?
I'm a very reserved person. I can be crazy. I have my faults like every other human being but what you see is what you get with me.
What should your fans expect from you any moment from now ?
VA very good album
Who is your role model?
I look up to people, but it's not necessarily somebody that is high up there, or famous or somebody popular.
Who are the people you look up to?
I look up to Lagbaja; he's my mentor. I take stuffs from different people, not necessarily a particular person.
Can you describe your style?
Comfortable, not necessarily fashionable. I can be fashionable when I want to, but on a good day I'm a Jeans and shirt person.
What are your favourite labels?
I like Gap and I like Next. I like Kenneth Cole. These are common everyday labels. I like Forsil for watches. I love watches, I can go extra mile for watches. I like police, Forsil. I love the designer watches.
What about perfumes?
I love perfumes. I don't like the feminine ones. I like masculine perfumes, not strong. There is this one I was using Foresail for men. Very nice. If it's for women it has to be stronger, like Kenzor but those flowery lavender and so on, I don't like them at all.
What would you consider the biggest show you have done?
The biggest show is this festival that is called Woman in the State. It's a very big festival that attracts people all over the world. And the Glo Rock 'n' Roll in Nigeria, they had a lot of people there, they used the stadium.
As a person, is there an aspect of you that you will like to change if you have the power?
I don't want to change anything about me. Some of them are good, some of them are bad, but I still don't want to change anything about me. I have a bad temper, but it takes a lot to get me there. I'm very tolerant, very patient. I think I like the combination, I don't want to change anything.
What's your best colour?
Black, and recently purple and all the shades of brown.
What would you consider the most expensive fashion item you have?
It's a watch.