Analysis: Budget airlines ride crest of Southeast Asia boom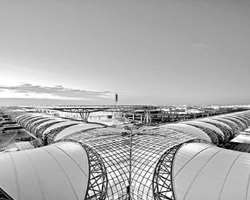 Five years after Southeast Asia's biggest airport by passenger capacity opened in Bangkok, hailed as the dawn of a new breed of Asian mega-airports, the sleek, wave-shaped passenger terminal is already running at over-capacity.
The overflow of passengers at one of the world's largest air hubs illustrates an aviation boom that is accelerating in Southeast Asia, even as airlines in Europe and the United States cut capacity and fleets to salvage profits.
From Bangkok to Kuala Lumpur to Singapore, airlines in the region of 550 million people are expanding fleets and adding capacity even as the International Air Transport Association (IATA), a trade body, warns a weak global economy could shrink industry profits by 29 percent in 2012 to $4.9 billion.
"The ASEAN aviation sector is still one of the few bright spots in the regional sector," said Rigan Wong, an analyst at Citigroup in Hong Kong, referring to the 10-nation Association of South East Asian Nations.
"What is happening in ASEAN is more structural," said Wong.
Rapid economic growth, rising affluence, liberalization and notoriously poor rail, land and sea transportation are reshaping an industry that only a decade ago was hamstrung by heavy handed regulation and government involvement in much of Southeast Asia.
The International Monetary Fund has forecast ASEAN's five biggest economies to grow a combined 5.6 percent in 2012, well compared with 1.8 percent in the United States and 1.1 percent in Europe.
CAUTION
However, there are some wild cards for Asia's airline sector.
Regional airlines should be cautious about expanding too aggressively given trouble in the world economy, said Shukor Yusof, a Standard & Poor's analyst in Singapore, citing how the last downturn forced Japanese flag carrier Japan Airlines to file bankruptcy in January 2010.
"Airlines are expanding and increasing capacity, and taking deliveries (in 2012) at a time when the global economy is potentially at the start of a deep and painful recession, therefore there are risks of airlines failing," Yusof said .
And while high cash levels could offset those risks, airlines in need of funds to expand could face problems over the next 12 months due to strains at some European banks, a "major source" of financing for aircraft purchases, said Robert Martin, chief executive of BOC Aviation Pte Ltd.
Those conditions have forced some airlines to turn to semi-government export credit agencies to raise funds for expansion.
"More airlines are going back to export credit agencies, so the question is: are governments politically prepared to support that additional commitment that is going to be required," said Martin at BOC, a unit of Bank of China and one of the world's biggest airplane lessors .
ASEAN'S OPEN SKIES
While U.S. and European air travel demand slows as nervous companies cut travel budgets and travelers pare back vacations, intra-regional traffic demand in Southeast Asia is projected to grow at an average of 7.4 percent a year until 2030, according to U.S. aircraft manufacturer Boeing Co.
That compares to 4 percent in Europe and 2.3 percent in North America, the data show.
Partly driving regional expansion are plans by ASEAN to establish a single aviation market with no traffic restrictions by 2015. This will allow unlimited flights between ASEAN capital cities, prompting more flights and raising the prospect of more cross-border joint ventures.
Four new airlines, including ventures from Singapore Airlines Ltd and Thai Airways International Pcl, are set to start Southeast Asian operations over the next 12 months.
Airports of Thailand is still pushing ahead with plans for a new runway and a terminal at Bangkok's Suvarnabhumi Airport, whose name means "Golden Land" in Sanskrit.
The hub handled more than 47 million passengers in the 12 months to September 30, surpassing its designed annual capacity of 45 million. It forecasts 50 million next year.
"Only a few years ago the bulk of people in this part of the world started to embrace this sense of wealth where everyone can fly," Airports of Thailand acting president Somchai Sawasdeepon said. "Still, more infrastructure development is needed to keep up with the demand."
HIGH-FLYING LOW COST AIRLINES
Shares of most Southeast Asian airlines and airport operators have underperformed their respective markets so far this year. Investors have been cautious, reckoning high fuel costs and sprawling budget airlines may squeeze short-term profits.
Malaysian Airline System Bhd and Philippines's Cebu Air Inc have lost more than 30 percent this year. Tiger Airways Holdings Ltd, a low-cost carrier started by Singapore Airlines, has lost 60 percent of its value.
AirAsia Bhd is the sole outperformer, surging some 50 so far this year. The company began in 2001 when Tony Fernandes, a former music executive for Time Warner Inc, turned the carrier around by offering more-affordable fares and sparking budget air-travel revolution in Asia.
"Short-haul aviation demand is holding up well and AirAsia is the prime beneficiary," said Raymond Yap, an analyst at CIMB Securities in Kuala Lumpur. He rates the stock outperform.
During the 2008-09 global financial crisis, AirAsia saw more than 20 percent traffic growth a year as rivals exited or reduced capacity , said Annuar Aziz, an analyst at Credit Suisse in Kuala Lumpur. In August, AirAsia conducted a share swap with Malaysian Airlines, valued at $364 million.
Despite its share price gains, AirAsia stock still trades cheap at 10.2 times 2012 earnings, compared with Singapore Airlines's 13.4 times and a 14.7 price to earnings multiple for PT Garuda Indonesia Tbk's.
Manila-based Cebu, a unit of conglomerate JG Summit Holdings Inc, is trading at 9.0 times forward earnings after a recent share buy-back, a possible signal that the shares have bottomed out.
With rising incomes set to boost demand for cheaper travel in Southeast Asia, analysts say relatively cheap shares such as AirAsia, Cebu Air and Airports of Thailand Pcl (AOT) may benefit from the boom.
Full-service carriers are also investing heavily and expanding into low-cost areas. Singapore Airlines, for instance, plans a no-frills, low-fare carrier that will likely have four planes in service next year as it targets traffic in Australia, China and Europe.
"To survive you have to invest more," said Piyasvasti Amranand , president of state-run carrier Thai Airways.
Amranand said airlines had no choice but to spend further on planes as they need newer, more fuel-efficient aircraft to upgrade fleets, keep pace with rivals and to keep costs under control in the face of high oil prices.
As part of its fleet revamp, Thai Air is looking to acquire an additional 38 new aircraft, the company said. It wants to operate 112 aircraft by 2022.
The region is not in danger of excess capacity, Citi's Wong said.
"If you look at the past 10 years of data and replot capacity growth against demand growth, you'll see that there have been fewer periods of over capacity in the region (Asia) compared to globally," he said.
"Even if there is any sign of a very rapid expansion, I don't think there will be structural overcapacity."
REUTERS