Revisiting Nollywood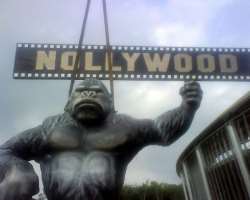 Lagos — Those who care about the movie industry in Nigeria owe a debt of gratitude to THISDAY for providing a platform for the debate on the dwindling fortunes of Nigerian Nollywood.
The debate began properly with Eddie Iroh's "NOLLYWOOD, NOLLY WHAT?" published in the May 26 edition. This was followed by a response from Zik Zulu Okafor on June 4 2009. While Iroh courageously exposed the stagnation and poverty of creativity, which in the opinion of many, is the challenge the Nollywood has to contend with, Okafor took the debate to an imaginary fantasy island in celebration of what he considered were the exploits of the industry.
From the arguments of Okafor, Iroh was merely prescribing drugs to a non-existent patient. Since the debate began, the suggestion in some quarters is that the mindset of people such as Okafor might have been responsible for the "one-year-one-block" pace of work in the building of Nigeria's movie industry since after Living In Bondage, about 10 years ago. Unknown to Okafor, before Iroh blew the whistle, many Nigerians had followed the future of Nollywood with measured steps. Most families were indeed concerned about the increasing exposure of their children to the secrets of plotting violence, armed robbery, sexual immorality, treachery and other crimes which are persistent features in Nollywood Films in spirited efforts to convey specific message.
In fact, in some families, parents were compelled to place a ban on African Magic channel in their homes to prevent their children from being exposed to increasing violence in Nollywood films. The complaints of these families, remain that the language is raw, too violent, obscene and certainly at conflict with strong desires for moral upbringing of children given Nigeria's level of development. The fear in many homes is also real against the background of increasing crime rate in society, cultism in schools, youth restiveness, kidnapping, drug abuse, prostitution and get-rich-quick syndrome vices. The apprehension of many families arises from the obvious perception that since after Living in Bondage the story line of Nollywood films have basically remained the same either because or in spite of its presentations.
For instance, a typical Nollywood film is predictable with the following dominant features. There must be a gateman who obviously must come from Northern part of the country, someone must consult a native doctor, worshippers in a church for whatever reason, a scene reflecting cemetery or burial, police with vehicles battling with presumed criminals, lovers in a hotel room, meeting points in an office, bar, shopping malls or saloon. Others must include parents interfering in their children's marriage, mother in-law at conflict with the son, his wife or both. Besides, most of the scripts revolve around what young girls call heartbreaks. Others must possibly be about broken homes, betrayal or abuse of trust in business transactions.
Equally predictable is the tendency to focus most Nollywood films around lifestyles of a particular tribe, the Igbo in Nigeria where there are over 250 ethnic nationalities with different cultures, values and tradition. Very few Nollywood films, that I know of deviated from these features. This is why the whistle blown by Iroh was timely and a welcome relief to many. It is therefore difficult to establish any connection between the arrogant display of knowledge of film industry by Okafor and the urgent need for Nollywood as an industry to rise to the challenges of addressing audience preferences, concept, perception, complexity and dynamism of choice. Okafor's response to Iroh's intervention was neither an alternative argument, nor a contribution to learning in this direction. He unfortunately chose to ignore the message in pursuit of the messenger.
Okafor's reaction was therefore diversionary and a great disservice to the industry where he claims to be a practitioner and scholar. It is fundamental to note that the solution to any problem begins with a humble acknowledgement that the problem exists in the first place. We in the media profession subscribe to a basic doctrine - opinion is free, facts are sacred! The facts which Iroh succeeded in putting at public domain remain that Nollywood is currently suffering from poverty of ideas, creativity, innovation, resilience and coordinated strategic plan as an industry to meet the ever increasing expectations of its diverse but sophisticated publics.
As Okafor might be aware, creativity must and has to be at the epicentre of every artistic enterprise, especially those that are clearly market-driven like the film industry. Without creative dynamism, the product becomes flat, banal and unappealing to the paying public. It is also a fact that artistic and creative imperatives that go into move-making is not merely a function of one element such as the actor, but the product of all who are engaged in the venture, from the producer to the cameraman. It is therefore ridiculous to argue that because there are undoubtedly fine actors in the industry that alone makes the complete picture.
I am sure that Iroh himself will be the first to acknowledge and pay tribute to the likes of Olu Jacobs and his equally gifted actor-wife Joke Silva, Pete Edochie, Kate Henshaw Nuttall, Genevieve Nnaji, Kanayo O. Kanayo, Omotola, Liz Benson, Patience Ozokwor, Nkem Owoh, Richard Mofe Damijo, Ini Edu, Emeka Ike, Bukky Wright and a handful of other fine actors. Beyond this, it is difficult to identify a Nigerian film director who has the same gift as these actors and can therefore through skilful directing bring out the best out of them? Or is there a scriptwriter out there who can hand them the sort of majestic storyline that fires up their creative ability? The point here is that it takes a great script and great director to bring out the great quality in an actor, resulting in a great movie.
The Nollywood is faced with this challenge whether Okafor accepts the fact or not. If Okafor parades credentials of his "indepth knowledge" of the industry, can he also offer rational explanation to the prevailing situation where Nigerian directors shoot at a ratio of one to one, when the universal industry minimum is six to one? Surely, you cannot coax an awarding-winning performance out of even the greatest actor when the actor is held to such a tight rope that allows no flexibility to correct avoidable mistakes because of absence of subsequent takes.
These are serious industry lapses copiously identified by Iroh which Okafor does not want to accept. I invite Okafor and those in his old school to please watch the topical drama series called "WET'IN DEY?" on television. It is sponsored by the BBC World Service Trust. Okafor may wish to learn that these world-class series are produced right here in Nigeria using Nigerian talents in all areas. Both the directing and scripting of the drama series are made in Nigeria. Similarly other people with greater creative discipline and acumen have taken purely Nigerian themes like "JACOB'S CROSS" and "TINSEL" and created excellent drama series that make Nollywood films look like amateur videos! They were also able to showcase new talents that make one wonder where they found them!
For all we know, the major weaknesses of Nollywood are in the specific areas - scripting and directing. A good script derived from knowledge and exceptional creativity handled by a dynamic director is all any actor/actress requires to climb the orbit. There are directors and script writers in Nigeria but the Nollywood at this stage should be dealing with those who can squeeze water from stone. As Iroh also observed, absence of a tradition of stage and theatre, and an Acting Academy is a problem to the development of the Industry. For example, the Olu Jacobs and Joke Silvas took acting lessons and worked the stage before Nollywood. Their quality and pedigrees speak eloquently for themselves. Nollywood must therefore embrace the culture of regular training, retraining of its ranks and file including exploring affordable options for global industry exposure as deliberate self- development initiative.
On the contribution of Nollywood to the economy, there is no doubt that the industry has the potential to grow into a money spinner, but I disagree with Mr Okafor that Nollywood is the biggest employer of labour after the Federal Government. What is the scientific basis for this claim? The point here is that we must resist the temptation to regard the disguised employment of those selling pirated videos as part of the labour force engaged by the industry. However, if Nollywood is to come out of what someone calls "limbo" and achieve its potential, the industry must quickly liberate itself from the rigid control of its sponsors found largely among Alaba, Idumota and Onitsha markets traders. To this class of investors, all that motivates is quantity, turn-over, profit, money! money! and money. There are doubts if the traders have interest in quality of productions or understand what it takes to elevate Nollywood as an international brand.
It is also difficult to sustain the argument that Nollywood is worth some $3.5 billion without begging the question: if there is that much money in the system, why are basic props pose such persistent problem? Why "the plastic toy guns" and "tomato juice"? But this is also the sort of incongruous logic and disconnect that arise when people miss the whole point of an argument. Or does Okafor's position be taken as an explanation for the syndrome when you stretch a story line to three or four episodes not because the story warrants it but because it will make more money? Indeed Okafor makes it difficulty for anyone in the film industry to argue that "lack of funding" is responsible for the parlous state of Nollywood. While the opportunities abundant in Nollywood are never in dispute, there is a great danger that money alone as basis for Nigerian films is the shortest route to the demise of the industry. Any view point that does not advance this objective is superfluous, a waste of time and space.
Professionals such as Iroh are concerned that Nollywood should embrace reform to attract patronage from corporate Nigeria. To make this happen, the industry has to get rid of charlatans whose influx into the trade has put the integrity of Nigeria's movie industry in jeopardy. All professional groups in the industry such as Ejike Asiegbu and his team cannot ignore this message. Unless and except there is paradigm shift from the current pedestrian position to intellectual and professional level as we have seen in Hollywood, realising the potentials in the industry will remain an illusion.
It is to the credit of NollyWood that apart from sports especially football, it is difficult to find any other industry that has put Nigeria in the world stage in so short a time. But what Iroh and the rest of us are saying is that the time is now for Nollywood to embrace new ideas, widen its horizon, challenge itself as an industry in the area of creativity built positively on the nation's diversity, African heritage, cultures, values, strength and peculiarities. Recycling the same story line over a decade is suffocating and retrogressive. To vilify the messenger and ignore the message in this case is unhelpful to the debate. If Iroh deserved no commendation for blowing the whistle, I believe he also deserved no condemnation.
Orji is a broadcaster and author