OLUREMI OYO, OON: THE TRAJECTORY OF AN ESSENTIAL JOURNALIST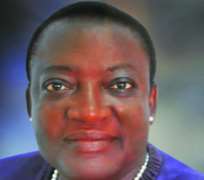 Oluremi Oyo
Her experience, as a girl, hawking garri after school hours in the scorching sun of Ilorin, capital of present-day Kwara State, where her parents were domiciled, made Usi-Ekiti, her homestead in today's Ekiti State, one worldly haven she longed to visit every Christmas and possibly at harvest. For her, the sun shines brightest at Christmas and at harvest when the fields of Usi are gay, and people strut in their best array, celebrating the season of peace and love and abundance.
Those were the two occasions that she and her siblings, like offsprings of other lowly families in the town, ate rice, wore new dresses, and joined kindred spirits to sing carols at local churches.
She was barely nine when she started selling garri in the streets of Ilorin. Apart from garri, she also hawked puff-puff and helped her carpenter-dad sell planks at a local sawmill in the town. 'In fact, there were times that he sent me to go and collect money and people set their dogs at me,' Oluremi Oyo, now 59, recounts her tortuous journey through life.
But rather than bury her hopes of making it in the sand of despondency, the twists and turns strengthened her, and fired her resolve to soar like the eagle in whatever profession she chooses to do. Years later, she found journalism and her life's equation changed forever. After training in some of the best journalism institutions across the world, and later crowning her laurels with a Master in Journalism and Communication Arts, Oyo started her career at the Nigerian Broadcasting Corporation, NBC, now Federal Radio Corporation of Nigeria, FRCN. After her stint with NBC, she moved to the News Agency of Nigeria, NAN, and joined Inter Press Service, IPS. The agency is the world's leading provider of information on global issues, and it is backed by a network of journalists in more than 100 countries, with satellite communication.
A wordsmith of uncommon status, Oyo, while at IPS, contested and won election as president of the influential Nigerian Guild of Editors, NGE, from where President Olusegun Obasanjo appointed her as Senior Special Assistant on Media and Publicity in 2002, a position she held till the end of Obasanjo's second term in 2007.
There was no lacuna for Oyo, a proud recipient of the national award of the Officer of the Order of the Niger, OON, and grandmother since 2005, as she got appointed as the Managing Director of the News Agency of Nigeria, NAN. Within the short period she has spent at the helm, the woman has transformed the agency beyond measure as the authentic Nigerian megaphone that tells the Nigerian story to the world like no other medium does.
A gentle smile plays on Oyo's lips as she reclines a little in her swivel chair, and enthuses: 'God has been faithful.'
In this interview, conducted in her posh office in Abuja, Oyo takes the reader on a tour of her professional life, providing a glimpse into her private life. It is a profile in courage.
Here are excerpts from the encounter:
From the highly visible world of travelling with the president all over the world, defending him, defending or explaining his government's policies, to the world of anonymity that many people perceive NAN to be, how has the transition been?
For me, being the president's spokesperson prepared me for NAN. Working with President Obasanjo was like being on a training ground. Every day was a school. There was something to learn every day. We learnt something new, not only from the president but also from those that I was privileged to work with-my seniors, from the Chief of Staff to the President, to the ministers; to my colleagues; sitting down at meetings that I was privileged to cover; watching the president deal with issues; watching him resolve issues because he was wonderful at peacemaking; watching him deal with different people, both difficult and easy, as well as those that were quite professional in the work they do.
So, I think it prepared me for my current assignment. It gave me, as it were, an education that work does not kill. That it pays to work very hard. That if the President of the Federal Republic can work as hard, then, who am I not to work myself to the bones? Working with President Obasanjo taught me that hard work does not kill, but idleness does. It taught me that, indeed, hard work pays.
How hard did he work as president?
He was tough and thorough, and the hours were long and unpredictable. But they were very rewarding and exciting. There was something new every day and the president made it worth the while in the many jokes that he told; and in the emotion and passion that he brought to bear on his work; and for me, importantly, the independence that I enjoyed. As a professional, I can say categorically that I do not have any regrets working with him. But we are not talking about President Obasanjo here, we are supposed to be talking about the News Agency of Nigeria.
Anyway, I enjoyed the anonymity that the job gave me because I did not need to appear on TV all of the time. And I am grateful for that because it is not easy to stand before a camera and dish out information, and you hope that you are right. And you hope that you are quoted right, and that what you have done would be edifying and would bring greater glory to the Federal Republic of Nigeria.
The only minus about the job is that everywhere I turn, people know me and I have to continue to be of my best behaviour all the time. Which is also good; but I don't mind the fact that I am not interested in the camera. It was a job that I was cut out to do and I tried to do it well, at least to the best of my knowledge and ability. But I had the grace of God attending everything that I did as I kept seeking His face. I also thank God because I had the love and the tutelage, as it were, from those that I was happy to work with, including the then Permanent Secretary (in charge of the State House), Mr. Steve Oronsaye, who went ahead to become Head of Service.
The other thing that is different from when I was working with President Obasanjo and now is that I have to deal with money now. I am the chief accounting officer of the News Agency of Nigeria and I have to make sure that the money is spent for what it is meant to be. I have to make sure that we are above board and that we are transparent in the work we do. Of course, you also pray every day that what you sign is the right signing. You have to look carefully between the lines to ensure that what you are signing is what you are supposed to be signing. But trust cannot be missing in the place where you are head. You have to learn to trust people until they give you reason to distrust them. But for me, I think it has been exciting coming back to be a reporter that I have always been. I enjoy working as a reporter.
You said one of the new challenges here is you sitting down as the CEO, handling money. But during your tour of duty in the Villa you were also a CEO of sort. You had your vote and you handled money.
No, no, no! There was a central system that took care of things like that. But I got all the tools that were needed for me to work effectively. There was nothing that we asked from them that was denied us. It was serious automation of our office in the Villa at that time and we had a lot of support not only from the President but also from the Chief of Staff and the Permanent Secretary. That was why we were able to transmit stories to every newsroom and photographs real time with the kind of immediacy that we dish out to our subscribers here.
With the immediacy of television …
Oh yes. But let me say this: I had the wonderful support of the team that I worked with in the Villa at that time. The President's story must come out immediately and I was there, present with one of my officers all of the time to give the President's reporters (State House Correspondents) that were there and to make sure that the correct thing goes out. We also must make sure that the reporters were there to cover the President's assignments. For us, it was important that we get the President's news out on time.
After all, we were competing. We were competing with all other presidents in the world. We were competing with events, because God forbid, if an earthquake happens anywhere and you don't have the information, it's a terrible thing. But if you do have the information, you can't put the President's story first, unless he dies. That is what news judgment demands. And so the automation paid off.
Some people said the reason you were successful as the president's spokeswoman was because you ran your department like a reporter that you were, bringing newsroom ambience to work. Is that correct?
I don't know whether I succeeded as the President's spokesperson, but I know I worked hard. I know I worked very, very hard and I had the support of not only the President but also all those that I came to work with. Of course, not everybody accepted my method but it was a method that was based on the profession and it needs to be fair and firm.
Maybe you were too hard on them.
No.
I mean pushing too hard…
No, no, no. I don't do so. What can you do unless the President speaks? So, who are am I to push the deadlines? It is the deadlines that had been created by events, and every journalist knows that if your personal friend calls at 12 noon (for a story emanating from an event by the President) and it comes at 3 o'clock, I'm afraid, there is nothing that you or your editors can do about it.
That deadline is there for you to get cracking and do the story. I will repeat again, I do not know whether I was successful or not as a spokesperson, but thanks to God, I didn't get fired. I am glad that I had the opportunity to serve my nation in that regard and all the more, I am grateful that I had a job to serve and be at the headship of the nation's premiere media content provider because NAN does not have competition.
Trying to cope with the President's pace, didn't it exert a toll on you, your health, and your family?
No. There isn't much about me as a person. My needs are very small. I draw my strength from God and from my family. And I have a truly wonderful husband who dotes on me. The President did ask his permission before I came to work with him, so he was duty-bound.
The President personally called your husband to ask for his permission?
President Obasanjo called my husband personally to ask for permission to work with his wife. He was at liberty to say 'no, I don't want my wife to come and work with you or in Abuja.' As for my children, I had two first as at when I joined the Presidency, now I have four, because I have an added daughter and an added son. They are my son-in-law and my daughter in-law. But I don't call them my in-laws because they are, indeed, my daughter and my son.
My first few months (on the job as the President's spokesperson) were hard, and the thing I was most terrified about is riding in the helicopter. But it turned out to be the one that I enjoyed most at the end. It's not all the time we rode in the helicopter like people write. It's not true. Sometimes, we travelled by road. We travelled by road a lot.
You also asked about my family and my health. I think my health is generally good but we also benefited from the excellent health facility at the State House. Thanks be to God for keeping us in good health because you are very active, you hardly fall sick. Now, I believe the doctors when they say if you want to be healthy, move. Just keep moving. And the President was very good at that. You could hardly catch up with him even though you are like 20 years younger than him.
What are the leadership lessons you brought from the Villa, from working with a very energetic, a highly demanding boss like President Obasanjo, a president that does not settle for half measures?
Yes, I will like to dovetail on what you have said and declare that I have also learnt not to settle for half measures in NAN. My colleagues will tell you that I demand the best or nothing from them. We have a session where we speak with one another.
We hold meetings when they are doing their training or have sessions during regular meetings. I encourage heads of departments to also have regular meetings with their staff because it is good to listen to the young, the old, the infuriated and the happy, so that you understand what they are doing. And I often tell them: you ought to have a deep sense of self-worth. Working with President Obasanjo reinforced the need for a deep sense of self-worth.
Again, they must believe in God Almighty that He is the one who attends to all things. He created us, so, one must trust Him absolutely. And I do. And President Obasanjo was somebody who did a lot of that. But the other thing that I believe very much in, which our President Goodluck Jonathan has stressed in his transformation agenda, is the need for Nigerians to build capacity. And we have spent considerable sums, of course, backed by the Federal Government, on training and building capacity. We cannot excel unless we keep training and retraining. Just this morning, our administrators from Lagos concluded the training that they had been having at our training centre here in Abuja. We believe in refreshing our human resource through training and retraining.
The second thing that I have learnt is that hard work does not kill. As I said before, it is also important for me, as a worker, to look after my health, and that love strengthens you. The love of family and friends strengthens you. You must never be ashamed to ask if you do not know. I also learnt that from the former president, because if he doesn't know, he would admits and ask the experts. He would say, 'Look, I don't want to appear stupid, yet this may be a stupid question,' and he goes ahead and asks his questions. He admits and submits to be educated by the experts.
I do the same here. I depend on my directors for help. I am not an accountant, and I am not an engineer. So, you have to keep learning. Besides, there are people who bring fresh perspectives that are not necessarily in the categories that you are calling. I have a young man here who just developed the software for our database. He is on my staff. He did his Youth Service here and we kept him. We are now capturing all the data of our staff. Soon, you will have everything at the touch of the button.
By the way, the administrative department is the only department that we have not computerised since I came here. Every other department has been done and we are currently doing that. The other thing that I have learnt, that I think I have brought to bear here, is that I am now more patient and I listen more. I have also learnt that it takes very little to make a person smile. And the staff members want to be treated with respect; they want their dues given to them. And when they see that you are fair and firm all around, you get to be supported. You earn their respect and support.
There are no sacred cows?
No. There is none, not even the MD. There is no sacred cow anywhere. We have to be fair and firm, not only because of today but because of posterity. The legacy one should leave should be one of service, of fairness and of equity.
Talking about training and retraining, there is an ugly trend in our profession, and I have heard people complain that the job takes so much from you, drains you intellectually without giving back by way of training. Maybe it's because of the nature of media ownership in Nigeria that emphasises the bottom-line above all other things.
Well, we give back in NAN.
What words do you have for some media proprietors who don't give back in a highly intellectual, yet physically demanding job as journalism?
It is important to keep training and retraining to get the best from your manpower. I can tell you that. I have seen the exponential change and the benefits that training has brought for us in NAN. When you get to visit our newsroom, you will understand what I am talking about. Our operation is paperless, from the beginning to the end, to the subscriber.
That couldn't have been possible without capacity building. Yet, it is not possible to train everybody every time. What I say to people is: we will train you. And we will keep training people. And we ensure fairness so that it is not the same people that are going every time. About a year ago, I said, 'If you have never gone for training in the past two years, write to me.' Forty-six people came, and out of the figure, 23 have actually been trained about three months back. And we took cognizance of that because, again, people are afraid to complain. They don't want to seem as if they are complaining. But I told them: it is your right to complain.
It is your right to be trained. But I do not expect staff to be trained every other week. We have to work. We have to make money. We have to please our subscribers. But my counsel has always been that it is important that journalists be trained and retrained. I am a beneficiary of training and retraining. Starting with the time that I worked with the Nigerian Broadcasting Corporation (NBC), now FRCN, to when I worked with the News Agency of Nigeria, and when I worked with Inter Press Service, a global news agency, it was training all the way. And I am grateful to the owners of IPS for giving me the privilege not only to work as a bureau chief but also, at one time, a member of the governing board. I think that we cannot do without training.
However, what I think is not happening is what we are encouraging here, in NAN. In NBC, I was one of the first few women to work in the newsroom. You got mentored all the time. I had a boss called Adedun Ogunleye. He studied the dictionary when he was not doing anything, and I copied that from him. He looked through your work, he would tell you, when he thinks that your grammar is wrong, 'This is bad'. And he would insist you type. We had G.K. Dosunmu.
I had wonderful mentors all around me. There was Chief Ohizua, who is retired and lives in Benin, just as there are so many other people right in the country that I am grateful to. I am grateful to those who mentored me in the News Agency of Nigeria, starting from the managing directors who were here before me, to the pioneer of Editor-in-Chief of NAN, Professor Victor Adefola. So, it is important to mentor.
If your reporters think that you are harsh now, tomorrow, they will thank you. Tomorrow, they will remember you with love and respect. So, for those of us who are old in the profession, we have to keep mentoring the young ones, keep training them, and keep living by example. We have to respect the ethics of the profession and have something positive to contribute at every point. It's very important.
(To be continued next week).