JOURNALIST, BETTY ABAH BRINGS MULTIMEDIA TO POETRY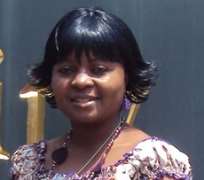 A gracious lady, Betty Abah sweeps into her house in Lagos this evening, swinging and full of mirth. The day before, she had a successful launch of her debut poetry collection, Sound of Broken Chains. That tincture of delight still lingers, even when she sounds apologetic for keeping you waiting.
Her days with frontline Nigerian magazines, Newswatch and TELL, won her ratcheting praises in Nigerian journalism with a string of awards, including the Nigeria Media Merit Award and Diamond Award for Media Excellence. She also had a stint with the defunct Rocky Mountain News in Colorado, USA, and currently works with an NGO, Environmental Rights Action as a public health and gender advocate.
In the meanwhile, she is morphing into a firefly across the Nigerian literary firmament with a unique kind of poetry that could appeal to even those outside the prose side of life. Published by Step Out Creatives Publication, Birmingham, UK, each poem comes with a pictorial illustration, stemming from her desire to produce a masterly work worthy of dedication to God; thus, the aesthetic effects.
'I grew up writing,' she begins, squatting on the rugged floor in her apartment with a certain juvenile abandon; 'It wasn't something that I sat down and decided that I was going to write,' which is to say that writing was a natural gift to her.
The writer didn't start school on time, but at the age of 5, she had already had an encounter with literature via the abridged works of the legendary William Shakespeare, The Lamb Tales. She was more fascinated when she stumbled on Achebe's Things Fall Apart. 'I didn't start my writing outright; I started by reading voraciously,' she admits. 'It was after I read The Victims by Isidore Okpewho that I decided to be a writer,' she adds. She was just 10 when started writing in primary school.
Though she started scribbling at a young age, she never collated her works until recently. She believes there is time for everything and there is also the economic factor, as well as her media practice, which kept a tight reign on her journalism career, leaving little or no time for anything else.
Above all, Abah thinks probably her belated publication has to do with the need for gestation. 'Maybe, it is because I have matured fully in writing. If you publish anything you like, it won't stand the test of time. The fact that it delayed might have matured my work,' she hints. Over the years, she had written more than five manuscripts, which hitherto had been pining away. But, with the right atmosphere now, her self-discovery will aim for catholic results.
Back in the days, Abah took to poetry as a therapeutic recourse. A particular ugly incident unnerved her, making her depressed, and she had to start penning down bardic lines to regain her composure, rather than spend time humming bluesy tone; but the escapist enterprise has led to something more enterprising. 'Poetry has remained an outlet for me to express my deepest emotions, things I couldn't have naturally found a medium to express,' she says.
Her greatest influences in poetry were JP Clark, Gabriel Okara, writers she cherishes the cadences, clarity, elegance and entertainment of their poetry. 'I think poetry should be enjoyed, entertaining and not make people have headache. Most of my works are mostly prosaic poetry. Though there should be a kind of mystery, symbolism, colour, elegant touches and figurative expressions, readers should be able to make meaning out of it,' she says. Abah is also encouraged by Odia Ofeimun's poetry.
Her latest poetry collection, Sound of Broken Chains, comes with an audio CD, which isn't common in Nigerian literature. It is basically a collection of inspirational poems 'as a special tribute to God', her source of inspiration. After the book was published, she, on the advice of a friend of hers, a broadcaster, who suggested that she do the audio version, decided to give it a try.
In today's world where lethargy is fast creeping into people's lives and time is divided among so many things, listening to the audio version of a creative production will definitely break many barriers. 'If you can't read the book itself, you can listen to the audio, either in your car stereo, in a CD in your computer at your workplace or at home. We are in a world of multidimensional medium, and it is something that we can imbibe in the literary culture of Nigeria,' says the writer.
Lest you forget, Obama's Audacity of Hope, which heralded his election in America, had an audio CD, which won him a major award. For her, it is cheery news, which gives her encouragement that her innovation will soon become infectious.
Sound of Broken Chains is a titular poem in the collection from where the poet drew the title of the book. The writer wishes to draw attention to the fact that, whatever chains that tie us down as individuals, families and at national level, if we are determined, we can break the chains and be liberated. 'It many not necessarily be spiritual chains; it can be social or psychological chains,' she explains.
The spiritual essence of Sound of Broken Chains apparently echoes in the collection, but it won't be the same for the poetry volumes that will precede this. 'The other poetry volumes are full of socio-political and cultural poems,' she declares, 'unlike this, which is more of devotional poems.'
If you get the ginger bread by reading academic poetry, her poetry could make your face go wan momentarily because of its simplified diction. 'I believe that's how the inspiration came,' she explains. Again, the poems in the current collection are targeted at young people, though it is of equal interest for adults. 'So, the language depends on the audience and inspiration,' she says with a marginal fervour.
Though she is indebted to Okara and Clark for serving as models, the opening poem in the collection 'Opening Touch' echoes Christopher Okigbo's Heavens Gate. Hers reads: Before you, /before your Sacredness, / Father of my ancestors! / Affront this altar/ I kneel…Abah admits, with a laugh, the Okigboesque testament in the poem: 'Yes it is an echo of Okigbo's Heaven's Gate. Unlike Okigbo's poem dedicated to the god, Mother Idoto, hers appropriates the context for God Almighty through Jesus Christ,' enthusing with raised decibels, 'That is my own spiritual belief; our religious beliefs are diverse,' she enthuses in raised decibels.'
The writer read English and Literary Studies, and had a highly fecund season as an undergrad, which is why about eighty-five percent of her poems were written at school. Apart from the published Sound of Broken Chains, she has a book of quotations, Pending Thoughts, which came from her reflections on life situations.
When the chains of creativity are broken, ideas come with a rush.