MUM ADVISED ME AGAINST WITCHCRAFT ROLES, SMOKING - CHRISTY OKONKWO, NOLLYWOOD ACTRESS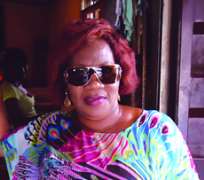 Okonkwo
Her name may not paint an instant picture in your memory, but Christy Okonkwo has paid her dues in the entertainment industry. Known for her motherly and comic roles, she has attracted so many fans and has contributed her quota in making Nollywood what it is today. Speaking to Saturday Sun, she talks about Nollywood and other issues.
What's your family background like?
I am Madam Christy Okonkwo, popularly known as Madam ebe ano on Charly Boy Show. I am an actress. I am from Iselukwu in Delta State and the first of five siblings.
What was your growing up like?
My growing up was fine and beautiful. My mother brought me up. After which, I spent some years with a maternal uncle. So, I was brought up by two people, my mother and her brother, before I got married.
When did you marry?
I got married in 1982 to one Prophet Olumuyiwa Ayodele Bada.
When did you go into entertainment?
I went into entertainment in 1996 and that is all I have been doing since. I do movies, comedy, soap operas, stage plays, etc. But, the ones I do most now are movies and soap operas.
How has life been?
It has been so good with me, my children and the entire family until death took away my mother in 2005.
It is a common notion that women who are into entertainment don't last in their marriages. What is your take on that?
I don't know about that. But I was divorced in 1994. From there, I moved on with my life and entered the entertainment world. If I were to still be in my husband's house, I don't think that beeing in the entertainment world would make me not to respect my husband. I don't see that as an excuse for other women not to respect their husbands. I also know a lot of us in the industry that is still with their husbands. They respect them and take charge of the house when they are not working. That is the same thing I do. If I am not working, I am always at home to monitor my children, know more about them and at the same time, give them room to know more about me.
Your husband is a prophet. Does he not know that divorce is not allowed except on infidelity basis? Did you cheat on him?
Not at all. I never one day did that. But let us just leave that apart because, what led to the divorce and disaster of the marriage, has so many branches. There is no woman living with a man that would want the man to be beating her. There would be a time when she would grow above that. Then, she would need freedom. So, I am happy for the freedom I have. I did not re-marry. I am taking care of myself and children. They are with me, three boys and a girl. They are everything to me.
Assess the entertainment industry in Nigeria.
It is okay. The industry is growing and doing wonderfully well. However, there are some things we need to improve on, but, it is not only applicable to the entertainment industry. It is so in the banking sector, journalism, government, etc. As the day breaks, we discover errors and make some changes. The industry as far as I know, is not doing bad.
How often do you get roles?
I do get jobs. The kind of stardom I want is not to come like fire and quench. I want it slow and steady. I am coming out gradually. I don't want to fade out. Sometimes I get jobs like three, four times in a month, or even one. But the thing is that, I don't struggle for roles or accept every script that comes my way. I chose the roles I play. Whatever God gives me, I take it like that and be contented. Everything is not about money, so, the ones I don't like, I reject them. If my focus is on money, I will be doing movies every week.
How many movies have you done?
I have done quite a lot. Among them are First Lady, Midnight Scream, Ultimate Risk, The Revealation, Wicked Affair, Runs, Stone Face, All By Myself, American Visa, Twist of Fate, Emergency Wedding and Mouth To Mouth, among others. These are the ones I can remember now.
Are you not seeing the need to go into other things?
I have gone into so many things and it never favoured me. I am obeying a divine mandate to go into the world and make people happy and expose the wrongs that are happening in the world. There is nothing else I do. I don't have a shop. It is me and acting.
How did you meet Charly Boy?
I met him through my brother called Jerry Onwordi popularly known as Papa Nothing Spoil. He was the one that called me that Charly Boy needed some people for some segments. I went there and met two other women, Madam Ebe ano, foul leg and give Jesus a wiper. Three of us gathered, and made something out of the programme. That was how we became part of Charly Boy Show.
How would you describe him?
He is a nice person. He is like a brother to me. His wife too, Lady D, is nice. Permit me to say that the entire family are nice people. I worked very well with them.
What is unique about you?
I don't know. But some people call me when they watch my programmes to say that they love the way I interpret my roles. I am a very simple person. I know that people appreciate me a lot and I do same too.
Was there any advice you got from anyone that has kept you going?
The only advice my mother gave me was never to pick up cigarettes or play the part of witchcraft where you see women in covens, and the role of madness. She pleaded that I reject such roles. To be honest, I have done two, but have not done one.
Which have you not done?
I have not smoked on set.
But, do you smoke?
No, I don't.
Lesbianism is lurking in the industry. What is your take on that?
I just hear it but I have not seen it. If it is so, I pray that Jesus would deliver them because God created them male and female and not the other way round. It is a bad attitude and it does not speak well of the industry, but, it is everywhere in the world. It is not only in Nollywood that it exists. However, my prayer is that God will touch those practising it in the industry to desist from it.
If your husband comes back for reconciliation, would you accept him?
I don't think so except God says yes. If God says yes, I cannot say no because I have children for him. But I don't even think about that.
What are your likes and dislikes?
I like watching movies so much. I never get tired of watching TV. The one I get tired of is going to parties. I don't attend parties, but I go to weddings because my children will wed one day.
Is there something you have done and later regretted it?
No, I don't think so. I am always careful with what I do or say. I am careful too with the life I am living.
What is your most memorable day?
Everyday is memorable to me. These days, I don't think so much. I want to live a long life. I want to live longer than my mother and to see my grandchildren. So, I take the day as it comes. I don't bother myself.
What is your advice for the upcoming ones?
They have to be patient and tolerant. They should not run faster than themselves because they want to become stars overnight. They should take things easy. I don't see why people should kill themselves in order to get something. If God says something is yours, it is yours. If He says you would get to a particular level, you would. They should also respect their seniors. They should learn to respect one another because if they don't, the ones coming after them, would not respect them either. They should have attitude too.
People complain that there is no professionalism in what Nollywood is doing. What is your comment on that?
They are the ones that bring out the money. They know what they want for themselves. That was why I told you that it is not all the scripts they bring to me that I accept. There are some movies you would see, they would only change the cast of an existing movie but it will be the same story. They are bringing us down. The script writers should stop repeating what others have written. There are lots of stories out there. They should slow down so that they can make success.