OSHIOMHOLE, NOT EDO'S EXPECTED MESSIAH - PDP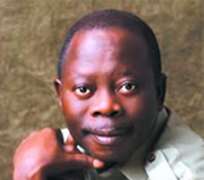 Barrister Bisi Idaomi is the new Assistant Publicity Secretary of the Peoples Democratic Party (PDP) in Edo, who emerged in the harmonised congress of the party held recently in the state capital, Benin.
She says that though the Action Congress of Nigeria (ACN) government in the state has done well it's at a great cost to the people of the state.
According to the firebrand legal practitioner from Akoko Edo: 'From what is on ground, only a foolish person will say Oshiomhole has not done well. What we tell the people is that we want greater improvement on all these at much less cost and pains to the ordinary Edo person.'
Her damned verdict is that Oshiomhole is not the expected messiah in Edo State.
Next year, Edo electorate would vote in the governorship election. How prepared is the PDP in Edo State to defeat the well-rooted ACN government in the state on July 14, 2011?
I can confidently say now that all the problems we had in the party, as regards the division within the executive, have been put to rest. This was put to test at the single congress held on September 24). Like the chairman said, from that day, we will never have parallel congresses in Edo State again. Unfortunately, our former governor, Dr. S. O. Ogbemudia, was not present, but all his political structures across the 18 local government areas of the state were there and as I speak to you, a high-powered delegation of leaders from the state are meeting with him to brief him on all that happened at the congress. He is our leader, not just an Edo South leader.
A good number of people, who are in power today, got there out of sheer luck because in 1999, when the military organised an election most people never took them seriously because elections had been conducted and cancelled in the past. So, the serious minded people, the good ones, did not want to risk their resources again for those elections. That was why we had all manner of people acquiring political powers, where they found themselves in government.
Some of us were not in Nigeria then. All these played themselves out everywhere, not only in Edo State.
It is so bad here because basically, Edo is a PDP state, even as I speak to you, it remains a PDP state despite the fact that the government in power is ACN. We control the structure in the 18 councils and we have the people. The government we have today is accidental and I believe we have all learnt our lessons. I won't go into all that because if I do, I will be opening a can of worms. The most important thing here is that we now have a formidable, united and reformed PDP in Edo State under the leadership of Chief Dan Osi Orbih.
If you look at the state exco, as currently constituted, you will know that we mean business. The exco is loaded with strong and serious minded people. Take a look at the former deputy governor, Chief Lucky Imasuen, Mr. Mathew Urhoghide and many others. They are not the food-is-ready politicians who will come and pick up positions and later trade them off with other parties. This is an A-class exco.
There have been a lot of praises for the ACN government in the state, in terms of provision of democracy dividends; even some PDP members in the state applaud the government for this relative feat. In view of this, do you still think your party has what it takes to upturn the table?
This is very interesting question, and I would want to respond to it as honestly as possible, not as a PDP member but as an Edo State indigene, who wants developments in the state in all ramifications. In the first fee years of the PDP government in the state, in all honesty, there were no developments. I was not in Nigeria then and I was not a member of the party. If those in power then scored 15 percent, for instance, and some other persons scored 30 per cent, obviously the latter will be applauded and perceived to be doing very well. That is the picture we have in the state today. And I believe that analogy best explains your question. That is not what we need in Edo State; we should aim at 70-80 percent, nothing less.
That is why the ACN must go?
Oh yes, our target is 70-80 per cent, as a reformed PDP in Edo State. I live in Abuja but I have a house in Benin and go there about thrice a month. So, from what is on ground, only a foolish person will say Oshiomhole has not done well. What we tell the people is that we want greater improvement in all these at much less cost and pains to the ordinary Edo person. Let's put this in it proper perspective. About five years ago, the internally generated revenue in the state (IGR) was just N250 million, but today it is N1.5 billion and with the various tax regimes they have introduced, before the end of the year, this will hit N2billion.
I come from a very developed part of the world; so I am not against paying tax, but if the taxpayer is being burdened with this heavy yoke, I believe he should get a commensurate returns, in terms of provision of infrastructure. This is why I said earlier that I don't want to talk as a politician, because I don't want you to ask me for details of money so far borrowed from different banks. In any case, they run into billion; this is frightening. If I were the deputy governor or the finance commissioner, I would have advised the governor to invest in areas that would bring quicker returns and felt by the common man in the street. Yes, it is good to have good roads, but at what cost? Unfortunately, the kind of contractors the government is using is much more higher than what Julius Berger is charging or Setraco is charging in Abuja.
I know what I am talking about because I work in a construction firm. With his good intentions, I still believe he should have put more in the education sector, agricultural sector and in the youth development scheme. Even the industrial sector is suffering in the state, where jobs are expected to be provided. This is why the incidents of kidnapping and other crimes are very rampant in Edo State. But we all know what the ACN government is about: roadside government. They want to do things you can see, window dressing. All the roads in GRA and Ugbowo are bad. I live in GRA in Benin and we had our state congress in Igbowo; so I know what I am talking about. We also know that he has embarked on massive road network in Etsako West and East council areas, even in places where you have two or three houses. I mean hamlets, roads that lead to nowhere.
You were part of Igbinedion government, at least in the latter part, an era widely criticised as wasted in the political annals of Edo State. What do you think went wrong?
I am happy you asked this question, because in law, when you are in court, and you ask a witness question, it opens the door for the other lawyer for cross-examination. In response to this question, I am sorry I have to step on some toes, because some of these people I worked with are still my friends. I was a Special Assistant. In most states SAs, and commissioners don't have input in real governance. A cabal hijack the state, maybe three or four among the commissioners form a ring around the governor, the kitchen cabinet and determined how the state is being run. Others are on-lookers. They are only in government but don't know how the government is being run.
Incidentally, the members of the Igbinedion kitchen cabinet are the same people who form the core of the ACN government we have in the state today. I mean the Grace Group. This and other things are what we are going to make the Edo people understand in the coming months. So, it is not fair to heap all the blames on Igbinedion. The only blame I think he has is that it all happened under his watch and as the head of that government he bears the cross. These so-called leaders we have today in this ACN government formed the kitchen cabinet of that failed government. Watch out, they are at it again. The governor has blocked a lot of leakages in government but unfortunately, he has formed another cabal, that is making the same mistakes. This is why we want the Edo people to know that their messiah is yet to come.
When do we expect this messiah and where is he going to come from?
Again, let me talk to you as a senior member of the party and as an Edo State indigene. Our primaries to pick the standard bearer of the party for the July 14, 2012 polls will hold in a few months time and I assure you that it's not going to be business as usual. We are going to look at every candidate critically, zoning notwithstanding; we are going to be selfish in electing our standard bearer, in the sense that only a candidate that is sellable to the party, and to the state, we will go for. I will not allow anybody to choose a candidate for me. When I say me, I mean nobody will choose for the people I represent because we have delegates from my local government. With the position I hold now, I will want to go round the 18 council areas and tell the people of the need to elect a credible candidate; that is the only way we can come out of this mess.
I tell you, the manner in which this exco was formed would be how party's standard-bearer will be elected. After that, we will go all out to sell the candidate. Only 20 percent of the people you see around are card-carrying members of the party; so we need to sell him to the other percent. In doing this, we will be very civil and responsible; we are not going to destroy the little progress so far made by the comrade governor. We are not going to use their caustic propaganda campaign methods of running down people and elder statesmen in the state, but we will dwell on issues in a very refined way. We will let them know that there are so many things that can be done better and cheaper.
For Instance, we will let the students know that they can still get cheaper qualitative education without over-burdening their parents. I attended Bendel State University and I know how much I paid as fees. I can stand up to any law graduate anywhere in the world without feeling intimidated because I got cheap but quality education.
In the past, a powerful politician in the party, from Edo, decided who became candidates and he's still around. Are you saying he would allow a free, fair and credible primaries in the choice of candidate without protecting his interest this time?
Let me tell you honestly, when a lie is repeated often, it sounds like the truth. The man, I believe you are referring to here is Chief Tony Anenih. This is a man who has remains the national leader of the party in Edo State. This is a man who spends his hard earned money for the party; it does not matter whether he made the money from business or politics. The bottom line is that he spends the money to promote the party at all levels. Unfortunately, some people mistake this uncommon love for high-handedness and overbearing tendencies.
Things were done in the past that seem imposition, but I tell you that his hands were tied. Let me give you a typical example. West Idahosa, who later defected to PDP, told the world that this man was a dictator and high-handed, but he was imposed on us for his third term in the House of Representatives, not by Chief Tony Anenih but by the powers that be in Abuja. Again, unfortunately the blames are heaped on the leader because the meetings are always held in his house. When the centre can no longer hold, they see a scapegoat in the old man. Igbinedion is a gentleman and a family friend; it was said then that he did not do well in his first term in office. I don't know because I was not around then but how did he get his second tenure? This is a question we must answer. Does it mean that Chief Tony Anenih single-handed imposed Igbinedion on us? Of course, no. Okay, in 2007 we had a candidate, we toured the 18 council areas selling this candidate, but only three days to the primaries, a candidate was given to us from Abuja. Again, was it Tony Anenih that did that?
That was why I said his hands are always tied. As a loyal party man, he did not question the imposition; he sold the last minute candidate to us and as party faithful, we went to the stadium on that day and elected Osunbor without any fight or bloodshed like what happened in some other states. Now, I don't want to call names because we have made up, but how many of these party leaders from our three senatorial zones can play with N200million for the love of the PDP in an election? I am not here to hold grief for Chief Anenih, because he is human; so he has his own faults too, but he has learnt from these faults. He is a perfect gentleman who does not reply insults; rather, he developed thick skin to absorb all that and working silently towards rebuilding and repositioning the party in the state. It's a new dawn for PDP, a reformed PDP, because zoning is now 50-50. If a position is zoned to a particular area this does not mean that anybody cannot get up and contest it in the primaries.
Unfortunately, these food-is-ready politicians cannot withstand two months of hunger, even the professionals among them keep on jumping from one dinning table to another. They keep on dancing, boasting that they are going to retire Chief Anenih. But in no time, the governor gets to know that they have nothing to offer; they are mere political vultures who have come to reap where they did not sow. What I want to tell our people is that these political parties are not different in ideology. If it takes five years to be in the opposition, remain there and continue to educate your people, criticise the government in power, where there is need, so as to keep it on its toes for improvement.
The Edo South Senatorial district has majority of voting population in the state. With this voting power, it decides who occupied the Government House. In fact, it controls about 57 per cent going by the last census figures. So, is your party looking at this direction in picking a candidate to march the incumbent, who is from the North?
Again, I am going to speak as a party person here and not as a member of the exco, because the exco was just formed. Yes, the South has the majority of voting population and like you also rightly said, we need formidable and sellable candidate to march the incumbent. If in the cause of consultation we find a candidate from the South suitable, I see no reason any group of persons should not support it. But if a candidate from other zone will fit our billing, why not? I think the important thing is for us to make the right choice. I believe we should look for a sellable candidate not just a Bini man, a candidate that will appeal to all, including the ACN. You know that the ACN will also have their own primaries, and that will throw-up a lot of crises since they are the government in power. So, there is that hunger to become a candidate with the belief that they are already going to win. I want to advise my party that after the emergence of the candidate, contestants from other zones be brought together to form a nucleus of the campaign committee to give them that sense of belonging. This will guard against further cracks in the party. Anything short of this will be a disaster.
What's is you view on the appointment of transition committees in the councils for this long instead of proper election to choose chairmen and councillors?
Well, this is the situation in which we find ourselves. When Professor Osunbor was the governor, the same ACN challenged the transition committees until proper elections were held. Unfortunately, the same person became governor and he is doing exactly the same thing he fought against. This is why I told you that it is not yet uhuru. The matter is before an Ekpoma High Court; so I will not dwell too much on this. We know that they don't intend to hold any election until after his own governorship election next year. Hopefully, we will get judgment before then because it is not right; it is illegal and unconstitutional. Sad enough, most of the things the governor is doing today are the same things he fought against from the removal of the house speaker to the illegal structure in the councils. Today, we have a cabal running the state. I am baffled that our people are still blind to these deceptions from the ACN government in Edo State. We will educate them and let them know the true position of things.